Today we'll talk about FamousInternetGirls.com, an exciting website full of images and galleries of naked chicks. Plus, the site is dedicated almost exclusively to nude amateurs, which kind of makes it more exciting.
That said, there is nothing wrong with looking at images of beautiful and beyond hot amateur girls in the nude, which is where FamousInternetGirls comes in. The site is ideal for the people who are not able or willing to pay for the pricey OnlyFans subscription. For all of you who are salivating at the idea of getting a glimpse of the OnlyFans hot girls, FamousInternetGirls has leaked listings that make its browsing worthwhile.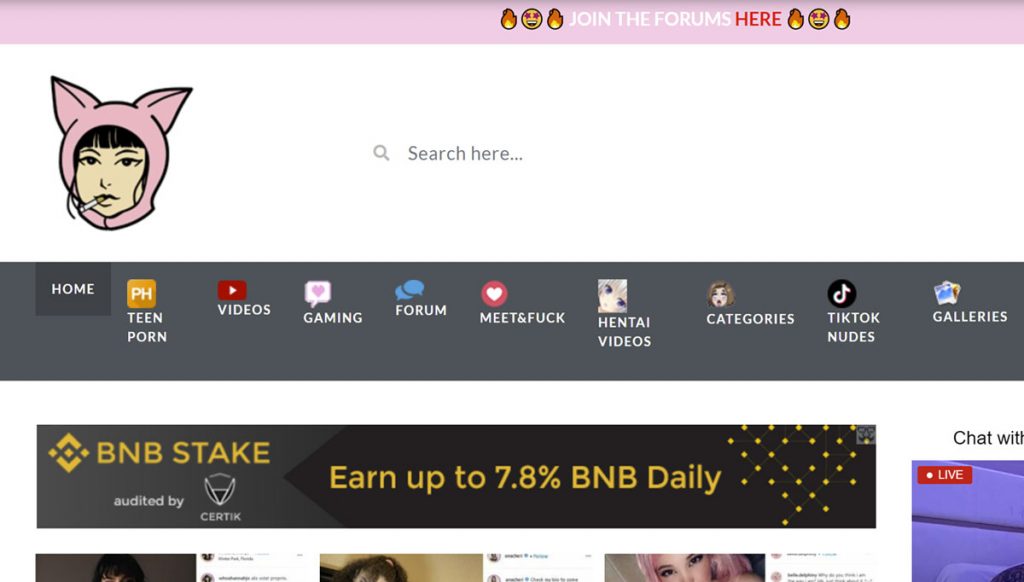 What Can You See At FamousInternetGirls?
The site is so well designed and so easy to navigate. When you enter the site, you will be welcomed by images of hot girls. Upon closer inspection, we note that many of the listings are taken/leaked posts from TikTok, PornHub, Twitter, and OnlyFans.
What you'll find by browsing the site is a significant number of galleries listed here. To access these, click on the Galleries link in the main menu. The galleries are listed to specific girls, and you simply click on the thumbnail that takes your fancy and see the images and videos from the selected model.
But this is not all, as the main menu on the top of the page also has links to teen porn, videos, gaming, free cams, hentai videos, live sex, and more. We were also impressed by the forum section that, surprisingly, brings you to a page with OnlyFans movie rips and a list of forum threads that offer tons of entertainment and more picks and videos from naked chicks.
User-friendly Platform
Among the best features of FamousInternetGirls is the free use – every gallery and video hosted on the site are free for all. However, some of the links take you to external sites. For example, the free cams section takes you to an affiliate link, the StripSnap cam girls site, which is not free but requires token-based payment.
The live sex link also takes you to the StripSnap site, while the ThotPacks link takes you to a page devoted to ThotPacks content. It means more nudes and more videos of girls performing for your pleasure.
When you browse the categories link, you'll see the model leak index, where the videos are organized into categories for easy searching. The searches are aided by proper indexing and the search option on top of the site, right to the site's logo.
If you accidentally click on the background, you'll be taken again on the StripSnap site, which can get a little annoying. Still, overall, Famous Internet Girls is a proper place where you can discover new girls to check out, as the many galleries and videos, most of these leaked from TikTok and OnlyFans, make for a time well spent.