Are you still scratching your head wondering how this all works at Porndiscount.org? Keep reading to find out. Below explains everything you need to know about getting the best deals possible.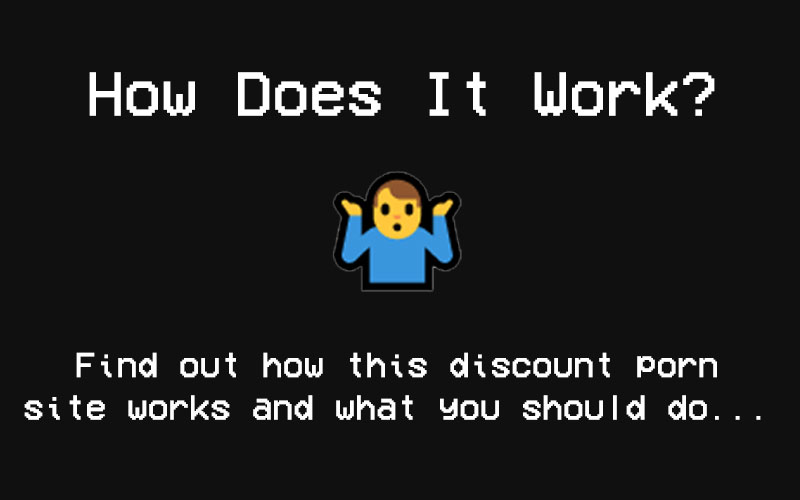 Why Save Money?
Why not! First off, saving money is a crucial part of smart shopping. When shopping for anything (especially porn) it's important to search for deals to get optimal savings.
With that money, you can buy even more cool things and lots since your savings will be massive here. Sounds fap-tastic am I right? Long story short, get great porn deals here, and save money at the same time.
Search For The Porn Site Of Choice
Get started by searching through the hundreds of discount porn deals that have been negotiated with the most popular networks. Feel free to look into the nitty-gritty details disclosed on each discount page.
Not only will you find porn discount deals, but you'll also find porn reviews on each page. After reading a few, you'll eventually come across what you're looking for.
Subscribe To A Discounted Deal
You made a choice, now it's time to take action and get member access. Click the "Get The Deal" button soon as you've made a decision to buy. As soon as you do, you'll quickly be sent to the the site you've chosen.
Once you get to the join page of the site, all you need to do is click on the Join Now or Start Membership button. Fill all the requested details and proceed to the biller page.
What happens if I don't see the deal? Don't panic. Nothing is broken, it's most likely just a cache problem with your Internet browser. When this happens, all you need to do is start by pressing CMD + R on a mac and F5 on a PC. Thta should help clear things up.
If you cannot see the deal after doing that, then read this. If you're still having issues after that, then you need to contact us.
Start Watching
Now that you've got full access to your membership, it's time to fap away for hours on end and enjoy every second of it. You'll likely have full access for at least 30, 60 or even 90 days…maybe a year if you commit to it! Whatever length you've decided to go for, kudos to you for saving some cash and enjoy your HD porn membership.
Spread The News & Get Better Deals
Running this site and negotiating deals for you costs us money. To show that you're appreciative of finding you the deepest discounts ever, all that we ask is that you comment on any sites you've joined to share your experience.
If you also wouldn't mind letting your friends know about Porndiscount.org, that would be great. You automatically enroll yourself if flash sales and giveaways when you subscribe too!
Thanks for supporting small business and guys who love discounted porn just as much as you – Porndiscount.org!