Having quality porn access on the tip of your finger is every guy's dream. Today, it's possible with many streaming services, but you have to know some tips and tricks to get all the best porn sites on your device more easily.
That is why we've opted to create tutorials on how you can access porn on the major streaming services, and we'll start here with the Roku TV box. Also, we'll include the top five porn networks that you can get on your Roku TV. Let's start by explaining the basics.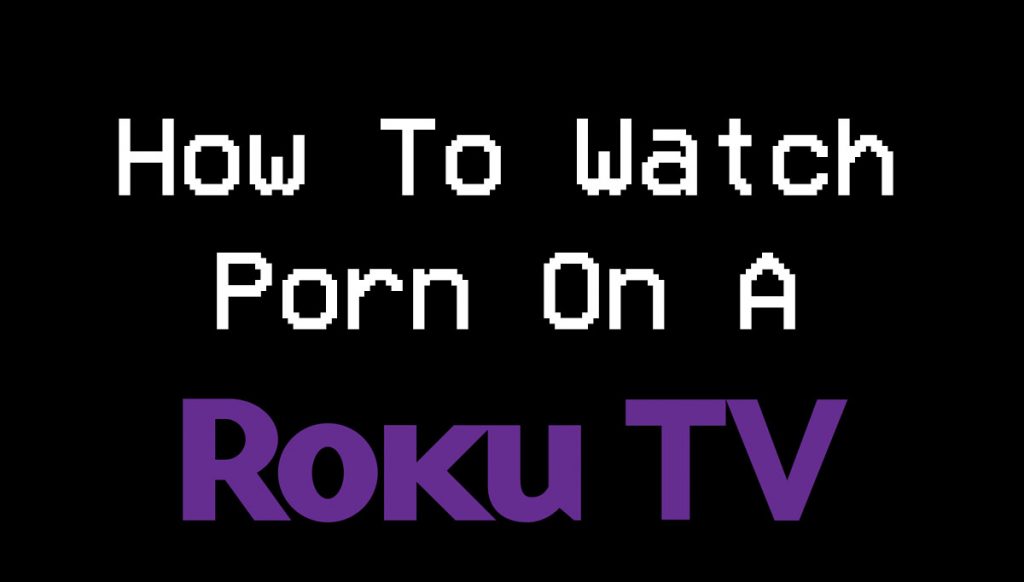 What Is Roku TV Box?
Roku TV is a streaming device that connects your TV set with your favorite content. Instead of relying on a computer to connect your TV with the Internet, you use the Roku box, and you get all your preferred content with ease.
Roku TV is terrific when it comes to speed and quality of streaming. Still, the official public Roku Channel Store does not list any porn channels. But there are porn channels that you can watch on a Roku device, only these are non-certified channels, and you can't add them directly like you would with other mainstream channels.
How To Stream Porn On Roku TV
To watch porn on your Roku TV set, you will first need to know which porn networks provide streaming services for this device. You can do your own research, or you can consult the list we've included below to see the major porn networks with the Roku streaming option.
To watch any of these channels on your Roku TV box, you need to go to your account settings on the Roku website and add the channel you like. Please note that to be able to watch the content, you will need an active membership to your preferred porn site. After adding the channel to your Roku account, you need to activate the account, and you'll be all set.
This means the ease and convenience of watching HD and 4K video quality from the comfort of your own bed. Also, you control and navigate with the remote controller, so you can sit back, relax and watch hot sexy content anytime you wish.
Top Porn Channels You Can Stream On Roku TV
We outlined that Roku TV is one of the most popular streaming devices today and told you how to hook up your Roku TV box with porn. Here are the top porn sites that offer streaming for your Roku device. Pick your favorite channel, set it up with your Roku TV box, kick back and relax with your favorite pastime.
Reality Kings
As the name says, Reality Kings is the largest reality porn network in the world. The main site has excellent content, and if that is not enough for you, there are 50+ different sites with hot, sexy content.
All of the newer content comes in 4H Ultra HD quality: this means excellent use of your HD screen. Plus, the Reality Kings website supports the Roku TV device for a match made in porn-lovers heaven.
See Also: Is The Reality Kings Free Trial Worth It?
Adult Time
Called the "Netflix of Porn," Adult Time is a premium porn site that is the go-to place for hardcore porn fans. This site has 250+ channels that feature over 50k movies, shows, and porn parodies.
Adult Time supports streaming on Roku TV devices. It is very straightforward to set up your Adult Time account and install it on your Roku TV device for great porn content that you'll enjoy for years. 
Bang.com
If you are surprised by this entry, then go over to the Bang.com website and check out the offered content. We guarantee that you will be amazed by what you'll see there.
The Bang.com network is home to 10+ additional sites as well, so there will be no shortage of sexy content to watch. All the Bang.com videos are recorded in HD and Ultra HD quality; you can enjoy hardcore fucking done professionally for a better watching experience.
Naughty America
America's No.1 favorite porn site Naughty America is now available on Roku TV. This site is fantastic, and membership offers access to the main site along with 75+ extra sites that have porn for everyone's taste.
The site is fantastic, and there are many movies in 4K Ultra HD quality and even many VR porn movies. Naughty America is an excellent option for placing a porn channel among the other content on your Roku TV device, one you'll not regret.
Evil Angel
Evil Angel has recently joined the line of porn sites that support streaming on Roku TV boxes. Evil Angel is home to a lot of adult movies arranged in many categories and 60+ extra sites.
By becoming a member of the Evil Angel website, you'll get to see all this content now on your Roku TV device. It means plenty of 4k Ultra HD videos; just a reminder, some of the best anal sex porn is done by Evil Angel.
See Also: How To Cancel Evil Angel
** Extra Mentions **
Besides the top five porn network sites that now support streaming on a Roku TV device, you can also check out VideoBox. This site has over 12K full-length porn movies, 63K porn scenes, and over 12K porn stars from 500 porn studios in over 100 niches. VideoBox is an excellent option, plus the site gets 5 DVD updates every day.
The other option is the Hustler website. Don't think about magazines anymore, as this site has become one of the best names in porn. They offer HD and 4K Ultra HD quality content and have over 18K porn star names. There are 18+ additional sites, all available for streaming on your Roku TV device.
The Bottom Line
Roku TV is a great little device hooking you up with the best channels you want to watch. Besides the regular channels, you can stream porn on a Roku TV device; you only need to know-how.
We explained the simple way to do this: go to your account on the Roku site and add the porn channel you want to your list. That simple – really.
Now you are all set, so get the necessary accessories, lay back, and play some porn, as nothing beats watching a glistening pussy getting stuffed with a hard dick in Ultra HD quality.