There is no doubt that tech advancements have made things easier today, especially in entertainment. That's not just mainstream, it also pertains to adult entertainment. Unlike before, when we relied on renting VHS videos, and DVDs from the shady backrooms of rental stores, now we get porn on demand directly in our living rooms.
There are a million options to watch porn online now, from small-time sites to massive porn tube sites like Pornhub, Brazzers, MYLF, and Netflix-like Adult Time platforms. For that reason, we'll discuss how you can get access to all this fantastic content and stream it on any device you like. Using your smartphone and computer to watch porn is relatively easy, but we'll also talk about streaming porn on various other devices.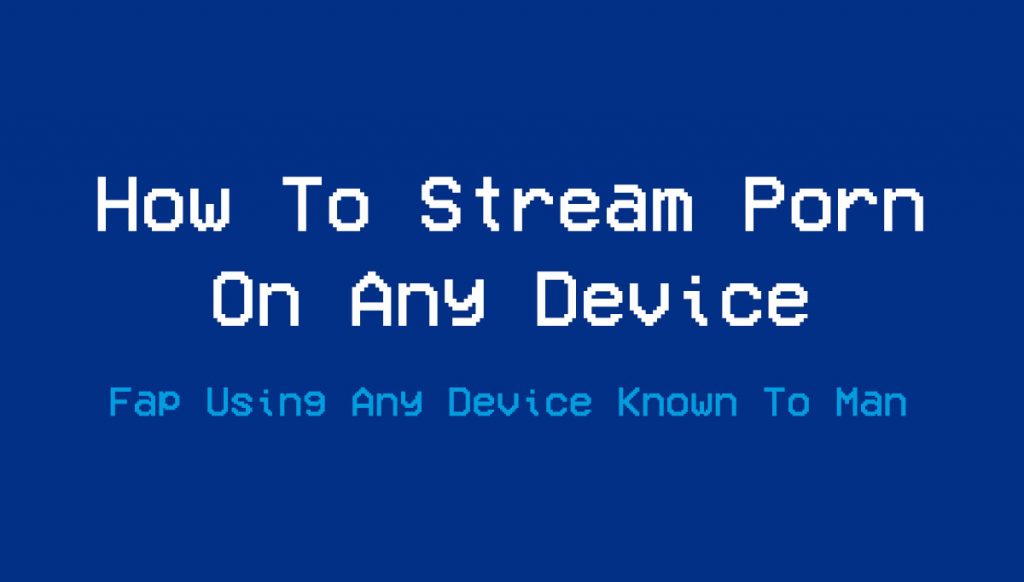 Ways To Stream Porn On Nearly All Devices
Let's get things started with Roku…
Stream Roku Porn
The Roku device comes in two types, an external box that hooks up to your TV and a more modern version built into a smart TV. However, Roku devices don't advertise any adult channels in their offer, as these are deemed non-certified channels and are not on the usual Roku roster.
However, there is a way you can stream porn channels on your Roku device, and you'll need to add them manually. Many adult sites have a built-in feature allowing you to add them to the Roku device, and you'll need to get the channel's info code.
Next, add the code to the Roku device, and click on Add Channel. You'll see a disclaimer, which is pretty standard, and after agreeing to the disclaimer, you can freely explore adult content. Roku supports sites like Bang.com, Adult Time, Naughty America, etc.
Stream Porn On Nintendo Switch
Nintendo Switch is a very popular platform mainly used by gamers. But that does not mean you can't use it to stream adult content. Admittedly, it is a bit trickier to do, but where there is a will, there is a way. 
Streaming adult content on your Nintendo Switch is tricky, and we don't advise using untrusted sites, as there are some risks. To stream porn on your Switch device, you'll need to change the device's DNS options, bypass the factory settings, and allow the device to connect to a network manually. Once this is done, you only need to open the device's internet browser and open your favorite adult site.
Streaming Porn on Apple TV
It may be the trickiest thing to do, as Apple has a conservative policy regarding adult content and does not allow it to be streamed on their devices. You have probably noted the lack of adult-themed apps on the App Store. Still, it does not mean that it is impossible to do this – the secret is to use Airplay and stream the content from your phone.
By simply using Screen Mirror from your phone, you will be able to watch any content you like. Mirroring the content from your phone is simple and requires you to connect your phone iPhone and Apple TV, and you'll be set. Please note that everything that goes on your phone will show up on your TV, including messages and pop-ups.
Stream via Amazon Fire Stick
I've covered a full article outlining the exact steps you need to take if you want to watch porn using the Amazon Fire Stick device. You'll find that article right here. It's best to read that in its entirety to learn everything about the Firestick. It's definitely one you can consume porn content on but a bit different from the traditional adult channel or porn apps. 
Watching Porn On Kodi
Can you watch porn using a Kodi device? Yes, you certainly can! It's a whole process. You'll need to install Kodi and really do your homework before diving into this device to fap. It's a bit more complex than others. But I know for a fact that the porn subreddits can help if you get stuck. 
Stream Porn On iPhone & Android
Streaming adult content on your iPhone or Android device is pretty easy. You can use any web browser you'd like
To Wrap Things Up
From what we've explained above, it looks like people will always find ways to watch adult movies on any device they like. We've covered some of the most popular platforms people use, but we'll stay on top of things and update our content as necessary. You will need a subscription on many to join the party, but it's worth it – trust me.
For now, you know how you can stream porn on your Roku, Nintendo Switch, Google TV, and Apple TV. Please, feel free to browse our blog for more incredible info and news from the wonderful world of adult entertainment and info on porn sites.