AdultDVDTalk Forum… DVDs, talks, a forum – I think you pretty much understand what this name means. It's a site where you can meet people who like erotic DVDs, you can talk to them, exchange products, post threads… It works like every other forum, but this is an exciting one for all porn addicts out there!
How many porn forums are you even familiar with? Some of them are actually large, with plenty of engagement, and that makes them worthy of our list of good smut sites. Sure, porn forums might not sound as enticing as premium sites with 4k fuck flicks, or amateur sites with homemade sex tapes, but that is only because not many people will review these sites for you fuckers! And since you are so lost and uninformed without me, I will gladly tell you what I know about AdultDVDTalk Forum! It's actually a great place to check out. But here's why!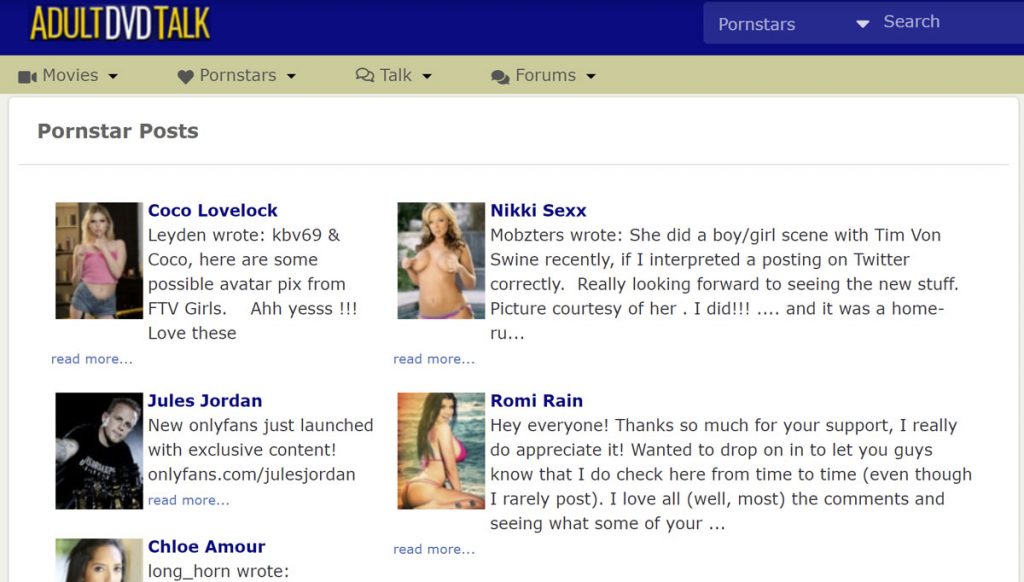 AdultDVDTalk Forum Review: It's Full of Friendly Faces!
You know how forums have communities? Well, this one has the one that is fucking massive! Hoards of people who are smut lovers come to this site to do various things, but mostly to meet other pornoholics and exchange fuck flicks and things like that. Here's what you need to know first – these people are so friendly, kind, polite, and always ready to help! Who would say the porn enthusiasts are some of the kindest people ever? You would expect a bunch of freaks with weird kinks and shit like that, but not. These folks are actually fucking cool!
Adult DVD Talk is a site you may not have heard of. I guess huge porn lovers know about it. After all, when you spend hours and hours exploring porn sites daily, it's hard to miss something. But if you haven't heard of this site before, now you will learn that it has a gargantuan audience. I am talking 43,000 fucking members, not to mention visitors who don't create an account here. This number is not that big in general, and there are smut sites that have millions of members! But for a forum, this is something.
When you see so many people here, and when you get to know them better, it is simply inviting to become a part of a community like this. And these are not just folks who create accounts and disappear. There is a lot of activity on this site! You can get good advice here and learn a lot about the porn industry, or you can just buy and trade erotic DVDs because there will always be someone who will agree to that. If you know something useful, you can share it with the rest of the site's users.
A Plethora Of Posts and Topics!
Even though the site has only 50 000 users, there are over 3 million posts! Just imagine how many posts one person has shared – it's a lot of engagement, and you have over 200 thousand topics. As you can see, people don't just talk about DVDs. Perhaps that was the whole point of the forum and the admins wanted it to serve that purpose, but it ended up being such a bigger project, with so many hot topics, users, new visitors, pornstars, movies… It's a juicy little site, but I guess the numbers already tell you what you need to know.
If not all people are active, this means those who are are such fanatics for smutty content! If you are one of them, this can be your little piece of heaven! You can meet like minds and make connections, and you never know – you might even meet your soulmate! With so many members, they can't all be of the same sex. And these forums are sometimes better than dating sites, or dating sex sites. Here you can really meet someone who will want to fuck you, especially if you share the same kinks and preferences.
Some of these threads are simply funny. These humorous fuckers like to post their shit and make people laugh. This is why porn forums can be better than regular smut sites – you can even expect to have a good laugh, and porn sites only offer steamy scenes that make you horny. A forum is a place where you have a little bit of everything! You have clips, photos, gifs, jokes, funny memes, articles, discussions about famous sluts… They are rich with content, and diversity is definitely a big advantage. My favorite of all this is by far the gif porn ads.
The Design Won't Knock You Off Your Feet
To be fucking honest, I gave up on good forum designs a long time ago. It's just fucking impossible to see a nice-looking forum design, even though it's 2021! I mean, these folks who craft them probably just do it fast and without much attention to details. This site doesn't look modern and fancy, nothing too eye-catching and impressive, really. Most porn sites today try hard to give us everything – stellar flicks, luscious bimbos, high production values, and of course – a great layout. Forums are the exception. They are all about the content, but no one gives a shit about how the site will look like!
So, I'll be fucking straight with you – this shit looks ugly! Nothing here excites me, it is bland and boring, and I even miss those trashy ads and banners that usually bother me, but since the site looks so dull, now they would do the work and make the whole place look at least a bit colorful! No colors, no animations, nothing modern-looking, just texts and links and plenty of dates. Don't get me wrong, I still fucking love this place! But I am a frank motherfucker, I don't have time to lie to my readers.
Thank god, the things you will read here are interesting, otherwise, you would just fall asleep trying to purchase shit here. I mean, would it fucking kill them to put a skin over the shit, just to give it a little bit of life? They can do something creative with the layout, I don't know, add a few colors, perhaps a cute and funny logo?
I am no web designer, but this thing inspires me to finish some kind of a course for that and design the site myself! I write about porn sites every single day, so I already have a shitload of ideas! Also, the site has glitches sometimes.
The Organization and Sections Here
But even though the site looks lame, the organization is everything but – I love it! Whatever you need to find here, you will! The site has sections that will help you specify your searches. You can go to Adult Movies, or visit the Porn Stars section right away. If the news entices you, you can check out what you have here, and trust me – there are always happenings in all these sections, no matter what you are interested in!
If you check out their non-porn section, here you will find non-related topics, where people don't even talk about sex, but other things. So, if you want to meet other forum-loving peers, some of them will eagerly discuss topics that are not porn-related.
I don't think most porn forums offer that. And I guess if you come to a porn forum, the thing that interests you is, well, porn! But sometimes when you need a break from it, you can talk about any other thing. Movies, songs, politics… You're a creative fucker, you know what to talk about!
The Marketplace section is the next section you should hear about. You already know this forum is a place where you can sell and buy erotic movies, or you can exchange products with others. You give someone 2 stellar flicks, that person gives you 5 low-quality ones.
If you want to trade, buy and sell, this is the section to visit! Here you will mostly meet men since ladies don't do these things as often. They rather read erotic stories and perhaps post their own nudes. But all in all, you can find everything you need without any problems.
Pros
a lot of info that is fun and useful
you can trade fuck flicks and buy them
friendly faces who are always open for chatting
an engaged community that is so vibrant
Cons
bland design, pretty boring if you ask me
they should find a good web developer
mishaps with the website's functionality
Concluding The Review With A Final Rundown…
This is a fun and erotic forum where you will read things you will find useful. If you want to trade fuck flicks, you will always find someone to do that with, and this place is full of friendly faces who want to collaborate. The community is vibrant and loveable, pretty engaged, considering there are over 3 million posts. Sure, the design is shitty and you have glitches, but this is not the worst thing, is it? My impression of the site is a very positive one, and you will like it, too!