"If it exists, there is porn of it." Heard of this expression before? It pretty much means that today we can find smutty content about everything! There is a meme called Rule 34 (commonly mis-referenced as rule 34 phal), that you may or may not know of, and this expression actually comes from a meme. Someone crafted this site inspired by the meme, and when you read the about section, they will explain this further. They say that without any exceptions, porn is pretty much in everything!
But let me explain this by giving you elucidative examples you can't make a mistake with. When they say you can find porn in pretty much everything today, this is how they see it – why not make a site where people can see a pokemon fucking its master? Or the other way around.
Or why not draw some monsters with huge tentacles, fucking manga fairies with them? Then you have grannies who drink some sort of jizz cocktails… Well, they are called cocktails after all.
These people know how to enjoy life! They take it with a grain of salt. I mean the site's admins, not the characters. But sure, characters as well. After all, all they do is fuck and that's pretty much everything you will see on the site.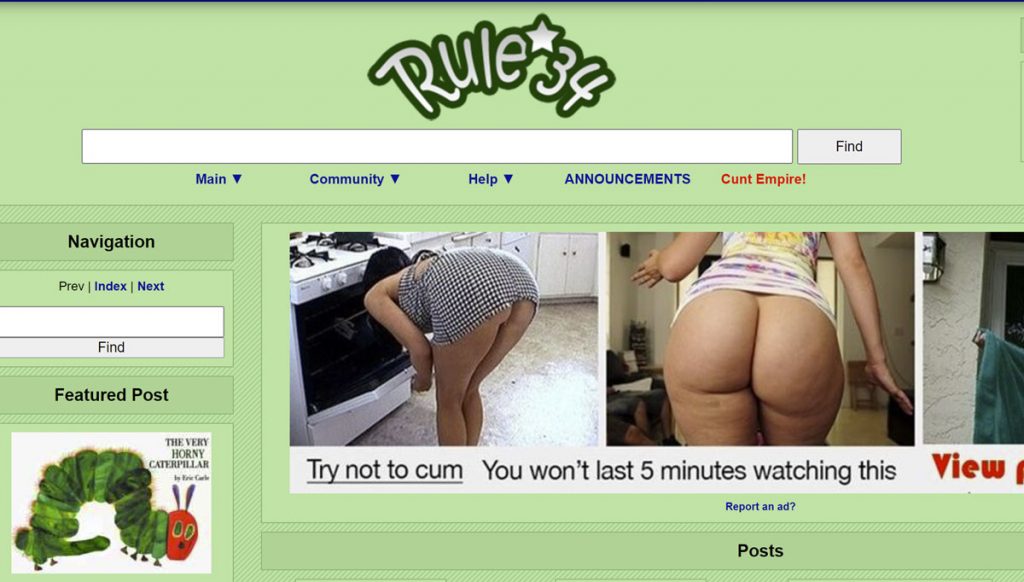 Rule 34 Paheal – are you open to experiencing something different?
So, from this intro, I think you understand what I plan to talk about for the next 1300 more words. This site is some weird shit, where you can see characters from, well, everywhere, doing all sorts of things that are sometimes simply odd and bizarre! It's not about pornstars, it's not about amateurs who fuck and make sex tapes, it's about how we can turn everything into something smutty, porn-related, and sexy.
People will go fucking lengths to cum, and when I say it, I really mean it. Just take this site as an example – you actually have cartoon characters, something that was never meant to be seen as anything filthy and sex-related, but they somehow found a way to make porn out of it.
Do you think this is weird? This is not even the strangest porn site you will find, but it's definitely in the top 10. I even heard that there will be a porno made in space. They really train pornstars to go to space and fuck there, just so that someone can make a sex flick that is weird and different.
If I were a regular person, someone who did any other job, I wouldn't know how to see this – is it sexy or disturbing? But from the point of view of someone who is writing these smut site reviews every day, I am fucking curious what I will be able to write about next! Sites like Rule 34 Paheal don't surprise me anymore, but they are always a breath of fresh air. In fact, I am always thrilled to stumble upon something like that.
The site's simple rules… or prohibitions. And expectations!
Did you know that Rule 34 Paheal allows the users to both enjoy the content and upload something on their own? If you want to contribute and make this huge archive even more imposingly big, all you need to do is obey the rules. The site is called Rule 34, and it also comes with certain rules. No kiddies here! If you want to post something, it mustn't be anything related to underage girls… or boys. This is illegal, and if you fucking don't know it, you're a fucking criminal who deserves to be in jail!
When it comes to this whole underage issue, they don't fuck around! Sure, premium paysites create teen porn, but only when we know these girls are legal. If she is 18+, this is acceptable. So, this is the number one rule on this site – absolutely NO minor stuff! Also, they don't tolerate fucking zoophiliacs! Nothing explicit that has anything to do with animals is allowed. Don't post animals being fucked by a person, or anything like that. You're a fucking asshole and deserve to be in jail if so. It's offensive and they don't accept it. You will be banned and ostracized. Well, they would do it if they could!
Here's one more rule – no softcore shit here! Only if you have something fap-worthy that actually shows an orifice, nipples, assholes, and things like that, it will be approved of. Sure, you can upload something less hardcore, but it needs to be accompanied by something very explicit.
They want pussies, hairy and shaved, tits with revealed nipples, veiny dicks, cumshots… What they don't want is pics of topless men or cleavages where you can't really see anything juicy. They don't want sluts in sexy underwear if that underwear is not going to be taken off at some point.
If you think you can keep track of everything and respond to all of their expectations, you can contribute with something you craft yourself. The registration process is pretty simple and everything is free. This is not a paysite, so you don't need to prepare your credit card to enjoy it.
If you are into this whole animated porn thing, this is definitely a great source of content you will like. When you visit the site, first you need to pick tags, and then when you choose what you want, you can have the images. It's not like most porn sites when you see the naked ladies right away.
What I don't like here
These tags are both useful and annoying. First of all, the site's design is shitty. It isn't much. Nothing here impresses me and it even looks boring. They don't really have any cool community features, no ways to leave comments, meet pervy minds, rate the content… They don't have these things, and they are crucial for every smut site because people like using these community features. And since the whole site is archived by tag, you can't use a search words by keywords, anything else but that.
Before you really start to enjoy the site, you will need to get acquainted with it better first. You will need to explore all the navigation tools here, see how it works, check out all the corners… When you visit the site for the first time, you will probably feel lost. At first, you won't see much. It doesn't even look like a porn site. When you start exploring the tags, you will see what kind of content they have, and that's it. You have a few browsing options, but you will find the Home page button when you already choose a tag to check out.
The site has some ads. This shouldn't be that big of a problem because they aren't too irritating. At least not compared to most. Perhaps you won't even notice them. What I did notice, though, is that when I opened an image, an image of a drawn couple naked, fucking, the fella's boner was censored. I mean, what the fuck?! It's fucking cartoon! It's not even a famous cartoon, it's just something someone who is talented drew for us. These are not real people. And yet, they hide the dick. Bullshit! I don't fucking get it!
The confusing site sections
When I was exploring the site further, I did encounter the comments tab, so I saw some comments by different users. But these comments are not below the images. I don't even know what image they are talking about when I see them like that!
Perhaps when you open a certain image, that is the comment section for this one image. But you open a completely new page. You don't even see the image anymore, and who wants to read comments if they can't look at images at the same time? This is a very confusing interface. The more I explore it, the more I see it that way.
What is good here is that the images are high-resolution and very sexy. And you do have a lot of content. Yes, the site is confusing and it takes a while to understand how to use it and get the best out of it, but you're a smart kid, you'll figure it out! To be honest, writing this review made me tired. There are so many things here that are just tiring. It's not like those simple porn sites where everything is easy to find.
Things I Love
plenty of content to take delight in
perfect organization of tags
high-res pictures
The Dreadful Cons
lack of community features
customization would work, but there's no any
the design is unimpressive
ads, of course
censored images?!
Let's wrap it all up now!
So, I could keep talking about the site, but a picture is worth 1000 words… Or in this case, 1500. Rule 34 Paheal is something different. If you like hoarding weird porn sites, you can save this one for a rainy day. It's a decent platform with things I both like and hate, but when I sum it all up, it's definitely a site I want to visit again. Now the ball is in your court. If you like what you hear, check it out yourself!