With an exciting play on the word fun, Phun.org is a fascinating online place that offers an abundance of sexy content, among other things. Here we take a deep dive into Phun.org and see what else this cool corner of the Internet can offer for all the guys and gals who are brave enough to browse this site.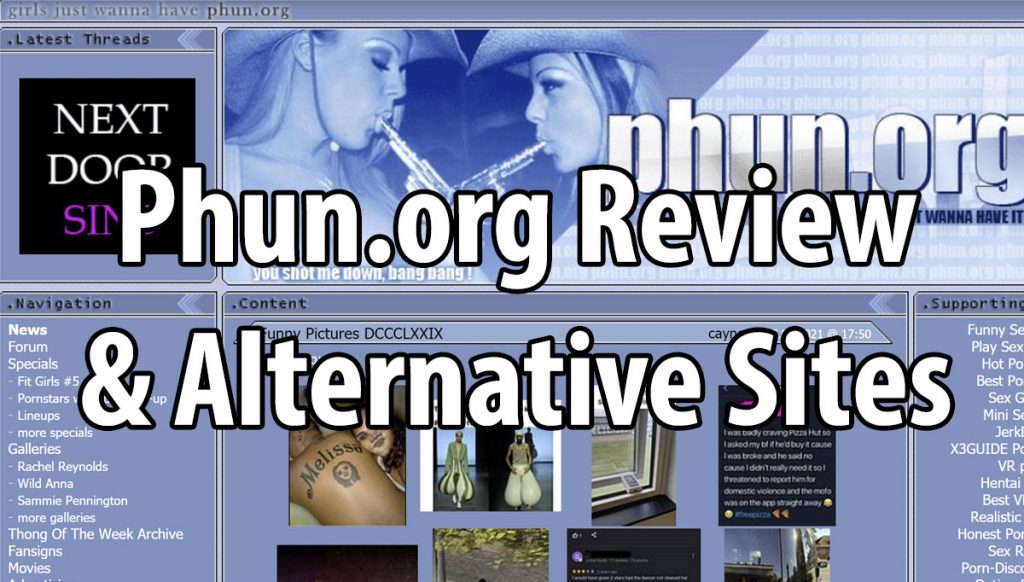 Phun.org Review & Site Overview
The site has a famous tagline, "Girls just wanna have phun.org," and has a header image with two girls sticking their revolvers in each other's mouths. The content one can find so unexpected, yet so fitting, as you can get stuck browsing the various threads for hours. The center of the main page usually has the prime topic, which today is a thread about nude images from Ivanka Trump.
There are many other celebrity nude images and videos; some may recognize, some not, but there is a lot of such content. Also, the popularity of Phun.org is so great that many people continuously join the site.
At the moment, Phun.org features close to a million active threads and 8+ million posts. We don't have an estimated number of members, but the numbers are relatively high, with several thousand active members at any given time.
Who Posts The Content?
All the content on Phun.org is user-generated. The site's members post each thread, no matter if it is dirty or not. Many celebrity posts are from paparazzi snaps or snapshots from movies of celebrities, but most of the other content is from homemade sources. 
There are also plenty of leaked sex tapes, which are always hot topics. The threads that deal with these subjects are usually the most popular ones and can gather thousands of replies. As you can guess, this site is all about unleashing the dirty minds and giving them the freedom to share their thoughts with like-minded people.
Homepage All About Sexy Content
The main page of Phun.org is all about sexy content. The left side menu has all the categories you can find on Phun.org. The menu includes a link to the forum, the specials, the galleries with sexy images, the thong of the week archive, and more. 
The right-side menu has links to the supporting sites. These include some great selections like Honest Porn Reviews, Hentai videos (like hypnohub), Best VR Porn, HD Porn, Porn Discounts, Adult Cams, and much, much more. As we said, the center of the page is reserved for the latest nude celebrity images. Below, there are more galleries of fun images, as not all can be about sex and porn, right.
The top sites that are somehow related to Phun.org are in a list on the left side, including links to sites that deal with porn content and porn discounts. The thong of the week category is an interactive section where the moderators put three images of thongs (asses in thongs), and the registered users can vote on their favorite image.
The homepage also has a list of external links to various porn sites. There is an extensive alphabetical list of celebrities featured on Phun.org, and you can click on any name and get to see the posts with the images of that celebrity.
Most of the celebrity images are from movies or photo sessions, and these include topless snaps, full-blown naked ladies, and wet clothes images. While all the images are great, the completely naked images usually lead to another site that may require payments.
Who Can Join Phun.org?
The joining process is so easy and quick; it takes less than one minute. Also, the registration is completely free. The only thing you need is a valid email address, and you are all set, no need to input any credit card details or other personal data.
Still, if you are only interested in being a silent observer, you will not need to register to the site, as you can read through the content without becoming a member. Of course, you can only browse for so long until you get tempted to join the site and leave a comment or six.
Notable Phun Features – Pun Intended
There are many things of interest to be seen on Phun.org. Most revolve around sex, like nude images, leaked and legit porn videos, and lots of real sex-themed stories. The latest model shoots involve an almost uncountable number of images featuring naked ladies.
These images include everything from under-the-table shots, up-skirt shots, and supermodels' nude photo sessions. The updates are user-generated and happen daily, often several times a day. You can browse fresh images daily and never get bored, that is for sure.
We kept the most notable feature for last: The Thong Of The Week. This is a little competition that goes on weekly, the moderators upload three images of beautiful asses in thongs, and members get to vote on them.
The best ones get to be placed on the homepage, and the images rotate every week. As with the other Phun.org content, this is also user-generated content where hot girls send images of their gorgeous butts in sexy thongs. 
Phun.org Alternative Sites
If you don't like the Phun.org platform or wish to try some variety, here are eight alternative platforms you can check out:
SAFF
PornSavant
Sexy And Funny Forums
DickFlash
Hot-Board
ErotiCity
Porn-W
F95zone
The Bottom Line
If you are interested in some sexy fun that is slightly different from watching straight-up porn, we suggest you check out Phun.org. This platform offers some appealing features as well as a forum with plenty of adult-themed topics to read through and comment on.
The content here is sexy and entertaining, and you can enjoy the variety of quality nude images, hot, sexy videos, and of course, the thong of the week contest. You can set your imagination free and share a sexy story or even talk about your deepest secrets with complete strangers – it is very liberating.