Hypnohub… This is a peculiar name for a porn site, no? Would you be attracted to it? What if I told you there were many sluts there, animated bitches who get hypnotized into getting naked? Now would you be attracted to it? But here's an even more striking question… If you could, for example, actually hypnotize a babe into sleeping with you… would you do it? Would you? I will give you a few seconds to think about it…
Ok, so you probably said yes, you perverted freak. And you want to know my honest opinion? I would also fucking do it! If the bitch was stupid enough to get hypnotized, she definitely deserves to be pounded.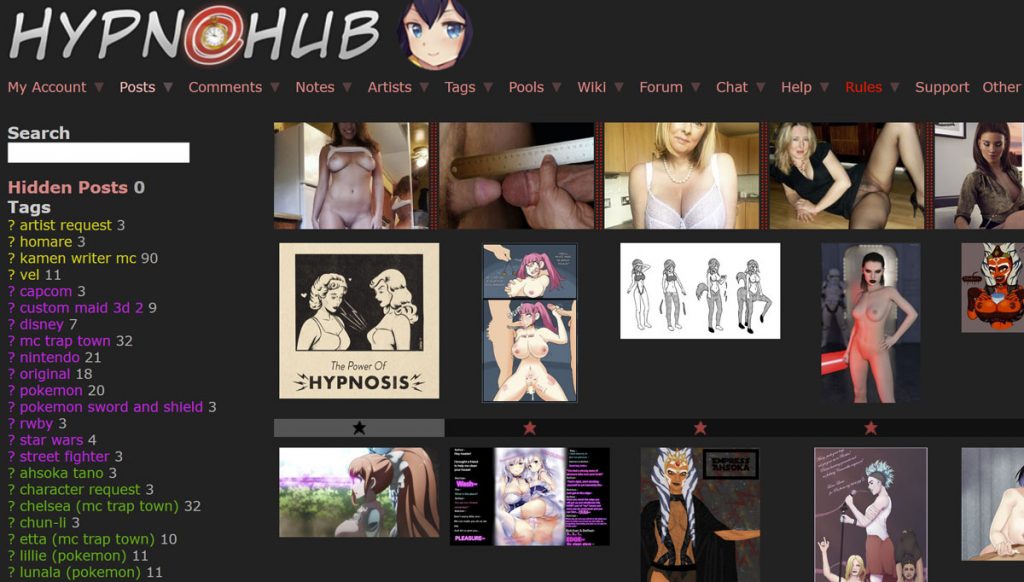 But I don't need to hypnotize bitches to fuck me. I just have to show up and they go crazy! This is something you will never know how to do, my pal! You are just not as charming.
So, confused and dazed girls are today's topic. These absent-minded hoes will show us their tits, fuck and suck cocks on the site called Hypno Hub. They will do things many of them will regret later. And we get to see all that!
Hypno Babes Completely Out Of It?
Hypnohub is all about babes with glazed eyes who just want to get fucked and they do regardless of whehter they want it or not.
Why am I so confident and certain that you would fuck a babe who is hypnotized? I only need one thing to tell me everything I need to know. The site is so fucking popular! That means there are so many pervs out there who approve of that.
They just enjoy these bimbos getting hypnotized into sucking dicks and fucking, and if they do, it must mean they would also do the same. If they could. If that wasn't illegal. But in the world of porn, illegal things are nothing new.
Well, illegal, immoral, outrageous… Remember all those family porn sites? Extreme BDSM sites? I thank God, we don't have something even more illegal, and some things I am not even going to mention.
I don't want to give ideas to bastards who wait for opportunities to make a porn site out of everything! Yes, mofo. Now you know I am not that tough all the time. Even I have some weak spots.
Hentai Hypno Too
The site that you may have heard of or not has hentai babes. They have blank eyes, hypnotized. They are in a strange trance, and this trance makes them do some naughty sexy things, like get naked and grab the nearest cock.
Now, what can a man do when he sees a woman who wants to suck him off? Please. He needs to oblige. But why would he be ashamed or anything? Why stop it? The bitches can't control themselves and their fucking minds, why should these men control themselves?
Mind Control Porn Board
This site is a Danbooru-style board. If you like babes in a trance, you will find that here, but you won't find other things.
All of the images here have some kind of hypnotic imagery, and these are glazed eyes, spirals, lifeless bodies, or just some storylines that tell you the girl is hypnotized. The site is all about mind control.
And this mind control is pretty powerful. Some pictures here are weird. For example, the babe is hypnotized into believing she is becoming a man. He breasts get reduced, and she starts looking like a man. Honestly, I don't fucking get this one at all!
Tags Are Everything Here!
So, the site is pretty much all about the tags. This means a Danbooru style, and every image has plenty of tags. This can help you do some deep searches and find your favorite fetish.
For example, you can only focus on blowjobs, anal sex, double penetration, blonde hair, red hair…
Sure, you can't perform some advanced searches, like redhead blonde threesome with anal sex and cock sharing and tentacles. However, it's still better than not being able to find anything more specific.
SFW + NSFW Site
But here's something that I should mention. This is half a porn site, half a SFW site. The babes you will here are hypnotized, but not all of them are tricked into having sex. Some of them are just… well, put out, or whatever, but nothing sexual happens.
They just hypnotized them because of other things. On the other hand, some images are just too weird, and even though they are sexual, they are still pretty strange. But you have over 2000 of pages, you can't always find the content you like! Oops, I checked again. Almost 3000 pages! Wow, that's a lot!
Hypnoswirls
So, when you land on the main page here, an adorable anime lady will greet you, with blue eyes and I think dark purple hair, and she has hypnoswirls on her boobs. You will see they have 850,85 posts..
Well, maybe you won't.
I see it, but this keeps changing. Yesterday this number was different. Tomorrow it will be again. Maybe you come when they have 100,000 posts. But all these posts are devoted to this one niche! And their search bar will help you sift through the chaos here. I actually like it.
So Many Great Thumbnails
They also have links to comments, forum, tags and posts. If you see a tiny arrow, it will lead you to their full menu, and this is actually phenomenal because you can sort the content by many cool things, like history, popularity, browsing, Random, but there are even more options.
They even offer an option to browse their deleted content. This is actually amazing when you think about it! I mean, what other sites do that? Whatever you choose to see, you will always see thumbnails, lots and lots of them.
More Post Details
Along their left side of the page, you will see stats which will tell you the image size, the source link, who chose these pics as their favorite and upload dates.
You also have download links here, things like mod reporting and even more. Jumping from one pic to the other is easy and quick here, and you have 'related posts', 'next' and 'previous'.
You also have a forum here and they have some really cool threads. If you are new to the site, you should check it out because some things here are gold. They will tell you how to use the site. Lastly, you have a Discord channel.
Rule 34 Stuff
Hypnohub has many Rule 34 images. These are some popular series you probably know. Disney, Pokémon, Persona…
They cover all kinds of movies and shows, and some of these things are very popular. You have the major anime shows, and maybe some less known ones, that maybe not the most people are familiar with. Still, this is a perfect advertisement.
And more than weird stuff – like the snake from a movie you must know The Jungle Book. Because she is a mesmerizing snake, this has a lot of sense.
Pics and Stories
To find some exceptional animations, you can include animated gif when you choose tags. These are gifs of babes who get hypnotized and who do insanely sexy things. Swirly eyes will probably make it more difficult to fap to these babes because they are just there, looking so weird.
The art here is really something amazing. They don't even have MSPaint drawings, just high-quality stuff. These things are not drawn by amateurs. It's a big niche, so it's understandable many great artists would be attracted. Their pics even have stories, and this could be the best thing about the site!
Eyes Everywhere
But do you know what's the weirdest thing about the site? This is a porn site and all, but the focus is not on tits and pussies. In fact, they focus on eyes a lot.
Like, really a lot! But eyes are definitely even sexier than anything else. After all, would you even look at some tits and pussies without the eyes of the babe? Eyes attract us to someone, that naughty look, that charisma, and sex appeal that come from them…
But again… These eyes are drawn and they are swirly! So, it's not even about the normal eyes. And it's not about the tits and pussies. What the fuck?!
Pros:

a good danbooru-style smut site
plenty of images of hot babes who are hypnotized
originality
Cons:

no videos here, just the pics
some of the content here is not even porn
first, you need to use the search box to find what you want… what if you don't know what you want?!
The Final Judgement
OK, I am finishing this thing. Honestly, it was very enjoyable for me. I like Hypno Hub because the artwork is just mind-blowing! The babes are hot even though they are drawn and animated, and the stories are cool! This is a good site, and it's very popular.
What I don't like is that they don't have videos. Also, what's with that non-porn content? These are some things I noticed that could be changed. Or not. Do whatever you want, I am not your mother to tell you what to do, Hypnohub!