Reddit NSFW GIF… Now, since this is Reddit, it already seems promising. Whenever I find something smutty on this platform, I have high hopes. Reddit is a site we are all familiar with. If you are a follower, you know this is a site with a little bit of everything. You have humorous content, smutty content, and tons of other shit that is not really important now. But today we are focusing on NSFW GIF, a subreddit where you can find steamy HD scenes with alluring sluts.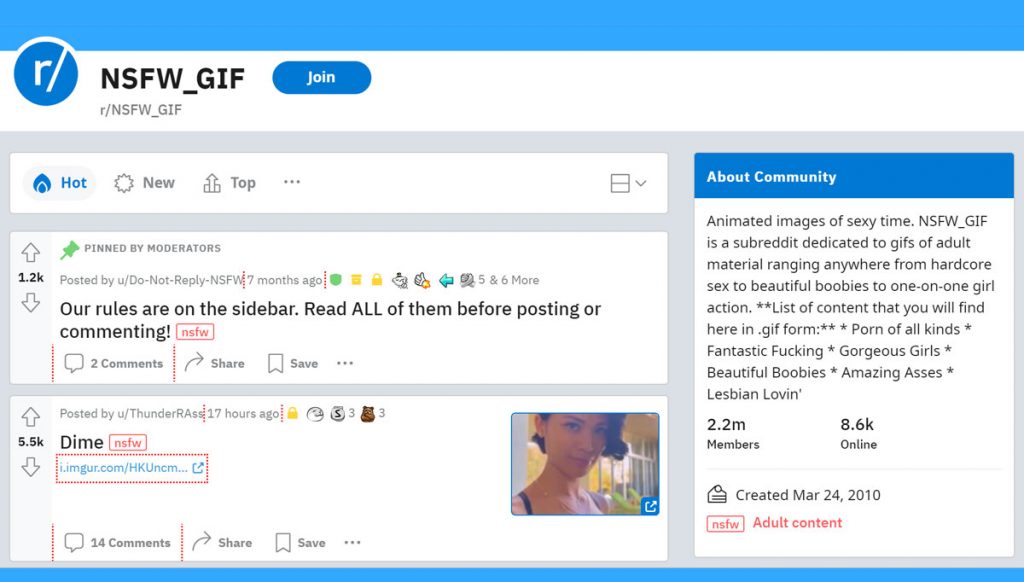 Review of Reddit NSFW Gif Subreddit
To some, this name will be confusing, especially if you are new here. That is why I will explain the acronym – NSFW means Not Safe For Work, and these are GIFs, so not videos and pictures, just moving images that only last for a second.
However, these second-long gifs are actually the sexiest scenes from fuck flicks we like. Someone actually made them so that we can feed our lustful eyes as much as we want. Not everyone enjoys gifs. But if you are someone who appreciates them, this is a site you should check out!
Taking Scenes From Smoking Hot Sex Movies
A while ago, these things were not at our fingertips, like they are today. It's 2021, and now we can enjoy this erotic bliss, a paradise of the steamiest scenes taken from the best sex movies on various porn sites.
Gifs might not be considered too enticing, at least not as full-length erotic movies, but since these are the best moments, this amount of sexiness compensates for the duration of this format.
And this is a site that has tons and tons of these little files, so you can have an endless jerk sesh just using these little short scenes.
Crazy Number of Users
The subreddit is pretty popular, teeming with loyal members who keep coming to find new gifs every single day.
No matter when you refresh the site, you will always spot a new sexual situation that has just been posted, considering their updates are very frequent.
Maybe this is the reason why around one and a half million visitors spend so much time on the site. Since there are always new things to see here, you will never be bored.
Over A Decade Old
The longevity of the site is impressive. They created this little subreddit 11 years ago (in 2010), and it still kicks ass. In fact, it is more popular than ever! Whatever they did and do, they do it right because this number of members indicates something.
Sure, the content may not the original, and these are only the scenes you have already seen on other sites, but "us" people like to keep coming back to things we like. We are sentimental motherfuckers who like repeating what we like. Since we love these hot scenes, we want to see them again, but just these most mind-blowing parts.
Best & Worst About The Gifs In This Subreddit
Luckily for us, today we can capture any part of any movie and post it online! People who have enough spare time do this – they watch sex videos, decide what parts are the hottest ones…
Maybe they read comments or they just rely on their taste and preferences, then they capture these few seconds, and voila – gifs are created! It's not difficult to do it, but if you want to put millions of gifs to build a subreddit that will be visited by many, it takes time and effort.
Why are these gifs sometimes a much better source of fun? Because with porn videos, you often deal with buffering and that annoying shit, and sometimes these flicks simply don't load fast. The sites are slow, especially when they are very high-quality and they only upload 4k movies that last for an hour.
Gifs only last for seconds, so they are not slow-loading and there won't be any buffering problems. You don't need to wait for minutes every next minute just to see the whole action. But on the other hand, you don't have the whole action. You only have a part of it, a very short one.
And if you want to avoid the foreplay, the atrocious acting, and terrible editing, gifs are perfect for that because they only highlight one specific thing – no acting, no scripts, no boring parts. All these things sound tempting now, no?
So what kind of steamy scene parts can you even find on this subreddit? You have a lot of dick riding, from what I can see. It looks like most people are into that, and maybe some fellatio cumshot parts, which are definitely equally arousing.
A Huge Variety of Sexual Acts (FYI, No Fetish Content)
Everything about this site is fapworthy because these folks don't mess around with the content. If NSFW is what they promise, that is what you will get! I don't know who the site's moderators are, but these fellas do some great work over here – no doubt. When you decide to visit the site, you will see that they work hard, putting new hot scenes every day, multiple times a day.
So, you have dick-riding stunners, solo babes, sex toys, blowjob moments, loads of cumshots, hair pulling, sensual kissing, stripping and teasing, ass drilling, group sex, outdoor sex, and everything you can think of yourself. Like I said, pure bliss.
What I don't like about this subreddit is that they don't put any fetish content here. So, no BDSM, no feet cumshots, bondage, punishment, femdom, bitchy babes who whip… No red ass cheeks from spanking, not even slightly BDSM scenes, just vanilla stuff you see on every second porn site.
This could be seen as a downside because I know there are many folks out there who like sites that include a little bit of everything, and BDSM is one of these things. They could add a pic or two, perhaps some hot ass spanking or whatever…
So, besides the fact that the content is not original and we only have vanilla stuff to check out, you also need to be a member to enjoy this fetish-free corner of the site. Well, you don't need to become a member to view the content, but if you want to use the site and interact, this is a must.
If you are just a passenger who is here to check out a pic or two, you can do it, and for free. But to really use the site and meet people who share your kinks, this registration is something you need to complete.
They Are Prudes For Hardcore Stuff!
You should also know that the gifs you will see here are softcore. They add new ones every 10 minutes, but none of these new gifs are ever scenes of some hardcore double penetration, brutal anals, creampies, and things like that.
So, this is not for those who like it rough and only hardcore, where everything is visible and too intense. It's like something you would see in an erotic movie. Revealed bosoms, bare ass cheeks, perhaps a twat that is trimmed, and babes bouncing on throbbing boners, where you never really see the dicks.
Since there are many smut-loving toads here, you can interact with them (but don't forget only account owners can do it) and meet folks who like the same things you like.
These pricks are here because they fap to this NSFW content more than they drink water, and maybe you do it, too, so you understand all of them. To complete this registration process, it only takes a few minutes, and you are set to go. After it, you can also leave comments and enjoy the community features.
The Reddit looks nice, and it's very easy to use. If you are already familiar with the whole concept, you probably know the design very well. This subreddit has the same colors, and everything is the same as when you use any other site's corner.
It even looks like any social media platform, with all the features you also have on other sites where you can meet people and chat with them. And you can also share images you like, and do whatever entices you. And you can use all these features without any problem, but only if you follow their rules.
Pros of Reddit NSFW Gif Subreddit
HD scenes that are flaming hot
No fucking ads (find porn ads here)
Tons of hot gifs
Frequent updates
The community is freaking large
Some Cons
Lack of originality
It's a fetish-free site, but this is not a pro
Only members can interact here
Final Word On This NSFW GIF Subreddit
This is a very delicious subreddit, where you have a large community for a reason. In fact, I'll come out and say that the nsfw gif subreddit is one of my favorites of all time. People like to come here to enjoy gorgeous babes riding dicks and sucking them, but the content is pretty softcore.
Yet, you don't have ads, the updates are frequent, the scenes are HD… Can you live with the fact that the site is not that original, and they don't have fetish gifs? If you don't mind these little downsides, you will like them here! It's Reddit, for god's sake!
Related Post: Top 150 NSFW Subreddits Of 2021