Have you heard of Nutaku? This is a sex game site, where you have plenty of amazing porn games that are simple or more complex, for all kinds of players. They have a little bit of everything, so no matter what you like, you will find something that suits your taste here. But today we will talk about one game that you can play on this phenomenal site. It is called Booty Calls. What do you think about the name? Does it sound enticing? If you like dating sims games, there are no reasons not to like Booty Calls. After all, this is easier than meeting babes in clubs, getting them to fuck you. At least when you play games like this, you know these bitches will always agree to get laid.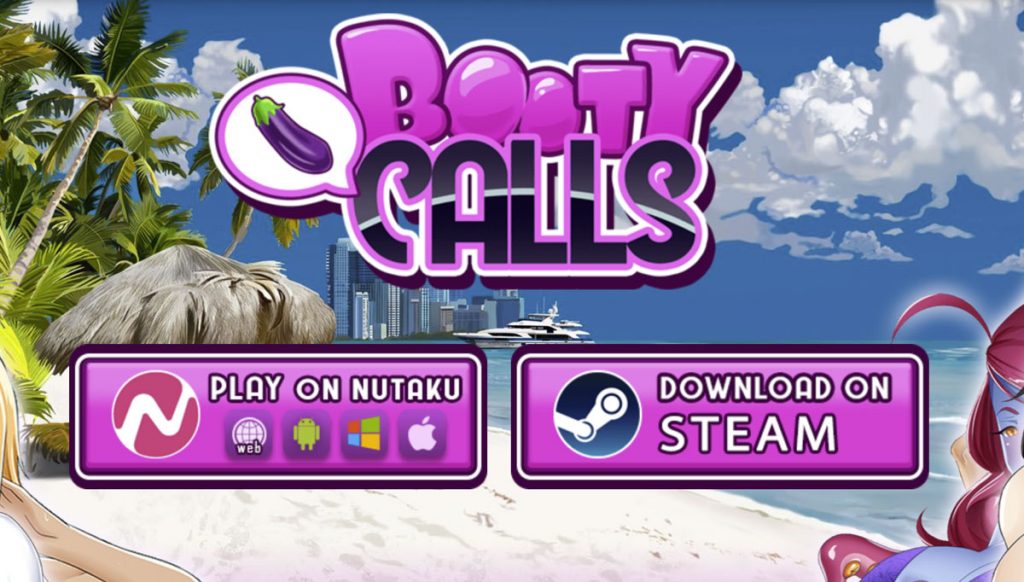 My Review of Booty Calls – The Porn Game
Before I start with my review, I am just going to say that this is a free game. Yes, it's the compliments on the house of Nutaku, but even though it is free, the graphics here will blow your mind! It's actually one of those funny games that you easily get addicted to once you start playing it. There is just so much here to see! So much to experience. It's not a lame game, and I will tell you why!
Booty Calls is a sex game you definitely want to try!
Ok, so many would say that a sex game can never be like real-life action. It's not the same when you meet a hottie and get to bang her and do it on some kind of a game, where everything is imaginary. But still, if you appreciate today's art, you will like the art of this game's creators. And it's some good erotic art!
So, you can only play Booty Calls if you head to the site you may have heard of – Nutaku! This is a platform for a lot of superb hentai games, and the site has something for everyone. I had experiences with Nutaku before. I know that my impressions were mainly positive. I tried several games there, and they were all cool. I don't remember everything with many details, but I do remember that I generally liked the platform.
But who wouldn't like a free sex game site? Now, Booty Calls… This is a game that you can play either on the web, or you can use your Android for it. The iOS folks will have to wait because the game is not available to them. The game is not difficult to install, but you need to be at least minimally tech-savvy to install the game on your phone. I don't know why, they just made it a little bit harder for phone users. Hopefully, you will have no problems here.
Things you will find on their info page
If you scroll through their info page here you will find some interesting things, like the link to join them on something called Discord. This is a game with many, many followers! In fact, it is pretty impressive to see all these people addicted to it. If you explore it like I like to do it, you will see over 7 thousand members, and at this very moment, over 600 of them are online! Of course, this number won't always be the same. When you are online, maybe more people will be. Or less.
Nutaku has a video preview, and it is incredible! You will see a stunning redhead with huge melons, and this anime hoe is on the beach. For some reason, she looks quite surprised, and her titties start to bounce. A text appears on the screen, saying this buxom sugar has a mission for us. Whatever it is, I somehow think I will like it! Whenever I see a stunner so sexy, she must be very salacious as well, especially if she is on a porn site. Well, a sex game site. That's even better, right?
I am digging this artwork if you want my humble opinion. It is colorful, flashy, and anime. They have those semi-realistic highlights and shades, so the bodies sometimes look almost real. Well, almost… You still see it's a fucking drawing, but at least they tried hard to make it look so good.
You have a montage of some hentai sluts who have their cunts drilled, and who suck dicks. Whenever you have a montage like this, you will also see a text that tells you what the montage is all about. So, even before you open certain games here, you will know what will happen in them.
Tons of goodies on Nutaku, and in Booty Calls
They used all caps to spell the mission, and it sounds so sexy and mysterious. They say we can meet tons of ravishing babes, and who wouldn't want that? We are all into that shit, no? Why would we be here if we weren't? But all of these girls are the characters you can date, on your device, of course. There are just so many scenes to unlock here, I am so excited about all these features! I like it when a site is rich, when it has so many things to offer. Nutaku is definitely an abundant platform, with so many goodies waiting here for you!
So, Booty Calls is a game that will load in a minute. Maybe few. You will need to agree to some terms and accept their rules, you know, things that most games have. But even while you are waiting, you won't be bored because you will see that redhead stunner again, looking even more tempting now.
She is playful on the beach, playing with the sand and water… So delicious! She will accuse you of watching her. You nasty pervert! How can you do this? But in the end, she will love it! What did you expect? The slut is surrounded by seashells, and one of these little shells looks like a dildo. Surprising, isn't it?
I think you will like this whole picture. When you see the loading bar, it won't tell you the same things you can read on most sites. Most games give you their Loading System Resources. Not this one. They are actually shaving pussies, preparing enemas, loading sex toys, installing orgasmatron, locating G-spot, and of course, applying lubes. It's very original. And do you know what's really cool? You have several language options to choose from! Spanish, Dutch, Japanese, English, and French.
The game experience
When the game opens, you will see the redhead stunner again, and this time you will also hear her speak. The sentences spoken by your character are just shown on the screen. And who is the little Reddie? She is a mermaid princess, and her voice is so fucking innocent! Just something you want to hear to get turned on.
So, you basically click and click through the game and see more dialogues. It's the whole point of the game, to click and see pussies. You are the only one who can see the mermaid, and for her, you need to fuck a lot of chicks and collect their pussy juice.
Once you agree to do all that, you will be taken to a park. It looks like you can meet a lot of hotties here, and the day is lovely for collecting the juice! You will see some college bimbos and all sorts of hotties, and your little mermaid friend will show how nasty she is by saying all sorts of filthy things. She calls all of these girls sluts and she is all about teaching them a lesson.
The bitches here are insanely receptive. Whatever you want to do to them, they won't disagree. It's so easy to just fuck them! You have a lot of great games here. The artwork is impressive. They even have an active and engaged community that you will enjoy getting to know. But what I personally like is how some parts of this game are simply hilarious! I like the dirty talk, I like the bimbos, the mermaid bitch, and the incredible graphics. You even have guidelines and the storyline is not boring at all.
The flaws
Sometimes it feels like they gave us too much gameplay, and there should be more fucking scenes. Also, every time you want to add a new feature, you will need to pay for that. And my last complaint is that some of these sex scenes are just images. These are the things I didn't really like about Booty Calls. But all in all, we can always find flaws no matter what we play. If we focus on the good things, we can say that the game is fucking awesome!
Good things about Booty Calls
a great game that is free
stunning graphics
the storyline is epic!
you have guidelines
the babes here are insanely hot
the community of fans is active
it's even funny!
The cons
too much gameplay, we need more sex scenes!
no iOS version
extra features cost money
sex scenes are actually just some images
Conclusion: Booty Calls Is A Great Free Porn Game
There is no other way to put this, the Booty Calls Game is a solid porn game worth playing. If you're into the hentai and gaming sites, then you'll like this. Yes, the features are worth paying for with the upgraded experience. That said, you can always give alternative sites a try as well. I'll share more alternative porn games for the gamers who like to jerk the joystick as I get them reviewed.