Japanese culture is very different than the rest of the world; this includes porn as well. The Japanese adult industry or JAV has many different things to offer, and if you still have not watched any JAV videos, fix that mistake immediately.
The original JAV streams usually have pixilated areas – the naughty parts, that is. Still, if you really wanted to see the action in full HD image quality, nothing stops you, as you can very easily find the uncensored versions of these movies. And all of them have gorgeous babes in the starring roles.
Japanese girls are blessed with flawless skin, and we have trouble guessing the age of the women in the videos – whether they are teen girls, MILFs, or more mature ladies. So, here we've made a selection of some of the hottest names in Japanese porn, names that also have international recognition. Enjoy our list.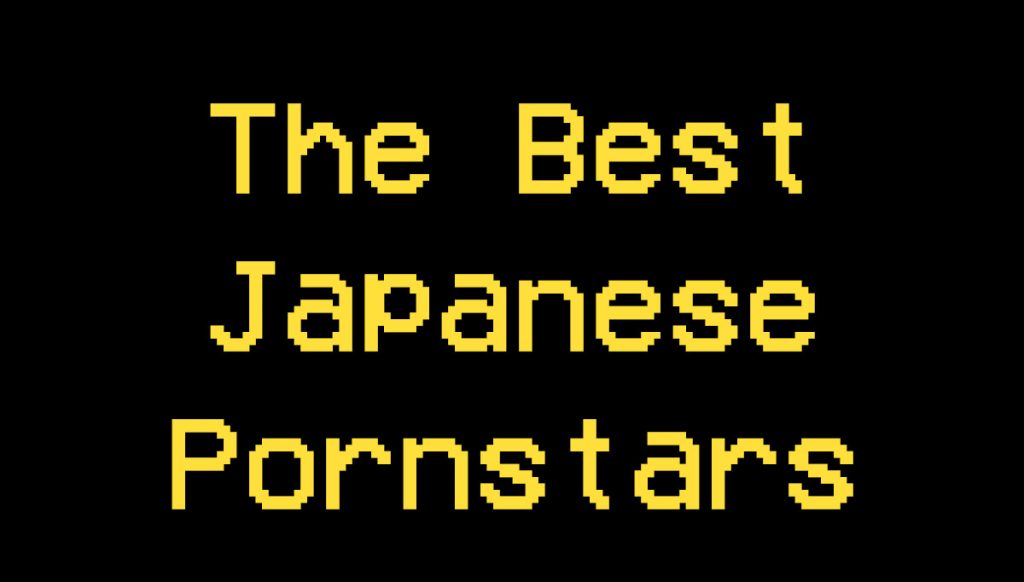 Top Japanese Porn Stars of 2021
Before I get deep into the list, I want to mention that I've also covered the hottest Asian pornstars as well. I think you'll like that list if you like this one. So, check them both out.
Marina Shiraishi
Marina Shiraishi is graced with soft curves and a cute smile, and you won't believe that she is a MILF porn star who knows how to give and take pleasure. Her boobs are on the larger side, and her ass is terrific. She has abundant sexual energy and incredibly sexy moans that inspire lustful thoughts.
Shunka Ayami
Shunka Ayami is a petite lady who looks underage but is the perfect age for doing porn. She is very sexy and has beautiful bouncy boobs, a tight waist, and curvy booty. She has a fabulous camera presence, and even in the "more conservative" Japanese porn, Shunka shines through and attracts the audience's attention.
Aoi Kururugi
Aoi Kururugi looks like someone's little sister; with her petite body, small tits, and perky ass, she looks almost underage. But she is an adult who loves to suck a cock and does this expertly. Aoi is also an expert in riding a man's cock until their creamy cum lands on her skin.
Mao Hamasaki
Mao Hamasaki is a petite lady with a cute smile, nice tits, and an almost doll-like appearance. Under all the cuteness, there is a sex goddess who enjoys sex and bringing men to her knees. She also has a kinky side and is full of tricks that quickly inspire orgasms in the audiences enjoying her scenes.
Tsukasa Aoi
Looking underage and innocent, Tsukasa Aoi rocks the cute schoolgirl's look to perfection. Still, she is an adult – Tsukasa is close to thirty years old. She knows how to fuck like a pro and is not shy in showing off her talents in sucking cocks and licking pussies, and she has a long list of sexy scenes behind her.
Tsubasa Amami
Tsubasa Amami is so cute and sexy; it is unbelievable. She is short but has big boobies, long legs, and a perfect peachy ass. Her sexual energy is bountiful, and her sexual skills are fantastic. If you watch her scenes, you'll indeed be inspired to cum as fast as possible.
Hana Haruna
Unlike the preconception that all Japanese women have small boobs, Hana Haruna defies this opinion with massive jugs that are all-natural. The rest of her body looks fantastic as well, and she knows how to treat a man. Her dirty nature makes Hana a pro in sucking, fucking, and riding a cock to oblivion.
Miho Ichiki
Miho is blessed with a petite frame and an angelic face, but she had some work done on her body – her fake tits look incredible. Her wild sexual energy shines in every scene she does, and you can often see Miho engaging in hardcore porn movies where she gets roughed up and fucked like crazy.
Minori Hatsune
Minori Hatsune is cuteness personified, and she looks almost underage. But the hair on her pussy shows that she is a grown woman, as do her perky boobs and her abundant sexual energy. She loves sex and enjoys having one stuffed in her pussy. You should definitely check out some of Minori's scenes.
Erika Kitagawa
Erika Kitagawa is the proverbial Japanese porn star. She looks shy at first glance but soon transforms into a sex vixen who loves to ride a cock and lick a pussy. Her body is sexy: medium boobs, perky ass, and toned stomach. Erika is a pro at doing porn, and you can catch her work where she fucks a hard dick like an Olympic sport.
Yuu Shinoda
Yuu is short, petite, and cute as a button. But this Japanese porn star has been in this work for so long that she's learned all the tricks of the trade – she can make a man cum in very few short minutes. Yuu is among the few Japanese porn stars who do anal play videos, which we strongly suggest you check out.
Hitomi Tanaka
Hitomi Tanaka is a Japanese porn star with incredibly massive boobs – these juicy jugs stand out in every scene she does. The rest of her body is also impressive, her ass is perky, and her smile is cute and sexy. Like most other Japanese porn stars, she has a hairy pussy that loves to take a hard cock inside.
Asahi Mizuno
Asahi Mizuno is a Japanese porn star who has a very kinky side. She is taller than most other girls on this list, with long legs, medium boobs, and a beautiful face. She loves hardcore sex, and her favorite position is to be fucked from behind and fucked roughly.
Kurea Hasumi
Kurea Hasumi tried to become a model but is too short, and she went into porn instead. She seems to have found her calling – she looks incredible and loves sex a lot. Her face is adorable, and her body is slender and graced with perfect tits. She loves to have her pussy licked, as you can see in her videos.
Kirara Asuka
Kirara Asuka has an adorable face but has the body of a goddess. Giant boobs, narrow wairs, and round booty make Kirara quite attractive, and she loves to play with her body in front of a camera. She is very talented: her talents include sucking hard dicks, and fucking them like there is no tomorrow.
Yui Hatano
Yui is adorable and looks like the lovely girl next door. Under this exterior hides a sex vixen who is bisexual and loves to suck a man's dick or lick a woman's pussy like it's her last meal. She is very skilled in all sexual scenarios, and she loves to have sex with giant dicks, even though she has a tiny pussy.
Maria Ozawa
Among the most famous Japanese porn stars, Maria Ozawa looks gorgeous and has all the talents of a genuine porn star. She has a tight, hot body, trim, perky boobs, and incredibly sexy moans. She is active in both straight and lesbian porn, and you can enjoy her work with guaranteed lusty thoughts, inspiring a quick completion.
Anri Okita
Anri Okita has enormous natural boobs and a face that looks like it belongs on a doll. She loves to experiment, and you can often see her engaging in a titty-fuck before she gets a giant dick shoves in her tiny pussy. But Anri is also bi-sexual and regularly engages in lesbian action where she licks a pussy like a pro.
Reiko Kobayakawa
Reiko is a curvy, busty lady with a pretty face and a healthy appetite for sex. She is a long-term Japanese porn star, and she has plenty of talent when it comes to the art of fucking. Reiko is an expert in sucking dick and a more prominent expert in riding a man to a creamy orgasm.
Nanami Matsumoto
Nanami Matsumoto is a petite yet curvy lady of Japanese porn. She is blessed with nicely sized and shaped boobs that bounce when she is riding a man. She looks innocent, and you won't think that she does porn for a living, but she is, in fact, one of the best Japanese porn stars now and she's had sex with an incredible number of men.
Rara Anzai
Rara Anzai also goes by another name, Shion Utsunomiya, and she is one of the best porn stars in Japan. She has an angelic face, beautiful hair, and a goddess-like body. But her true talent is her sexual skill – she is a pro when it comes to riding a man's dick and making a man worship at her feet.
Hibiki Otsuki
Hibiki Otsuki is a cute, petite, and beautiful Japanese porn star. She has tiny tits, a slim waist, and a nicely rounded ass. She has a cute moan when she gets stuffed with a huge cock up her tight holes. We think that her work is worth checking out, and we guarantee that you'll have good material in your spank bank.
Aika Yumeno
Aika is so very short, only 4'11'', but she has fantastic curves, perky bouncy boobs, and an angelic face. She is usually quiet and does her job – sucking or riding a dick like the professional she is. But on occasion, you can hear Aika's moans, and these alone can inspire lusty thoughts.
Mio Kimijima
Mio Kimijima looks like a bit of an angel with a perfect face and gorgeous body. She has good-sized boobs, a peachy ass, and a very narrow waist. In her long career in Japanese porn, Mio made many scenes and rode many dicks, much to our pleasure.
Kaho Shibuya
Kaho Shibuya is a Japanese porn star and a cosplayer, and even an author and actress. She has massive natural breasts that draw the attention. But one of her trademarks in her porn career is the ability to squirt, regularly showering her co-stars in her juices.
Julia Boin
Julia Boin is an incredible lady – her massive boobs are gorgeous, and her legs are long, and her smile is beautiful. She keeps her private life very private but is not at all shy in her porn career. She shows off her body and talents, as she can suck a cock and ride a man in incredible ways, which we suggest you go and check out.
Yua Mikami
Yua Mikami is among the top porn stars in Japan now. She is gorgeous – angelic face, flawless skin, petite frame, perky boobs, and tiny pussy. Yua is so very talented and has an incredible sexual appetite, and she has a fabulous camera presence that draws all eyes on her. Another of her traits – she is very flexible and can have sex in various positions.
Aimi Yoshikawa
Aimi is a genuine porn star – enormous titties, slim body, round booty, and incredible sexual appetite. Aimi may look innocent, but she knows how to fuck like a pro – once she sees an erect cock, she gets on her knees and starts sucking it immediately. Don't believe us – check out her scenes and see for yourself.
Saeko Matsushita
Saeko Matsushita is blessed with massive boobs with large aureolas and stiff nipples, but she also has curves in other important places. She has a long career in Japanese porn and loves to have sex in all possible positions. She is cheery and smiles even when she gets pounded in her holes.
Ruka Inaba
Ruka Inaba is taller than most of the other Japanese porn stars on our list, and she has an incredibly curvy body with a fantastic face and incredible eyes. She looks innocent at first but is soon transformed into a sex goddess who can inspire orgasms in both men and women.
Eimi Fukada
Eimi Fukada is a cute and petite porn star with a terrific face and captivating smile. She is just out of her teens but is very skilled in the art of fucking and inspiring lusty thoughts. When watching Eimi in action, you can see why she is near the top of our list – she has the skills and the looks that stay in the mind long after the scene ends.
Maria Nagai
Maria Nagai is arguably the best porn star in Japan now. She has dreamy eyes that capture sensuality, but her body is made for sin. Maria has a curvy body with incredibly developed boobs that beg to be touched and caressed. You can see what we're talking about when watching her work, as Maria Nagai is a seriously skilled sex goddess.
Yuna Hayashi
Looking like she just reached adulthood; Yuna Hayashi is a genuine porn star. She is slim and slender and has a fantastic face, beautiful titties, and an innocent look. But Yuna is anything but shy, as she has been doing porn for so long, and she is a veritable sex goddess. Don't believe us – we urge you to check out her work and see why she is among the top Japanese porn stars in 2021.
The Bottom Line
We hope you enjoyed our list of the hottest Japanese porn stars active in 2021. All the Japanese ladies on this list are amazing for their beauty, innocent looks, and incredible sexual appetites. If you noticed, the hairy pussy trend is strong in Japan, and most of these ladies rock it perfectly.
If you have a favorite Japanese porn star who is not on our list, please share the name, and we'll make sure to update the list periodically. Also, check out the other lists of gorgeous porn stars we have prepared for you.