Latina girls are known for their fiery spirit, round booties, and beautiful, soft creamy complexions. In addition, they usually have a more liberal attitude towards sex; they enjoy rough pounding more than the average person.
Here we've prepared a list of the hottest Latina girls currently active in the porn industry. The girls on our list are blessed with amazing bodies, gorgeous faces, and a very healthy attitude towards sex. As always, we are not putting numbers on our list, as we love all the entries and think you'll love them too.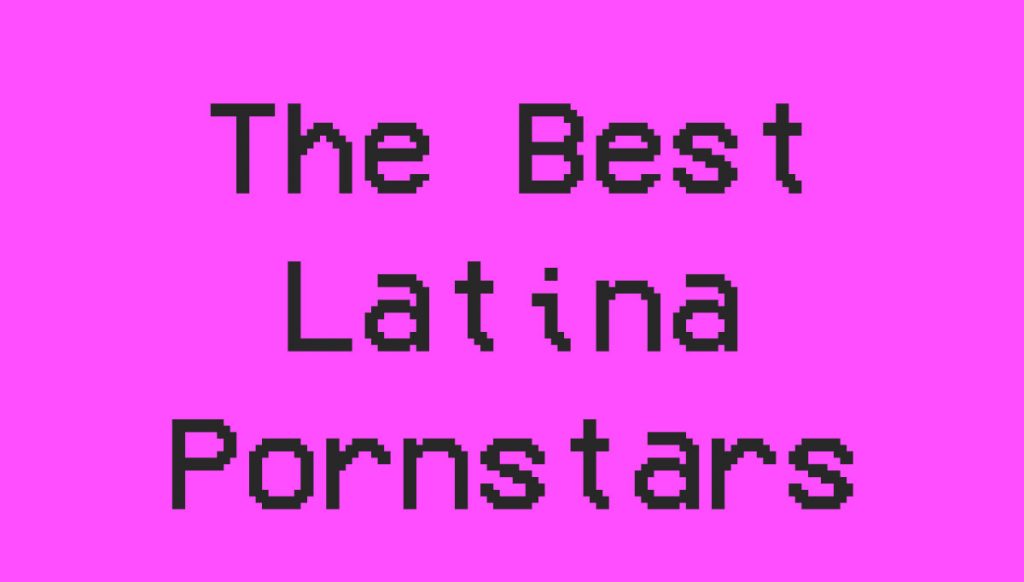 Top Latina Pors Stars of 2022
Jenna Sativa does not look like she should be in porn, but believe it or not, she is one of the hottest names in lesbian porn at this time. She still resists the urge to play with a dick on camera and only does pussies, but her scenes are worth watching. She has Cuban roots that show in her curves.
Gia Milana entered porn to satisfy her love for sex. She looks fantastic when she slides a dick between her luscious lips. Even though she has fake tits, these are so well made that they bounce beautifully when she is riding a man. Plus, Gia is a fitness fan with a nicely shaped, perfectly tight ass that she loves to have spanked.
Her name may not sound Latin enough, but Katana has the background and is indeed one of the most active Latina porn stars now. You can watch her, and we guarantee that you'll immediately fall in lust with her beautiful boobs and perfect ass. In addition, she loves to play dress-up, so she can seduce a man while taking her clothes off.
Violet Starr comes from Florida but has Latino roots and has worked as a stripper. It has helped her shed her inhibitions and taught her to seduce men with just her eyes. Of course, it helps that her body looks gorgeous, her boobs are close to perfect, and her pussy is terrific. Also, Violet has a craving for sex with both men and women and is active in all sorts of scenes.
This Latina beauty has a scorching body, curves for miles, and a pair of perfect fake tits. However, it is her on-camera presence and incredibly raw sexual energy that draw the eyes, and once you see Victoria suck a dick or fuck a man, you'll have enough spank bank material to last you for days.
Jynx Maze looks cute and innocent, with perfect bedroom eyes and a peachy booty. But she is anything but innocent and shy, as she enjoys rough handling and hardcore fucking. One of the favorite things this Latina porn star loves to do is to have a man pound her tight asshole from behind.
Eliza is a gorgeous Latina beauty and she has a stellar career in front of her. She looks cute, but once she sees a dick, she sheds her inhibitions and goes to work. Her insatiable sexual appetites are visible, and she is an expert in taking one or more of them in her holes.
Isis Love has been a part of the porn industry for a long time, and she aged like fine wine, looking more beautiful, if possible. Her body is incredible, albet with fake boobs, which look close to perfect. She loves to have sex, and she fucks both men and women with an insatiable appetite, much to our enjoyment.
Serena grew up in Miami and declared herself a party girl, including a considerable appetite for sex. So the obvious career choice where she gets all her cravings satisfied was porn, and she is excellent at it. In her career, she has fucked both men and women, and we love seeing all her work: we think you'll love them too.
Ella has worked in porn for close to five years and has done hundreds of scenes. She has a stunning figure and big boobs, and an adorable smile. In more recent time, Ella has turned to more hardcore stuff like anal sex and has announced that she'll soon be starring in double-penetration and gangbang scenes.
As her last name suggests, Abby Lee Brazil has Brazilian genes. She also has the body to show off: big round ass, perfect boobs and soft creamy complexion. But her sexual appetites are what has helped advance in her career – she loves all types of sex, and anal is her first choice.
Catalina comes from Colombia, but she does not look like the average Latina babe. Her boobs are on the smaller side, but it is her ass that takes the stage. Plus, she has an inexhaustible sexual appetite that she loves to test. She is always horny and has fucked a lot of the top performers in the industry.
Lela has a voluptuous body due to some surgery, but the result is terrific – her tits are close to perfect, and her ass is big and round and beautiful. Lela is a short lady, which also makes her look curvier. She loves to show her assets while working and loves to test a man's will.
Ariana Marie has worked in porn for a while but kept her natural look, which we love and respect. Her body is petite, slim, and tight, and her boobies are perfectly natural and bouncy. She has done all sorts of scenes in her long years in porn, ranging from sensual lesbian scenes to squirting, or hardcore anal scenes, and even anal gape scenes.
Miss Raquel is a Dominican beauty who has worked in porn for a long time. During her career, she has done a lot of different scenes where she tested her sexual boundaries. Her curvy body looks impressive, and her butt is often the focal point of her videos, of course, with a dick stuck in it.
Gina Valentina started doing porn as a fresh-faced 18-year-old and is now a well-established name in porn. She is a petite lady, with many different scenes, including anal, interracial, creampie, and lesbian. With every scene Gina does, she only proves that she is a genuine porn star who loves her job – and we love her too.
Vicki is a Mexican porn star who is blessed with unique curves and all-natural boobs and ass. She has done porn for a long time, and is among the top-rated names now. She can bend in plenty of positions, giving her the ability to get fucked in unbelievable positions. Also, Vicki loves to have her asshole stretched to its limits.
Violet Myers is a fresh-faced teen porn star who looks adorable. Still, her big, natural tits and big, round ass separate her from the competition, as does her love for sex. Besides her adorable looks, she is devoted to her work, and we hope she will go on to do more scenes for us to enjoy.
Lily Lane is a horny girl, and when it comes to sex, almost nothing can satisfy her cravings. Her sexual energy is impressive and contagious, and everyone working with her is soon overtaken by it. Her body is covered in tattoos, and she has enormous fake tits and a round, peachy ass that looks fantastic.
When you first see Gabriela Lopez, you will think of a cute, shy girl who does not know anything about sex. But when she starts a scene, she turns into a veritable slut who knows everything for satisfying a man. She is gorgeous and loves to perform in front of the cameras, and you can see her on the many one-on-one porn show platforms.
Rose Monroe is a gorgeous Latina babe with a long porn career where she has worked for all the major porn studios and has fucked all the major porn stars. Her boobs are huge and fake, but her ass is all-natural and looks fantastic. She loves to play with it, and you can often see her having hardcore anal sex.
Juliana Vega is a Cuban stunner who has show-stopping curves. Juliana has been a part of the porn world since 2014, and she has done a ton of scenes since then. She is now active in the MILF category, and her exhibitionist desires still put her on lists like this one.
Luna was born in Cuba; she finished her education and then decided to give porn a try. Because of her insatiable sexual appetite, she has made a name for herself, which is why we have put her on this and other similar lists. She loves all sorts of scenes, including men and women, as she is an expert in both dicks and pussies.
Alina Belle is a recent addition to the porn world, but she has worked with all the major porn studios at this time. She loves sex and has already fucked the top male talent like a seasoned pro. Her body is gorgeous, and she has fake boobs and a big, bouncy ass. She is still experimenting, and we can't wait for her to do more hardcore stuff.
Ariella Ferrera is a well-known name in porn – she started as a young teen girl but is now in the MILF category. She is a really busty lady; her massive boobs have huge areolas and perky nipples. She loves sex and said that she'll stop doing porn when she no longer enjoys fucking: we don't think this will happen any time soon.
Canela Skin comes from Colombia and has the perfect, curvy Latina body – big boobs, big, juicy ass, and gorgeous smile. Canela's ass is one of the most famous asses in porn, and she loves to show it off in all her scenes. Most of her work also revolves around it; she loves to have it stretched and filled with dicks.
Emily Willis is a new name in porn, but one getting the recognition it deserves. She loves to do all sorts of scenes and loves to experiment and push her boundaries. That is why in the only couple of years, she's done anal, anal creampie, ass-to-mouth, interracial, and double penetration scenes. In addition, she loves to suck a dick and we hope she goes on to have a long career in porn.
Looking soft and lovely, you would not think that Alina Lopez is a sex goddess. But in fact, she is a genuine porn star with insatiable sexual energy. Her body is all-natural – her boobs are perfection, and her ass begs to be touched and caressed. She loves to do lesbian scenes and stars in hardcore sex scenes; we can't wait for her first anal scene to come out.
Azul Hermosa went into porn as a MILF, and she's done the right move. She is gorgeous, with a pair of perfect boobs, tight ass, and slim, toned body. She loves to get on her knees and suck a man's cock, and then stuff it up her tight pussy. We have great hopes for Azul and hope she continues to surprise us with new scenes.
Desiree Dulce will keep you coming back for more and more of her scenes. She looks fantastic, and her lips look perfect, wrapped around a hard dick. Her boobs are fake but still bounce whe she rides a man. She's said that she would love to suck every last dick in the porn industry by the end of the year.
Autumn Falls is one hot Latina chica. She looks adorable, with big, natural boobs, a juicy butt, and perfect skin. She loves to have sex, and loves to experiment. In her scenes so far, you can notice her enthusiasm, and we can't get enough of her and hope that Autumn Falls will go on to do great things in porn.
laSirena69 is really called Maria Antonella and is so very gorgeous; you would not believe it until you see her. She is now among the top-rated porn stars, as she regularly posts new, creative, beyond sexy content. It helps that she is blessed with an almost perfect body that begs to be touched and worshiped. If you still don't know who LaSirena69 is, then go fix that mistake immediately.
The Bottom Line
Above, we've listed some of the hottest girls in porn with Latina genes. These girls are all beautiful and have almost nymphomaniac sexual desires, making them very successful in their work. We hope you enjoyed our list, and we apologize for possibly missing one or two names. If you think the list can be improved, please share your thoughts with us, and we'll update it occasionally.