The girls in porn differ in many ways, and while the majority of them seem to be buxom ladies, there is a lot to be said about petite girls. There is always an influx of young, hot babes who enter the porn industry, and in recent times, these usually include petite girls.
That is why today, we've prepared the following list, listing all the hot, petite babes in porn that have caught our attention. The girls we've selected here are gorgeous, smoking hot, and more importantly, they have a slutty nature and kinky desires that shine through. Plus, these ladies usually have a submissive nature, which looks hot when paired with big, muscular guys.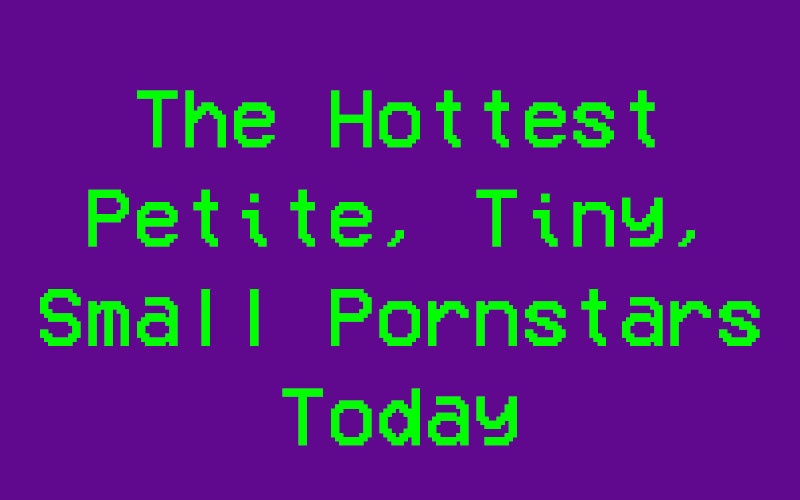 Hottest Petite Porn Stars in 2022
This is the best and most up-to-date list of the hottest tiny pornstars and petite female adult models doing porn today. Of course, this list may change at times, but consider it up to date and accurate as can be!
Haley Reed
Haley Reed looks impressive: small perky boobs, perky ass, and a huge sexual appetite. This petite American porn star loves to suck and fuck a massive dick, and you'll be amazed at all she is capable of doing. Loving to push her sexual boundaries, there is not much that Haley would not try.
Kiara Cole
Kiara Cole is a slender, petite babe with a peachy ass and perfect boobs that suit her frame perfectly. She is a cute one and loves to learn everything there is about fucking. As you can see in her more recent work, Kiara improves her skills, which is worth watching.
Bella Rose
Bella Rose is a lovely lady with a perfect body and angelic face. However, her impressive fucking skills have landed her on our watch and our list. We love to watch her get fucked in her tight hole as she looks like she is having fun riding a huge dick.
Jessica Portman
Jessica Portman is a very fresh face in porn, as she has only a few scenes to her name. However, this does not stop her from giving sensual performances. It gives a whole new perspective on the erotic porn genre and not the usual hardcore pounding that petite porn stars usually get.
Gina Gerson
Gina Gerson looks impressive and loves to get dominated by muscular guys with massive dicks. However, she is a petite one, with smallish, perky boobies and an angelic face. We suggest you take a closer look at her scenes where she tries to fit a massive dick in her tiny mouth.
Piper Perri
Piper Perri is a petite porn star with small, perky boobs, long legs, and a slim figure. She enjoys her submissive role and loves it when the porn stars she works with take their dominating role seriously. She enjoys working with both men and women, and we suggest you check out her work.
Chloe Temple
Looking barely legal, Chloe Temple is a real temptress. She has a cute face, nice blond hair, and a petite frame. Her boobies are small and perky, and her booty is tiny and juicy. Chloe is capable of handling some massive dicks, and we have high hopes for her.
Lola Fae
Lola Fae looks cute and innocent when clothed, but when she strips, the first thing you can notice is that her boobs are almost flat, but she has heart-shaped tattoos over them. Lola enjoys being the submissive slut, and is most often engaged in hardcore anal pounding scenes.
Ella Hughes
A natural redhead, Ella Hughes is a UK porn star. She is thin and lovely, but when she sees a hard dick, Ella transforms into a sex vixen that loves to tease, suck and fuck it. Her work is fantastic, and she is rightfully considered one of the best petite porn stars now.
Lexi Lore
Lexi Lore looks like a nerdy teenager but is well past her teen years. She has several piercings in exciting places and looks impressive as she rides a huge cock. Lexi loves all sorts of scenes and has done anal, interracial, and creampie scenes. Plus, she puts out fresh content regularly.
Gina Valentina
Gina Valentina may be petite and have smallish boobs, but her sexual appetite is enormous. What is also huge is her ass, and she loves to have a huge cock stuffed up her back hole. She is among the sexiest porn stars now, and we expect her to make excellent porn content for years.
Jane Wilde
Jane Wilde is a wild one; she entered the porn world when she was 18 and still goes strong today. Jane has worked with all the top porn stars for all the major studios. She works with men and women and has done anal, creampie, interracial, and lesbian scenes, much to our pleasure
Alex Grey
Even though Alex Grey is a petite babe, she looks fantastic. Her boobs are small, her figure is slim and toned, and her face is adorable. Still, Alex has an intense sexual energy that she spreads around, and she loves to seduce and govern her co-stars.
Scarlit Scandal
Scarlit Scandal is an ebony goddess with a fresh face and intense sexual appeal. She may be young and new in porn, but her cock-handling skills are well-honed, and she can deepthroat even the largest dicks with ease. We suggest you catch some of Miss Scandal's work and you won't be disappointed.
Tiffany Tatum
Tiffany Tatum is skinny and petite, but she still looks gorgeous and impressive. She has an elegance about her and loves to shoot sensual and erotic scenes. You can see Tiffany in action and see firsthand how she can make even a hardcore fucking session look sensual and arousing.
Kimmy Granger
While she dialed down her recording schedule, Kimmy Granger is still active in porn, much to our pleasure. This petite porn star looks impressive, with nice boobs and a juicy ass. Kimmy loves hardcore pounding by a massive dick as much as she loves to lick and suck pussies, so now you can see her in both hardcore and lesbian scenes.
Kenzie Reeves
Kenzie looks cute and innocent, with a petite frame, angelic face, and cute expression. However, once she strips, she transforms into a cock-hungry vixen who loves doing dirty things. Her slutty nature landed her on our radar and our list. That and her love for anal sex where she gets a massive dick up her ass without any trouble.
Emily Willis
Emily Willis is one of the hottest names in porn now, and she's been featured on several of our lists. She is very active and regularly posts new content for us, her loyal fans. In addition, Emily loves to perform, and she's done all sorts of scenes with the top talent in porn. You can see her in anal scenes, interracial scenes, and creampie scenes, among others; all her work is worth watching.
Vanna Bardot
Vanna Bardot is a graceful petite chick with nice boobs and nymphomaniac sexual desires. Vanna loves to deepthroat a massive dick and enjoys her submissive role. She is flexible and stretchy and can bend and stay in various positions thanks to her ballet training. Of course, her hardcore scenes are a must-see.
Nancy A
Nancy A is a slender babe with fantastic boobs, a tight ass, and an inclination towards sensual lovemaking. She is capable of adding a sensual, erotic undertone to even the most hardcore scenes. If you wish to see a versatile petite porn star, you can see Nancy A in lesbian action, anal, and creampie scenes.
Kira Noir
Kira Noir is an ebony beauty with a petite body, which is very unusual for ebony babes. She has an athletic build and incredible sexual energy that captivates the audience. Kira is among the most sought-after names in porn now, and she loves to fuck, making her goal to fuck the top names in porn now. And yes, she's done many varied scenes like anal, double-penetration, lesbian, and many more.
Naomi Swann
Naomi Swann looks impressive and sensual while keeping her slutty nature intact. She may look innocent and cute, but Naomi is intended to become one of the top performers in porn, a task she is very devoted to. She has done plenty of scenes like anal, interracial, lesbian, and creampie scenes and loves to be dominated and handled roughly by her male co-stars.
Elsa Jean
You can wonder how a little thing like Elsa Jean can handle and fit such massive dicks inside her tiny body. Well, we say that it does not matter as long as she continues the good work. Elsa is gorgeous; she looks lovely with clothes on; she looks impressive stripped down to her bare skin. See her work, and you'll see what we are talking about.
Vina Sky
Vina Sky is an Asian beauty with a petite frame, nice perky boobs, and perky ass; she has a lovely face and an intense sexual presence. But unlike her innocent looks, she loves to fuck. Vina has been fucked in the roughest possible ways in her longish career, including anal, interracial, and many more.
Riley Reid
You may have guessed the last entry, but this list would not be complete without Riley Reid. She is among the prettiest porn stars today and has a cute, angelic face. But if you've seen her in action, then you know that Riley is a sex goddess who loves any kind of hardcore pounding. She's done anal, interracial, double penetration, and many more and does not seem to slow down.
The Bottom Line
We've selected these 25 petite porn stars for our list. But it does not mean that the porn world is not filled with many more. So if you have a preference, please share the names with us and update our list occasionally. Also, browse our other hot lists for more gorgeous porn stars.