If there's one porn site that makes your cock hard and your life easy that's FBjav.com! Simplicity is the vibe here along with some pretty nasty content you get to see once you check out this awesome free porn site. Yep, you've read it correctly motherfuckers!
You can watch all smutty videos for free and escape from your miserable everyday life into a world of fantasies and good old hard fucking. So you're addicted to hardcore Japanese porn action? You're welcome fuckers, cause I'm about to reveal to you one of the best porn content there is!
Ok, so the name is everything but catchy, I'll admit it. I personally think it's as simple as it can be, but you're not freaking geniuses either! In any case, you have no right to complain about the name, because no one gives a shit about your opinion, and the name doesn't diminish the smutty content that FBjav.com offers you. Just watch one porn action on this site and I bet you'll forget about everything around you.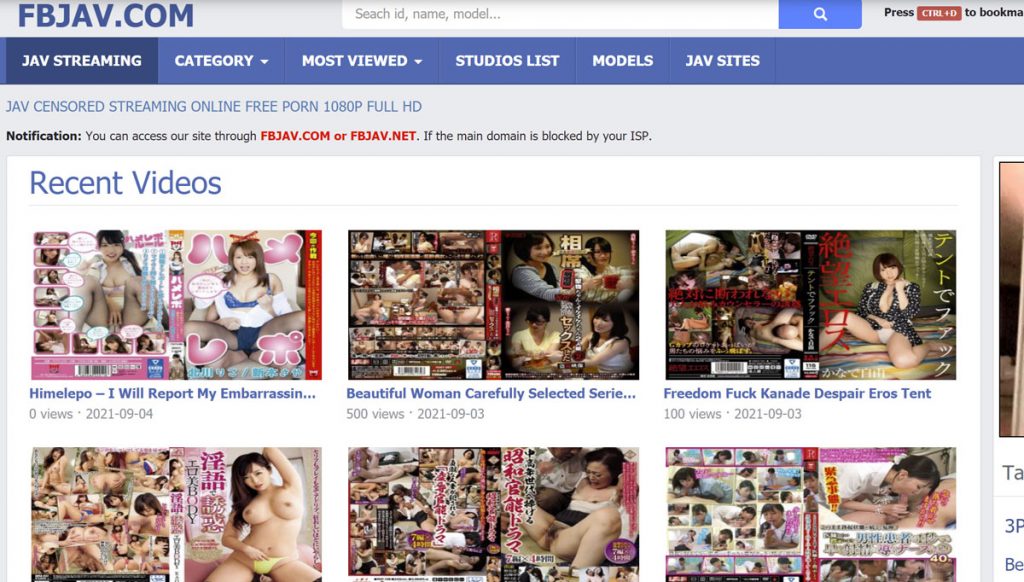 FBJAV Rundown: Japanese Porn Site Higlights
I know you're most interested in the content. Let's start with the fact that you are even more interested in continuing this review because you all know that when it comes to pornography, the Japanese know damn well what they are doing. And you are too perverted to find their work unattractive!
So don't pretend you're not impressed with the ability of Japanese porn stars to act like complete innocents at the same time and fuck like the dirtiest sluts you can imagine. Get ready for a crazy ride and highly trained ruthless bitches in the guise of innocent girls.
There's just one catch. Although you will watch scenes of pretty fierce fucking, you still won't be able to see everything you want. While some horny Japanese guy fucks his little slut on screen, you get fucked by censorship.
Reconcile with the fact that you will see good tits jumping up and down or being squeezed during hardcore sex, but be sure that you will not see a pussy in high resolution. Cocks and pussies have to come with blur, so you'll have to be imaginative to picture what that young porn hope's cunt really looks like. Like you don't do that anyway!
What's fucked up in comparison to western porn is the video quality. Some Western porn definitely has better quality than some Japanese sites and that can be frustrating at times because you are of course fucking spoiled and want to see all the dirty details clearly. That's why you're here, isn't it?
However, even this shortcoming quickly turns into ignore mode, because Japanese porn has some unique vibe and there's nothing quite like it. Whatever the quality, you will hardly miss the weird action on FBjav.com!
On the other hand, let's be honest and admit that we all love to jerk off at amateur footage. The poorer video quality just gives us the vibe of amateur homemade video and makes these twisted scenes even hotter. That is why we are tripping that we're not watching pre-conceived stories, but witnessing spontaneous home games of naughty little girls who turn into excellent bitches right in front of our eyes!
These Numbers Will Blow Your Fucking Mind!
You losers must be pretty insatiable because you probably won't have a chance in this life to fuck such crazy little bitches you drool over while jerking off in front of the screen. Don't worry, even though they don't care about you, they don't really even know you exist, FBjav.com has made sure you have enough sources of dirty content for your fapping sessions.
Get ready for some breaking news! Ready? More than 34,000 videos are waiting for your little cock to get aroused! Isn't it something? Even I don't believe that you're such losers that you can check out each and every one of those, but even if you prove me wrong, your source of porn will never dry up. They upload new content constantly, so I can already see that you have moved into FBjav.com.
In addition to awesome porn, experienced whores with impressive tits and pussies, and even more impressive skills, FBjav.com has gone so far as to give you motherfuckers all this for free. They are fucking gods for that and you should be grateful to them every fucking time you get horny by the twisted sex act of some ruthless old man who punishes an innocent girl after she got into trouble.
Someone would give anything to see this. I know I would! Obviously, FBjav.com has no intention to make cash from your fapping, because it has a much better source of income (and quite high one). Take advantage of this perfect circumstance and turn it to your advantage. Enjoy the maximum with free smutty content!
Not Everything's As Smooth As Fuck
So I've already said that the Japanese are porn gods. The fact that they are responsible for everything they do also contributes to this. The porn actors must be extremely dedicated to their roles and it's obvious that they perform professionally every line written in the script, which makes the whole story seem more convincing and exciting.
Porn stars take their job seriously and try to give their best and satisfy their fans. In every sense. That's why I fucking adore FBjav.com! Stupid cliché dialogues and predictable scenes sometimes get bored and we can't wait for those scenes to pass before we finally see the pussy in action.
I bet you'll enjoy every fucking second here! The totally realistic situations on FBjav.com can't be compared to most of the porn movies I've watched, nor can the feeling every time I jack off at ingeniously dirty intercourse.
Ads Are Annoying As Fuck
What will definitely get on your nerves are the fucking ads. They are everywhere and it's fucking impossible to avoid them while you're on FBjav.com. However, don't let them demotivate you! The great news is that the moment you start the video, the ads won't pop up. That's great, because who would want to be interrupted by irrelevant information when they jack off at some mindless fuck!
However, if you try to switch to another part of your current nasty video then you could come across an ad. But then you asked for it yourself! It sounds like a hassle and can slow down navigation, but you just get used to it. After all, you get all that numerous smutty content for free and it's pretty cool, so view ads as a charge for perfect promotions. Don't be greedy!
When it comes to design, it's pretty simple. Basically, you can do anything with one click. FBjav.com made sure that everything was simple like our grandmas would decide to use the site. That would be cool, no? I wonder if our grandparents even know all of this exists. Well, if you watch some grannies on gilf porn sites, and oldies on old and young sites, we can definitely say they do. But I don't want to imagine my grandparents in these scenarios. I really don't! But, the design – you can quickly switch from Models to Categories, from Categories to Channels, or whatever order you want. Whichever part you want to check out, you won't wait. FBjav.com did a great job there.
The best things on FB JAV
Let's see some sweet pros of the site! Ok, so there are some pain-in-the-ass ads, like on any other site, but no many ads, which is fucking awesome! Finally, a site that cares about our time and patience! Ads definitely won't interrupt your streaming, so lay back and get it on! And even more importantly, they actually have an impressive archive of smutty content!
There's no way in hell you'll get enough of it and be able to see it all because new stuff just keeps uploading and for that thumbs up! And here's another bull's eye – it's an easy site to navigate and use. FBjav.com made everything so simple that you just lose track of time there and switch from one part to another like there's no tomorrow!
Pros of FBJAV.com
A lot of great JAV content
An easy to use site
No many ads
Site Cons
They still do have ads
No amateur content
A bit dated design?
To Wraps Things Up…The Worst Things On FB JAV
Finally, let's talk about some baddies here. No amateurs? That fucking sucks! Although due to the poorer quality of smutty shots, some videos resemble amateur shots, they still lack real twisted homemade videos. And they still do have a few ads. Which is enough to irritate and somewhat slow down the search of what interests us.
And when it comes to design, it wouldn't kill them to have fun tackling this item in a slightly more modern and appealing way. I mean, a dated design – this could be changed! But that's pretty much it. I know some of you've already unzipped your pants in front of FBjav.com, you impatient perverts. Enjoy your new search for brilliant twisted Japanese porn!