YouTube is the number one platform for watching videos online, with 30M+ active channels. Well, some of these channels are incredibly famous and garner a lot of attraction and viewers. Here we'll talk more about the YouTube channels known for their YouTube careers and their stints in the adult industry.
Yes, you are reading this correctly – many YouTube stars have done porn before they found commercial success with their YouTube careers. Here is a list of several famous YouTubers who have had success in porn. We are sure there are many more, so if you know anyone else, please share their names with us, and we'll check and add their names to our list.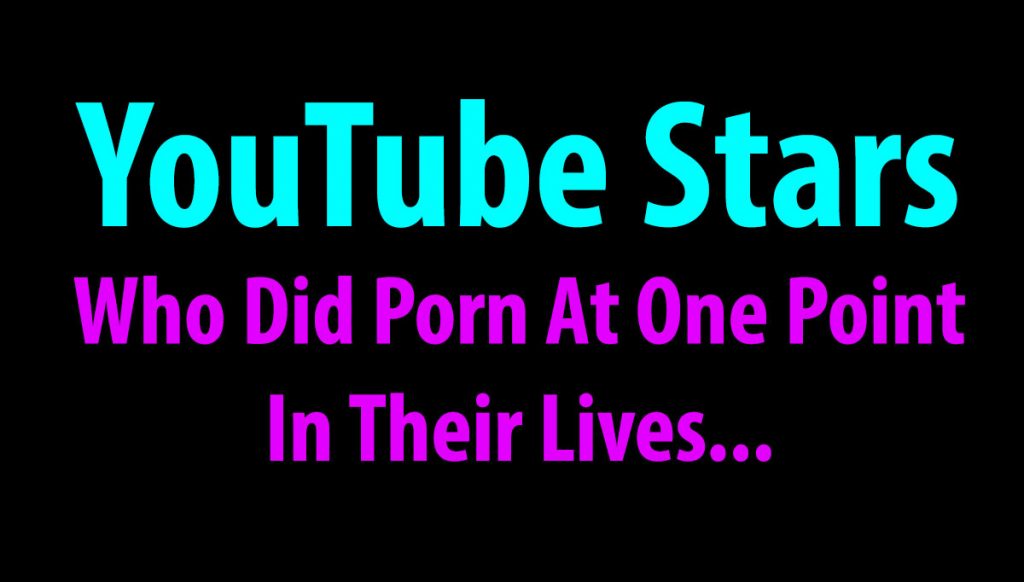 YouTubers Who Have Starred In Porn Videos
This is for sure the best and most accurate list of YouTube stars who have shot porn. Feel free to search the Internet for their videos. You'll eventually find them, trust me!
Mia Li
Mia Li first worked as a webcam model and then transitioned into full-fledged porn. She currently works as a YouTuber focusing on the adult industry, relationships, body positivity, and sex topics. Watching Mia Li is an excellent source of information on everything from sexual inclinations to life as an adult entertainer. Of course, she has first-hand experience in working in porn.
Liz Katz
Most of you probably know Liz Katz as a fantastic cosplayer, arguably one of the best ones in her trait. She is famous on YouTube for her cosplay and writing, acting, and modeling, as she attracts people's attention. She is one of those people who expected to hide the fact that they've done porn, so when her porn videos were exhumed, she initially and fruitlessly denied her involvement. However, since this is not something one can sweep under the rug, she confirmed that she was known as Risi Simms in her short porn career.
Vitaly Zdorovetskiy
Vitaly Zdorovetskiy is one of the most well-known Russian pranksters, and he has over ten mil subscribers and over 1.3 billion views on his channel. However, before becoming a YouTube sensation in 2011, he made a scene for Bang Bros with the starlet Diamond Kitty.
Chris Crocker
Chris Crocker is the guy who defended Britney Spears' performance at the MTV Video Awards with tears and sobs, a video that has made him a viral sensation. He went on to do more content for YouTube, but what he is more famous for is that he'd been signed to do gay porn with famous gay porn director Chi Chi LaRue.
Cherry Crush
Cherry Crush is a famous YouTuber creating ASMR (Autonomous Sensory Meridian Response) videos to relax the viewers. However, before Cherry did YouTube videos, she and her boyfriend ran a successful webcam channel where they performed live sex shows. If you search, you'll find plenty of videos where Cherry is getting fucked, which she is proud of.
Jesse Rogers
Jesse Rogers is a YouTube star earning a living by making travel videos, gaming videos, and vlogging – just like most YouTube stars today. Still, before going straight, she had a short porn career that she would give everything to erase. Her most notable role was playing Emma Bunton in the adult parody version of the Spice Girls. 
Zuzka Light
Zuzka Light worked as a model and had a career in soft porn as Susanna Spears. She said she found the experience humiliating and haunting, so she decided to change careers, and became a YouTuber instead. She is now one of the most successful YouTube fitness and gym instructors, and her channel Body Rock has earned over 0.5 billion views so far.
To Wrap Up
We are sure that many more famous and less famous YouTubers have been a part of the adult industry at one time in their lives. Still, judging people for their actions is not our thing, as we can't know what drove people to do porn and how it will affect their futures.
Most YouTubers who have done porn or have been linked in any way to any controversy have trouble finding sponsors. It can have a detrimental effect on their livelihood and how the YouTube community perceives them. However, we should all refrain from hateful and discriminating comments and enjoy their past and present work.