Reddit is fucking phenomenal, but you already know my opinion on this if you read my reviews often. I have had a chance to write about subreddits before, and these are sections, tabs, or corners of Reddit, where you have a specific niche. This can be something smutty, or not. Reddit is not a porn site, but a big portion of it is devoted to smutty shit.
But today, I won't talk about Reddit, at least not the whole place. I will just focus on a subreddit called Real Girls. There are numerous subreddits that are similar, and just recently, I have written about Cumsluts. This one is also very tempting and delicious, because who doesn't like slutty amateur girls who like to get naked and post those selfies and nudes online? This place deals with that – salacious hotties, mostly very young, who share their nudes and selfies with the world. Well, the Reddit-using part of the population.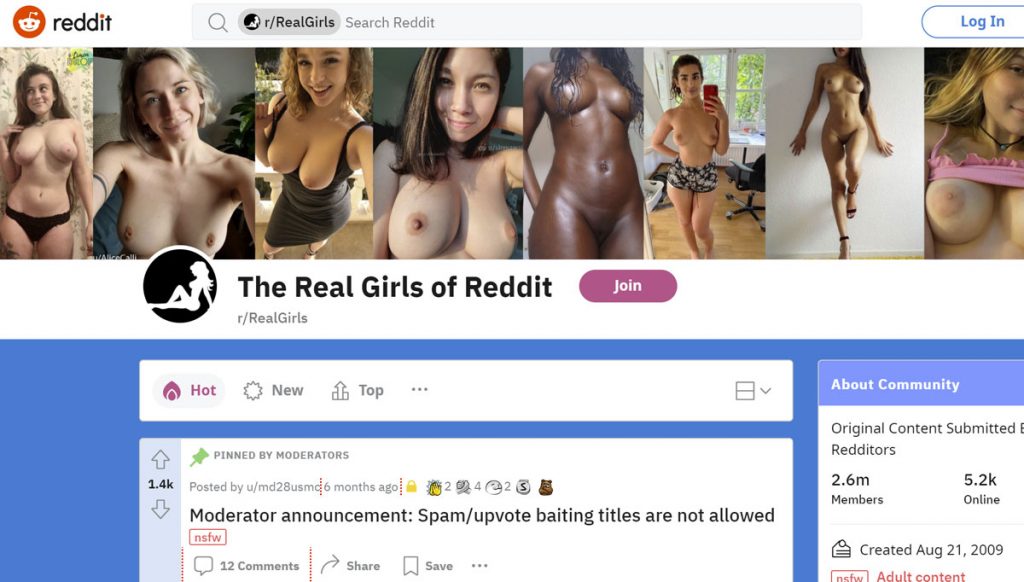 Real Girls on Reddit – A Bunch of Lusty Naked Amateurs
We live in 2021, when sexuality is not a taboo topic anymore, at least not in most parts of the world. There's porn everywhere, and luckily for us, there are so many lustful, salacious girls and women who are very sexually open.
This means they don't fucking feel ashamed about anything sex-related. A big number of these girls who are sexually open and confident about their bodies post their nudes on this subreddit.
So, the site I am writing right now is devoted to these cuties, who like being naked and getting followers based on their sex appeal.
Beautiful Girls Next Door
This subreddit is very delicious because the girls you will see here are really something. They are attractive, slender, beautiful, perfectly proportioned, and so on. Most babes I see here are like that – slim and sexy.
They have belly piercings, gorgeous hair, lovely smiles… Some of these hotties don't reveal their faces, or they show their smiles. But even when you don't see a face, you see the naked body. And that is what you really want, isn't it? And you have plenty of that here!
Hot Girls Only
I don't see chubby ladies or mature women here… Maybe that is because I didn't scroll down enough, or this is a subreddit only devoted to young girls, who are fit and hot. I am not saying plus-sized girls are not hot.
A confident babe can pull off everything, regardless of her weight, so this was never an issue. But to those who like diversity, who perhaps like obese stunners, babes who have a different skin color, babes with more ages – you won't find it here, or maybe you will, but it's not common. At least this is my conclusion. So, no diversity. Know that.
Posing like professional sluts, overflowing with sexual energy
But what makes this subreddit so special? The babes you will see here are not pornstars. Nothing here is staged, they don't have the perfect equipment to make stellar photos and they don't pose in studios for photoshoots.
These are just simple girls, real-life girls who just like sex and sensuality. They pose naked and take photos of themselves, or someone else does that for them. These are amateurs, and not professional performers, or anything like that. Maybe these stunners do want to be porn divas, but who knows what they do in their life?
Many Girls Are Models
But still, even though no one knows these girls, they look like models and they look like someone who knows how to pose and make sexy photos. If these hotties auditioned for porn sites, they could easily be hired! They remind me of those amateurs who are actually paid performers, on premium amateur sites.
Even though these are supposedly amateur sites, we know that the production values are high, and these are not homemade but studio-made sex tapes. All these girls I see here could appear in these amateur but professional fuck flicks!
Amateur Porn
Who knows, maybe some of them have tried, and that is how they know how to pose this perfectly. How else could they have learned all the seduction tricks? Or perhaps God gifted these young ladies with great looks, but also with a talent for creating smutty photos to tempt people who like fapping to nude amateurs?
Whatever the case is, these sex bombs are fucking astonishing, and there are already millions of posts, which means there are so many amateur floozies. This is a site where girls forget all their morals, lose their clothes, and activate their sexual chakra… or something like that!
Is this only the content for straight men and maybe lesbians?
Since these are girls from your everyday life, they are natural. No plastic body parts and no filters to make the photos more delicious. There is no professional team behind these girls, no cameramen, tycoons who pay for everything, make-up artists, casting directors…
These girls just woke up one day feeling like taking a nude selfie. Perhaps they wanted to get back at nasty ex-boyfriends who cheated on them with someone hot, or they were just curious about the number of views… From what I can see, these numbers are more than satisfying!
Just Real Girls – Nothing More
But here's what bothers me in all that… Sure, the babes are hot and natural, they are amateurs and they don't work for porn studios, none of those things… But why is this subreddit only dedicated to real girls? Where are real gays, and ladyboys?
We know that straight men and lesbians like naked female stunners, but why would they forget to treat gays as well? If they added some naked dudes and shemale hotties, the site would be more complete, and it would have more things to offer. This is also the case with chubby ladies and other ethnicities. They should add more variety.
Not Many Video Posts Though…
And when I am talking about the downsides of the site, I could also mention the lack of videos. I assume if there are girls who like making sexy nudes, they also like making sexy clips. Even if they last for a couple of minutes, it's still something! I
could find some videos here, but only a few of them, and this number could be way bigger! Don't tell me you can't find more sex clips where gorgeous real girls are naked, and maybe fingering their cum-thirsty little twats?
And let's not forget, their terms and operations sound complicated, at least to new users!
Features I like and feel like sharing
If you visit Reddit, on a daily basis or less often, you probably already know how the interface looks like. There's nothing new to tell, everything looks good and it's easy to use, and you have navigation tools that are very helpful, just like sorting options like on every other smut site.
You can see what's new, liked by most people, or what's hot at this moment. It's a familiar setting, nothing you haven't seen many times before, especially if you are a porn addict like me!
The features of the site are pretty decent. You can rate the babes, comment on the posts, share what you like… Do you even do this? Who does that? I mean, what jerk would share porn pictures and put them on Facebook or something, when your fucking grandma is the person who comes to your profile the most?
Hey grandma, want a heart attack? Here's a pic of an exposed pussy with fingers and a dildo in it! If you want to kill your grandma, here's the fastest way. But I don't think your grandpa will mind.
New Posts Many Times Daily
But my favorite goodie of this site is that they post new content every day! No matter when you come to the site, you will always have new photos to see.
In fact, if you are on the site, and you have been here for an hour, just refresh the page and you will probably find something fresh and new.
Even though you don't have movies and videos that last long, so you can only stare at photos and jerk off them, at least you have millions of posts to have a super-steamy, long fap sesh.
Pros of Reddit Real Girls:
A massive community you will like being a part of
Tons of posts and all that for free
Georgeous girls
Easy and smooth navigation
No limits for the users
Some Cons:
Only for straight folks or perhaps lesbians
Not many videos, just pics
Poor quality of old shit
Terms and operations are hard to understand!
Wanna Read My Verdict, Stud?
So, there's nothing here I can really complain about. I think there should add gay content, more videos, and better-explained terms and conditions. I understand that older content is of poorer quality, it's the same issue on every other smut site as well. But everything else is satisfying. Gorgeous natural girls, the navigation that is user-friendly, the community that is huge and engaged… What's not to like? And with new posts every single day, these folks never take breaks!
See Also: