JavFinder (also known as JavFinder.is) is a site where you will find adult videos with Japanese couples fucking. If you are into this category or niche, however, you want me to fucking call it, you already know what JAV means. If you are reading about this for the very first time, I will enlighten you, just in case you are not capable enough to use Google on your own – JAV stands for Japanese Adult Videos. And only those who are fans of this know that this corner of the porn universe is fucking crazy! Yes, this Jav Finder site is where you will find some of the sexiest, best, weirdest, and kinkiest shit! We know Asians… They are different. We love their kinks, sometimes this is a breath of fresh air. And honestly, sometimes no one does it like these folks. But seriously… Some things you will see here are pretty crazy.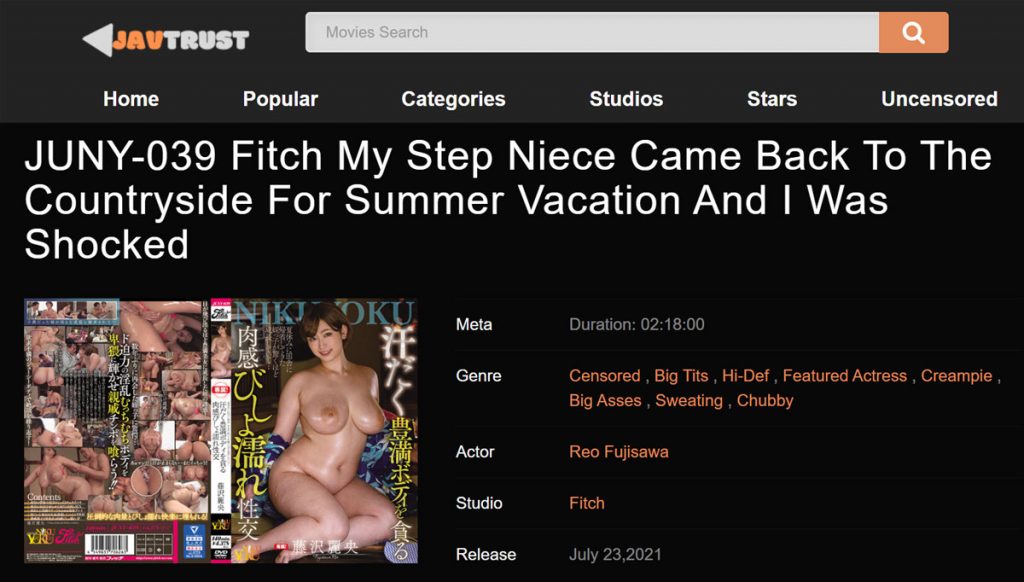 What I Know About Javfinder.la (Site Review)
Their game shows are pretty wild, and if you have experience with them, you already know everything. But if you still want to take a dive into their kinky little world… Well, little is not an adequate word. This is a gargantuan world, a behemoth in the porn universe… and Universe.
What was I saying? If you want to see more, let's hop inside and have a ride with me. I will talk about maids, molestation, incest, time-stop, tentacles… Yeap, their babes get fucked by tentacles a lot.
Whatever you imagine, JAV sites have it. And you think JAV Finder is different? No, sir! This is one of the biggest places with high-pitched moans some of us find adorable, and others just find too fucking annoying.
If you have wild kinky Asian fantasies, and you like to see all these things in the form of fuck flicks you can find online, you will be happy that this is a site that has full-length movies. Only HD scenes, and the ones that last for 20 minutes, half an hour, and more.
I must say that there is a confusing thing about this site. They had many different domains. Russian, for example. I don't know why. But now they have .la. Maybe they just wanted to experiment with that a little. I don't really know and I don't think I even care. What I do care about is that I can see awesome JAV movies here!
Warning us about the ads?
The Javfinder site has something no other sites have – an adorable tiny message that actually apologizes for all the ads! What?! Really?! Are they that fucking adorable?! Dope! But is this enough? No fucking way! There are just so many ads here, it's a disaster. I hate it!
Because of these ads, your experience here will be a total mess. And when I say this, I mean huge animated banners on the fucking sides of their pages! But do you know what really pisses me off? When you try to close these little monsters, and you click on the x button, do you know what fucking happens? Fucking redirects, that's what happens!
And of course, that is not even more. So, there are these banners, but they also have pop-ups, like tons of them. Whenever you want to click on something, you will be redirected to a sketchy site that looks too shady and I guess no one would ever even visit these places if there wasn't for these redirects…
And when you manage to get your hands on a video you want, there will also be plenty of ads waiting there for you! You can't click on play, skip and close without being stroked by an ad. It will strike you right there in your stomach because you will feel annoyed.
And OK, people have to earn their coin. It's Asia, they probably have, like, 30 children to feed. And I don't want to sound mean, I am just still pissed off because of all the ads. But they make it impossible for a person to enjoy the site. How can you browse the content and chill when you have so many banners and pop-ups and god knows what to deal with?
I will tell you right away – AdBlock means nothing here! The adarrhea will keep coming and coming. See what I did there? Diarrhea, but with ads? I think now you get how I feel about it. But I will try to get past it and continue with the review.
Uncensored and censored sections of Jav Finder
So where was I? This is a site that, if you don't mind all the ads, looks decent. The layout is nice and you will see they have both censored and uncensored porn. Everything is scattered around their simple, black background. If you like blurry twats, their censored stuff is actually not bad.
No matter if you want to check out the uncensored or the censored section, everything here is full-length and these are all JAV movies. Some of these films run for two hours, and I think most of them are at least an hour long. That is more than enough, don't you think? But it's what we like.
If you like bukkake scenes, they are nice and long here, not like on some other sites. Here you have everything, from the seduction, foreplay, and everything that precedes the action, to the culmination and that cumshot we all like. You have handjobs, blowjobs, masturbation scenes, everything. And you can download all that, you know?
If you go to their HD corner, here you will see some traditional scenes. They are 20 minutes long and these are some scenes from movies. If you just don't have time to crank one out for an hour or two, you can just use these shorter scenes because they give you everything you need. And this is HD corner, it's crisp and nice.
Their pornstars
But what's important here is that you can find anything you like… and don't like. They pretty much cover all the kinks and likings. There is not just something here for everyone, there are some things here I don't think anyone needs at all! Their category list is extensive and you even have stuff like fighting, bus guide, hidden cams, kimonos, hot springs… Every category has a lot of content. If you go to, for example, fighting scenes, you will see babes do it in the ring and similar. If you have never seen these kinds of scenes before, I think you will like it.
And are you familiar with JAV smut studios? Remember they have a list of studios here as well? I think I have mentioned it somewhere in the review. They also have a list of pornstars. You have pages and pages for these things.
Every porn diva has a preview pic of herself, so you will always know how their starlets look like before you open their videos. Some of them don't have pics. Every time you click on a pic, you will go to a page with all the videos of that nymphette. Everything is organized alphabetically, but you can also sort the results by other features, like the most popular babes. Wanna see who the hottest Asian sluts are?
They also have a JAV Cams tab, and if you click on it, you will go to sakuralive.com. Here you have many beautiful Japanese cam models, as you could guess. The site looks decent and everything works fine here, and if you want to request a movie, you have a button for that. Unfortunately, this will take you nowhere and you can do nothing with this button. You will just open a blank page, like on most Asian sites. Why do they add these buttons when you can't use them? I will die and never know.
Pros of Javfinder
JAV movies, all full-length and steamy
a plethora of categories and porn divas
downloads for those who like to stash porn
The Cons
ads that are too fucking annoying
piracy problems?
not that awesome mobile experience
Let's conclude, folks!
And before I finish… the review, and what did you think?! I will just mention the mobile experience for this site. It fucking sucked! The interface works OK, you won't have problems with videos, they load quickly and that is fine. No issues. But damn, those ads!
They are hard enough on a PC, and imagine how it looks like when you are using the site on your phone! Every breath you take, a popup! Whenever you inhale – a popup! When you exhale, a popup! You will have to click on something for 649854846 times before you finally get rid of the ads.
So, the site is not bad. You can find weird scenes and a lot of sexy stuff, you have full-length movies and flaming hot Asian porn starlets. You also have many categories and channels, and you have downloaded. But what's not so great here? Ads! They totally ruin your whole experience. There are also some piracy issues here. I don't even know where they take these flicks from. But all in all, check it out!