You can find porn pretty much anywhere on the internet and we all know the heavy-hitters by name alone. You know them: Brazzers, Pornhub, xHamster.com, and the like. When you hear those company names, you know what you're getting. 
What Is Redtube?
I'm sure at this point you're asking yourself, "What is Redtube?" It's a free porn tube site owned and operated by Mindgeek. If you've never heard of Redtube.com, you might not even think it has anything to do with porn. Well, it does and it has been a go-to for free porn streaming that is both professional and amateur for a long time. If you've been on Redtube, you may have noticed that it is FULL of ads and pop-ups, which, to be honest, are annoying.
If you've left Redtube because of those distractions, you might want to read this article on Redtube Premium.
Redtube Premium is a streamlined service that allows its users to avoid those pop-ups and ads and instead enjoy the porn they want.
With so many options in the internet porn world, the question that remains is none other than…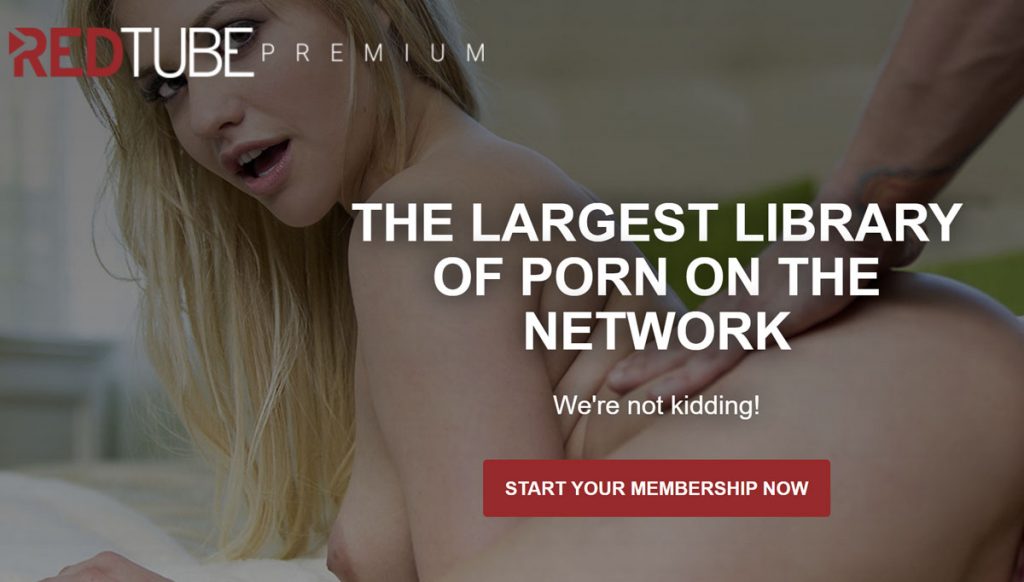 JOIN THE SITE – CLICK HERE NOW
Redtube Premium Truly Worth Paying For?
This pretty much explains every single thing you need to know in order to make a decision on whether or not you should pay for Redtube.
Redtube Premium Membership Pros
I won't lie, there are definitely some pros and cons to joining Redtube Premium. And, I would want to know what those were before I signed up, no matter what the site is. I've done the scoping out of Redtube Premium so you don't have to.
Without further ado, here are the pros to joining Redtube Premium:
More content – Redtube Premium has much more content available to its paid members than the free members will receive. I'm talking about hundreds of HD channels where you will get clips to see the full scene you're interested in (meaning it won't cut off early), and this is top-notch studio porn.
The big guns in porn actually have Redtube Premium content that you can watch, including Brazzers, Jules Jordan, and Reality Kings.
No ads – Ads and pop-ups, as I've mentioned and I'm sure you've experienced, are beyond obnoxious, especially when you are trying to get your wank on. When you join Redtube Premium, you will have all those crazy ads that clog up the home screen and you won't be bothered with any strange cartoon pop-ups of a ghost banging a half-goblin woman with his disappearing and reappearing ghost penis.
VR porn – Redtube Premium has jumped on the virtual reality (VR) bandwagon and offers up many HD (and some 4k) hardcore porn scenes that you can become part of when you use your own VR headset. Talk about getting down and dirty!
Improved security – Unfortunately, porn sites are home to many scams and trolls who get a woody by ripping off honest guys like us. Redtube Premium has improved its security with an HTTPS protocol. They also use Probiller, a safe billing provider who keeps you safe and is discreet when they place their charges on your monthly bill–this means no partner drama because you're paying for porn.
Full support of HD – The great thing about Redtube is that they are offering up their content in both HD and 4k, which means you can really enjoy the action you're watching. No pixels and lame-looking videos for you when you get the Redtube Premium membership.
Redtube Premium is subtle – If you are watching something on your computer and you don't want another person to see what that is, you rest assured that the name "Redtube" doesn't scream porn as Brazzers or Pornhub do. If someone saw the tab at the top of your page saying "Redtube" or they do a search on your computer, it doesn't contain anything directly linking to a porn site and won't autofill anything "porn-y" sounding.
Every good comes with some bad and Redtube Premium is no exception. The cons of paying for a Redtube Premium membership include:
Essentially a Pornhub membership – Pornhub is owned by Mindgeek which operates Redtube as well. If you have a Pornhub or Youporn Premium membership, you can even login on These Sound Great, What Are the Cons to Redtube Premium? Redtube Premium. That means there is some overlap on what you'll see, also.
You can't use smart sex toys – Smart sex toys, like teledildonics, have really taken off recently and some porn sites have capitalized on that by allowing for control of your sex toy over the site. Redtube Premium is not one of those sites. If you aren't planning on using a teledildo, though, you likely won't find this to be a large problem.
Redtube Premium Costs
You can join Redtube main for free. This limits what you can do, but you don't have to shell out anything to join. If you want the full experience, you can join Redtube Premium for $9.99 a month. If you decide to buy an annual membership, it will cost you $95.88, or roughly $7.99 a month.
Redtube Premium often offers up discounts and coupons to get your membership even cheaper. Keep an eye out for those sales, which they run a few times a year. But, truthfully, $9.99 a month is still a steal!
Conclusion: Redtube Premium Might Be Worth It
Whether you decide to just stick around on Redtube free or you opt into paying for Redtube Premium, you're going to enjoy the content that they have. Redtube is a leader in the porn industry and they know what guys like us want.
If you already have a PornHub membership, you're even more golden, as you can use one account to log into both sites. And, PornHub runs its own sales throughout the year–much more often than Redtube–so that is also an option.
Either way–by joining Redtube or PornHub–you're going to win out with some of the best porn that the internet can offer up.
Now, I absolutely cannot site here and NOT suggest the best of the best when it comes to premium porn. If you're looking for premium porn, give Brazzers or Reality Kings a try. If you're not sure about it, then check out the Reality Kings porn ads first before joining.