I'm typically covering porn discount offers or hot new ads, but this time I'm covering a free porn site. I'll be covering everything I know about GameofPorn.com. When they were coming up with the name Game of Porn for their site, were they inspired by Game of Thrones? This is pretty cool and all, except for the fact that the site doesn't have anything to do with it, really.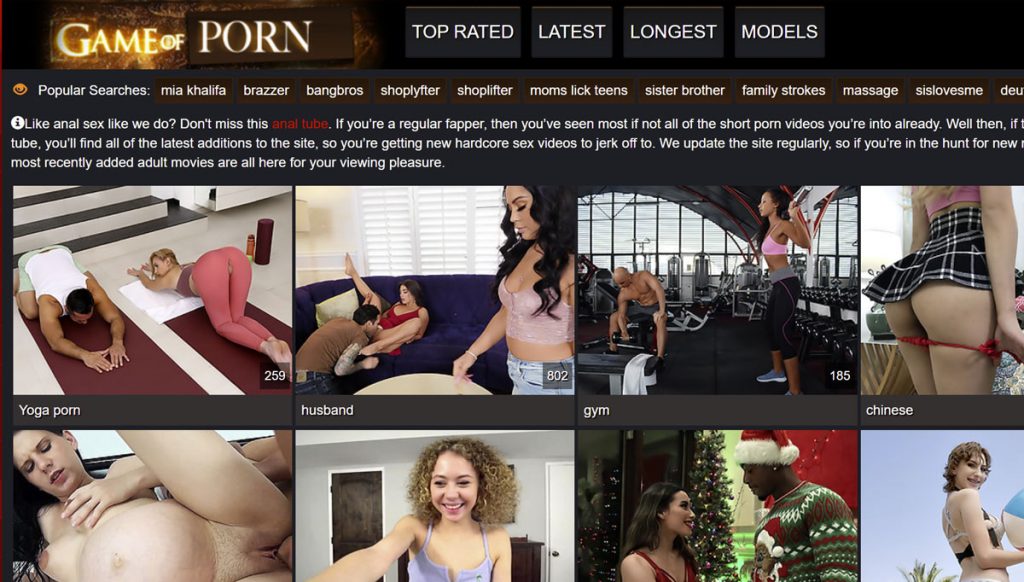 It's a regular porn site and nothing about it is unusual or has to do something with this show. So, why this name? Did they just want a fun name that would remind people of something they like? Probably. And as you can see, today we will talk about Game of Porn, a free porn site with some premium content.
This is a site with grade-A porn, professional smut with performers who are highly paid. When they are highly paid, you can expect them to be amazing at what they do. It's visually over-stimulating and your dopamine will go unstable. You will get hooked so fast, and you will want to see more of it, all of it! Porn does that with our dopamine, maybe even more than bananas.
Yeap, it's always some bananas, but this other type of bananas are more fun because they are all throbbing and ready to explode all over slutty chicks! So, Porn of Game is not really a Game of Thrones smut parody site, but it has its charms. You can watch exceptionally hot smutty content with the most gorgeous professional babes!
After all, when someone is paid to do something, they do it better, no? Or do you think amateurs do porn better? Write me an email about it, I am curious about what you think.
GameofPorn Review = Many Videos and Many Flaws
You will find thousands of fucking videos here, all coming from big-budget players, the most famous smut companies we all know and love. And yes, the site is great because of that, but you know I am an honest motherfucker so I am not gonna lie – there are things here that just don't work for me. Where to start? Maybe I should tell you what to expect from the categories.
So, they don't really have them. These are just channels, and not really acts and ethnicities, things we would hope for. Where the categories are, you will see FakeAgent, Brazzers, Wicked, and things like that. But no blowjobs, anal sex, blondes, Latinas…
They also don't really have amateur content, just some videos filmed by less professional pornstars who pretend to be amateurs. I mean, why do that? If you don't like homemade stuff on your site, why say these are amateurs?
We are not stupid, we can spot the difference! Even people who don't have years of experience at fapping to various smut sites can see that something is off. We know how homemade sex tapes look like, and we definitely can tell what professional pornography is!
But what does it all mean? They don't have amateurs and they don't have categories we want. So, when you want something specific, like a blowjob or a redhead milf, you can't really find it fast, and you need to look for hours until you stumble upon a video you will find good enough.
So, without this organization by categories, it is some random archive of high-quality porn. This won't sound bad to some. After all, when you are horny, you need to see something good fast. You don't spend hours searching for desired acts. You just take what first pops up. But those who have specific kinks will hate this.
No niches, but many pornstars..
They don't have specific niches here, and they have 10 channels. These are Vixen, Blacked, TeamSkeet, Tushy, Sins Life, Girls Do Porn, Mom POV, Sis Loves Me, DigitalPG, Naughty America, and BangBros. And this is all professionally-filmed smut.
This means that you have a catalog for porn divas, all their models that appear here on the site. You will see every babe, teen, milf, older mature model – everyone who appears in these smutty flicks, and this is a gargantuan list of pornstars. Each of them has a description, but it looks like these texts are from different sites.
Stolen Text? Maybe…
The pornstars here have stolen descriptions and an 'about' section each. These sections have some out-of-context texts where you can read about some videos they appear in.
But it's not their overall work, it's one video, one character they fucking played. This is all weird if you ask me. But at least the pornstars are organized alphabetically. You can view them by the newest, most popular, top-rated, or you can focus on a certain age, attributes, and ethnicity.
Missing Pornstar Photos
But do you know what's the strangest thing here? This section devoted to pornstars has no photos. They don't store pics here, they have never heard of them! The entire site lacks pictures, so no images here, just the videos. What porn site doesn't also have pictures?
This site is not easy to use for so many reasons, and add 'not having pictures' to all of that and you really get something that will have a lot of cons. They could at least steal these pics like descriptions. Would anyone care?
Being bombarded With Ads
If you really want to enjoy this site, you will need to turn off your little Adblock thing there. Of course, every normal pal will turn it on and because of that, they will have no ad problems. You will see none. But this will go on for as long as you don't open any video here. As soon as you open something, you will see that annoying phrase that no one fucking likes – turn off your Adblock!
And what happens when you do turn it off? Prepare for the war – it's you and the ads! These little guns will shoot you like crazy! There are more ads than spermatozoids in cumshots these pornstars receive after every pussy drilling sesh! These fucking things will be everywhere! You won't be able to breathe.
Tons Of Ads – Literally Every Click
Ok, so they need to make a living, so let's be understanding here. After all, they give us premium porn, but all for free. If we are grateful, we can turn a blind eye for all the ads. But did they really need that many?
We have souls, we are human beings, we don't deserve to suffer this much. Seriously, you will be bombarded no matter what you do. Every click is one ad, every tab opening is another, every video opening – again with the ads. It's about as ridiculous as it gets!
Can't Even Cum Because Of Pop-Ups
Why is this even so bad? You will never be relaxed knowing that every time you are about to cum, an ad appears and everything is over! Instead of being able to fully enjoy your porn, you need to worry about closing ads.
Who wants that? So, even though sites that give us free premium fuck flicks, and we thank them for that, should be a little more understanding for us. If we understand them, they should do the same.
Incredible scenes, but no surprises here…
But even with all these ads, you will notice these scenes, which are incredible. You will see a picture collage that represents the scenes, and here you will see some hot stuff.
But if you want to be surprised when you open a video, you know, see her naked for the first time, watch how she slowly and sensually takes off her panties, you will not like this collage because it reveals everything!
There will be no surprises like you like it. Everything will already be an old story for you, and everyone else.
Upcoming Videos
But before I finish this little tidbit of info from my review, I need to complain about one more thing. You know how most smut sites have that 'upcoming videos' or 'upcoming scenes' tab? Game of Porn also has it, but when you click on it, nothing happens.
It's just empty.
They have no content, nothing that you can see, no scenes that are upcoming to show you. So, how can we know what will happen soon on the site this way? Why would they include this tab if they didn't plan to put anything?
Pros and Cons
Here's what you need to know about the site in terms of my pros and cons.
Pros:
they have porn divas here
they give us 720p flicks that are superb
many premium videos
a hot advanced search bar
a section for full movies
Cons:
no tags and categories we would want
not easy-to-use site
'upcoming videos' has no content
no amateurs here, but they say there are
a shitload of fucking ads
Final Call: Game of Porn Isn't For Me
Well, this sounds too harsh, but with all these complaints, I don't really feel good about saying Game of Porn is one of the best smut sites. It is good, and it has great content, but if they worked on the issues, it would be much better!
It is such a shame for a site to not have categories and tags like we want, and they could add the upcoming scenes trailers or something. And why so many ads, and no amateurs? The site is definitely not easy to use, but if you are patient, why not try?
Now, if you're looking for a better experience, I would just buy a discounted membership to a premium site and call it a day!