Most of our focus has been on female porn stars, and we've created many lists featuring the hottest women in porn. However, it seems like we've overlooked the male porn stars, an integral part of porn. SO, to fix our mistake, we've prepared the following list featuring some of the best male porn stars.
The work of the male porn star is quite hard – of course, they need to get and stay hard for prolonged periods. And many of us will always be jealous of the male porn stars as they actually get to fuck the female porn stars that we could only dream about.
Also, many of them are not picky at all and have sex with teens, MILFs, mature ladies, and enjoy blow jobs, hand jobs, vaginal and anal sex, and much more, all for our viewing pleasure. So check out our list, and you'll also get insight into new female porn stars, as beginner porn stars are often paired with experienced male stars.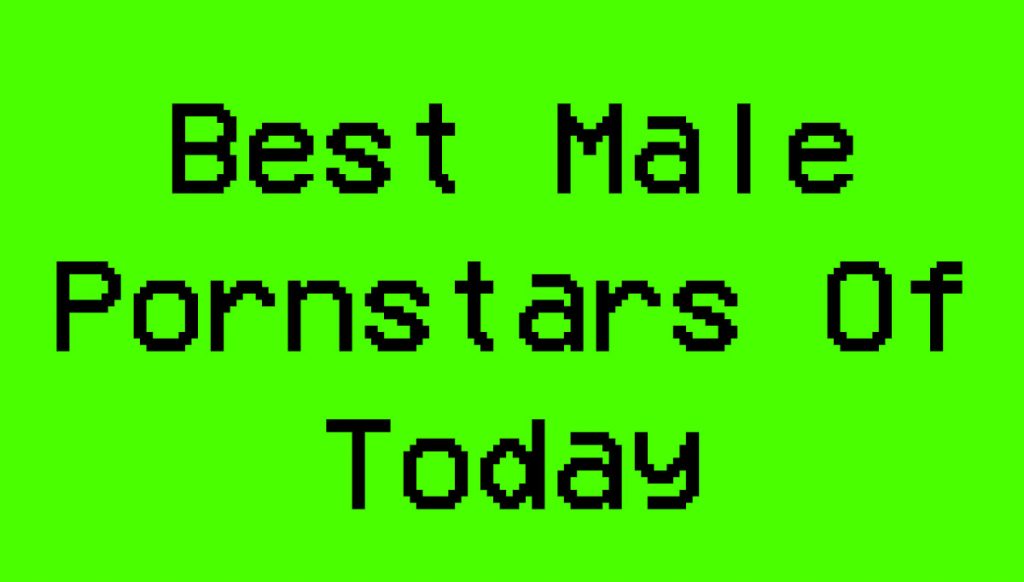 Best Male Porn Stars in 2022
Steve Holmes comes from Romania and has an impressive dick and knows how to handle it. Unfortunately, he lacks charisma, but he makes up for it by having incredible stamina and being able to fuck for hours, and his favorite thing to do is teach young, petite teen porn stars how to fuck.
While Ricky Spanish looks like a young teen, we assure you he is of legal age. He is well endowed, and while he is on the shorter side, he knows how to fuck, and fuck he does. He is often paired with older, taller porn stars because the contrast is impressive.
Michael Vegas is an excellent porn star with seductive skills and a cock to deliver. He is active in hardcore and gay porn. He loves to experiment and explore the boundaries of sexuality, and that includes subjecting himself to anal teasing and even anal fisting.
Tommy Gunn is a very active male porn star, and he is a favorite ladies' man. He is a handsome fellow and is the proud owner of a massive dick. Tommy knows how to use it, and panties just drop all around him. Plus, he loves to make his female co-stars scream with pleasure.
Bambino is a talented guy, and he packs quite the massive dick. In addition, he has a very toned body with a six-pack on his stomach, which the ladies love. While he often goes without getting credit for his scenes, he is very skilled in licking pussies, and it's a shame he is not more famous.
JMac is one of the most active male porn stars now, and you've most probably seen him in action. He is toned, with a shaved head and a massive cock that he knows how to use. He loves to fill up petite porn stars and loves to try and stick his massive stick in tight holes until they scream.
Jordi comes from Spain, is a small and skinny guy who looks like a teen, and speaks very little English. Still, this does not stop him from working with some of the most famous female porn stars. He is very well endowed, and while he likes to joke and play around, he can fuck like a pro.
Seth Gamble has a dreamy look about him and has a smooth voice that can charm any girl's panties and make them wet like rainforests. His huge cock and big balls also help his case, and he enjoys using them on his female co-stars.
Chad White is among the most prolific male porn stars now. He is an absolute stud who has fucked so many women that we can't keep track. He is tall, sexy, and heavily muscled and loves to lick a pussy. His muscles allow him to lift and fuck his female porn stars with ease, and it is entertaining to watch.
Johnny Castle is a male porn star with impressive skills. He is a muscled guy with a massive dick, and he knows how to use it. He loves to explore pussies, filling them up and making the porn stars scream with pleasure. If you've seen his work, then you'll see what we are talking about.
Alex Legend is a very tall French guy who packs a real weapon between his legs. He knows how to give a pussy a pounding, and one of his specialties is to make his female co-stars squirt. So it is no wonder why Alex is among the most active male stars in porn now, judging from the number of videos he stars in.
Sean Lawless is a porn star with an impressively long and thick dick and the skills to put it to use. While he looks like the nice guy next door, he sure knows how to fuck, and he has fucked so many gorgeous women that it is unbelievable.
After working as a Marine, Charles Dera tried his luck in porn and found his calling. He is a charming guy with the skill to charm and makes any lady dripping wet. Charles is in no way discriminating and likes to fuck teens, mature porn stars, and MILFs. He can keep his erection for so long; it is unbelievable.
Kyle Mason is a tall guy; he is well over six feet and has an impressive dick. Women love him, and while you may think there is nothing special about him, wait until you see him in action. Although he loves to pound a pussy or an asshole, Kyle is a master at his craft like the other guys on our list.
Tommy Pistol chose his stage name for the colossal tool that hangs between his legs and likes to shoot hot cum on women's bodies. He wears a beard and has plenty of tattoos, and his body is very fit, which his female co-stars seem to love. Plus, he loves to make his co-stars scream with pleasure.
Mick Blue comes from Austria and has a huge dick that can stay hard for hours. If rumors are believed, he has appeared in more than one thousand scenes with some of the hottest female stars in porn. His skills are impressive, and after the scene's end, we believe the women he's fucked will have trouble walking.
If you've seen Ricky Johnson in action, then you know that I'm talking about a genuine porn star blessed with an impressive dick and even more impressive stamina. He has dark skin and is all muscular and toned. Plus, his fucking skills are fantastic, and he's made some of the hottest female porn stars cum and scream in ecstasy.
Danny D chose his nickname for his massive dick with length and girth, but the rest of his body is pretty average. He worked in construction before hitting it big in porn. He can retain an erection for hours and loves to make his female co-stars scream in pleasure.
James Deen looks like a regular guy, and you won't believe that he has starred in more than 3000 scenes. He dreamed of becoming a porn star for years, and his dream came true when he turned 18. He's received awards for his work but has been involved in some legal issues in recent times.
Manuel Ferrara is a high-profile porn star. He is a handsome man, but his dick is what has put him on this list. Manuel has fucked so many gorgeous women and has built such stamina for fucking. He's worked hard in becoming the porn star he is today and has earned his place on this list.
Markus Dupree comes from Russia and stands just shy from six feet. His body is toned and muscular, and his dick is so very long and thick. Markus seems fascinated by women's asses, and it is why you'll often see him engaging in anal sex with a gorgeous female porn star.
Small Hands is the nickname of male porn star Aaron Thompson, one of the best and most active male porn stars in 2022. He does not have small hands, but he has a massive cock that he knows how to put to good use. He says that he loves getting rimmed, getting a blow job, and loves to lick pussy and muck as many pussies as possible.
While Tyler is much shorter than the other guys on our list but is in no way lacking, as he is very handsome, he manages to be one of the best active male porn stars in 2022. His body is toned and muscled, and his hair is long, giving him a surfer look. He says that he loves to lick pussies and loves to impale them with his hard dick that can stay up for hours.
Owen Gray looks like a tall, pasty nerd at first, but he is among the most active and most experienced male porn stars now. His body is covered in tattoos, and he has a darker side that he likes to show in his videos. Owen has a massive dick, and he never leaves his female co-stars unsatisfied, as he'll use any means necessary to achieve his goal.
Jason Luv is a dark-skinned sex god with tattoos covering his body, but it is his massive dick that has earned him a place on the list of best male porn stars. Jason loves to pound pussies and assholes, and he does this without breaking a sweat.
Scott Nails really nails his co-stars, as he is endowed with a massive cock. He's worked with all major porn studios and has fucked a lot of the female porn stars. He's been nominated for various awards; after taking a break from porn, he's come back and made an even bigger splash in the porn industry.
Johnny Sins is a massive guy with muscles all over his body. He shaves his head, which gives him an even scarier look, but his dick is what the female porn stars should beware of. He is very strong and usually pairs with petite porn stars as he can easily pick them up and put them in various positions.
Keiran Lee is a UK-born porn star. He is tall and toned, with impressive muscles and a big dick that he loves to stick in as many pussies as possible. Kieran is very charming and can charm the panties of every female he encounters. He is very active and works with the top names in porn now.
There is hardly anyone who has not heard about Rocco Siffredi, also known as the Italian Stallion. He is very handsome and has rightfully received a lot of awards for his work. He can teach fucking judging from the extent of his work. He likes rough sex, looking like he is going to punish the girl he is fucking.
Xander Corvus looks like a bad boy, tightly toned and muscled, and with an impressively large dick; he knows how to put it to good use. Xander is among the best male porn stars now, as he has a charming aura and knows how to lay it on thick. But he is not only for show, as once he is done with a woman, we believe she'll have trouble walking.
The Bottom Line
Above, we've listed some of the best male porn stars who are active now. All these guys have impressive careers and have fucked more women than you can imagine or count. Plus, their male parts are envy-worthy, and their stamina is impressive. If you want to see a name added to this list, please add your comments below.
Related Post: How Does Adult Male Talent Stay Hard?