If you've not yet heard of AdultTime, you might be curious about what it is and if you should pay for the content.
I was too. So, I started poking around on the internet to find out more about AdultTime and determine if an AdultTime trial membership is worth it. 
Trials for memberships on adult sites are often very tempting. But are they worth it? And, is it worth trying out AdultTime?
AdultTime is one of the largest collections of porn out there–with over 100 channels and 54,000 movies in their collection. This includes hardcore porn, which can sometimes be harder to find. However, some people like to get a sampling of what they can enjoy by using a site or channel before paying out full price for it.
This is why a trial can be a great option.
AdultTime offers up a three-day trial level for anyone who is on the fence about getting a full-paid subscription to their services. What does this cost and what do you get with it? Keep reading to find out more about the AdultTime trial, if the trial is worth your time and money, and if AdultTime is a good porn site overall.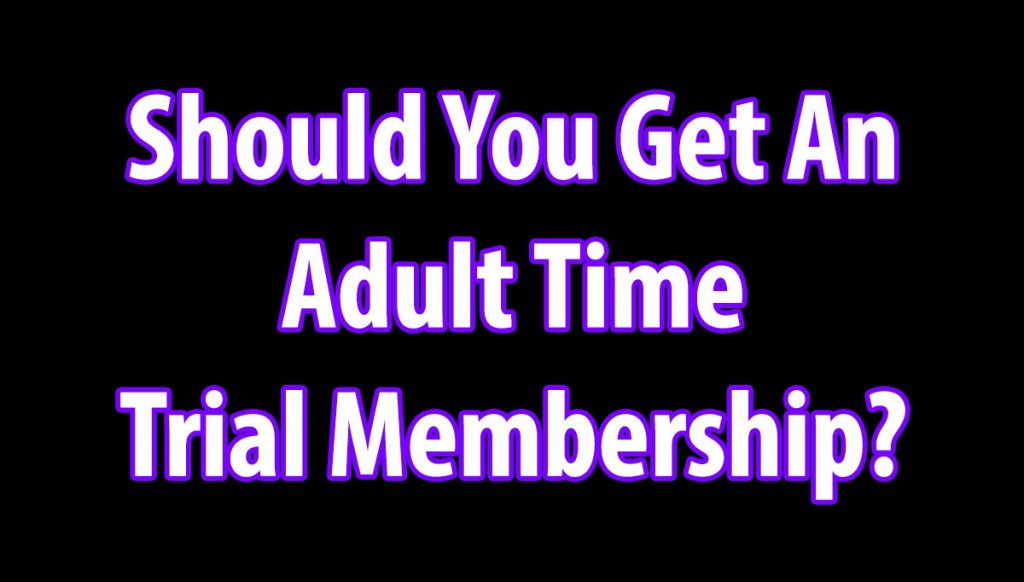 The AdultTime Trial Membership
When you want to try out AdultTime, consider their three-day trial. This will cost you $1.00 and will allow you access to video streaming. This includes access to the over 54,000 videos across the massive porn site.
You will not be able to download and/or save any of the content on AdultTime as a trial member, which makes sense because men are industrious creatures and we would absolutely try to download and save as much content as possible to avoid a paid membership after the trial ended. So, I totally understand why they limit what you can do on their site as a trial member.
After the three days are over, you must remember to cancel if you're not enjoying your membership on Adult Time. If you don't, you will be automatically charged $19.95 per month for as long as you don't cancel. 
If you do enjoy the content that AdultTime has, you can then just keep the monthly fee going or you can check out this code for a considerable discount. Instead of paying $19.95 a month, this code will allow you to enjoy AdultTime for 76% off for one month of streaming ($9.95) or if you want to prepay a lump sum of $95.40 for a full year, you will get an 82% discount and the ability to stream and download any content you like. 
This Sounds Great, How Do I Get an AdultTime Trial?
If you're ready to take the three-day plunge on AdultTime with their trial, follow these easy steps:
Step #1:
Click this link to get the AdultTime tour. It won't take too long and you get the idea of what AdultTime is all about.
Step #2:
Click on the blue "Start Trial" button at the top right of your screen. This will take you to the "Join" page and allow you to choose either the three-day trial, a monthly membership, or annual membership and set up your account. 
Step #3:
To set up your AdultTime account, you'll need an email address and password. Your password must have 8-32 characters, including at least one number, one uppercase letter, one lowercase letter, and one special character.
Step #4:
Once you click the "Start Trial" button on the "Join" page, you'll be taken to AdultTime's secure billing page. You will then enter in your Name, Zip Code, Country, and Billing Information, such as your credit card number. I recommend that you use a prepaid debit card for this, just like any adult content site, but you use what works best for you.
Pay careful attention to any boxes that may be checked off–these are often tiny and are missed by many people. They are pre-checked to opt you into partner and affiliate site memberships, which can eventually cost you a pretty penny, so if you're not into joining another site, uncheck the box.
Once you've looked over your details and removed any check marks on things you're not interested in, you will click the green "Click Here to Purchase" button at the bottom of the screen and you've got three days to poke around on AdultTime.
The Bottom Line On An AdultTime Trial
I've spent some considerable time on AdultTime and I will say that it is a good adult content site. The number of movies and other content available is extensive and they offer it all up at a very affordable price. 
In my opinion, it is definitely worth it to get an AdultTime trial if you're interested in another avenue for porn besides the traditional method of Pornhub and Red Box. For $1.00 you get three days to form your own opinions and if you like what you see, our considerable discount gives you all the porn you could want for a great price.
If you don't like what AdultTime has to offer, then you've got three days to cancel and you're only out $1.00, just make sure you do cancel to avoid any further monthly fees.