I recently came across a girl named Kayla Kiss. She owns CutieKayla.com and it was so good, I had to dig deeper. For those of you who love breast expansion, cosplay, feet, and more fetishes, you're going to want to check this review out. It's extremely easy to see why so many people are obsessed with this model and while you're at it, I've got a Kayla Kiss discount offer for you too. Find out why I love her and why you will too!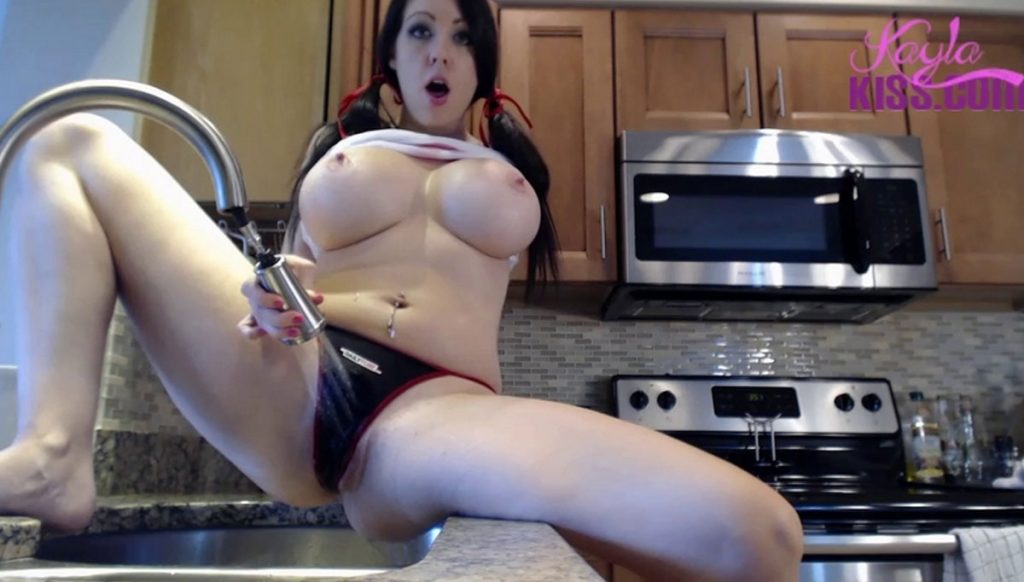 Kayla Kiss Review: The Best Busty Girl Around
If you haven't met Kayla Kiss before then you need to fix that. This is a girl who makes porn on her own and uploads it all to the internet to share it with you. She's absolutely gorgeous and she does everything that you could ever possibly want to see from her.
It doesn't matter what kind of action you're into. As long as a girl can do it on her own, you're going to be able to find it right here. It's a great change of pace from regular porn sites out there. Instead of seeing hundreds of different girls doing the same thing, you're getting the same girl doing hundreds of different things. It's the perfect way to fall in love with her and she's never going to stop doing what she loves. If she gets a chance to show off her body and skills then she's going to do it.
Who Kayla Kiss Is
So, who is Kayla Kiss and why should you care? Well, she's gorgeous, for one. She's 28 years old and looks closer to 19. She lives in Florida, so she gets plenty of sun vitamin D to keep her body hot.
She's also an Aquarius if you care about that sort of thing. Her amazing body manages to measure in at a perfect 34-28-36 and you just can't beat that. Best of all, she has a totally natural set of G cup tits that she always has on display for you.
Cutie Kayla doesn't have any tattoos, but she has one navel piercing that you can find if you really examine her naked body. She's a penis enthusiast and may have been a unicorn in a past life. She also has a massive panty collection that she's never far away from modeling in her cam shows.
She Touches On Every Fetish
No matter how hot she is, she has to do what you want to see, or it's all pointless. It's a good thing that she does it all, then. She loves anal sex and playing with her own boobs. She's also happy to let you choose your own ending in some of her videos.
She likes to dress up and cosplay for you and take on the role of a dominatrix anytime you want. She even gets into hand and mouth fetishes, as well as the vore and pantyhose action that you don't come across very often.
Constant Updates Keep You In Kayla
If you love what this girl has to offer you then you're never going to run out of her videos. She posts constant updates to keep you in her porn. She makes sure to post one brand new update every single week for you.
On top of that, she also posts her weekly live cam shows. That's two new videos every single week that you just can't do without once you fall in love with her. Let her make you happy and you'll always have something new to watch.
Conclusion: Joining Kayla Kiss Is Worth It!
Kayla Kiss is a girl that you just can't do without, now that you know about her. She's amazing in everything that she does and she never makes you wait very long to get more of her. It's obvious that she loves what she does and she always has a smile on her face.
If you love to see one girl who does it all then this is the site for you. Sign up for it right now and you'll never be let down by her. There's always something new for her to do and she always loves to experiment.