I don't know about you, but I find muscular women super attractive! There's something about watching fit women lift weights that makes me so horny. If you're the type that loves these female bodybuilders, then you need to know about Female Muscle Video. Today I'm covering FemaleMuscleVideo.com and why FBB fan basically needs access to this.
I should mention that anyone who loves a girl with muscles can get all of the toned female physiques they've ever wanted with this Muscle Girl Video discount too. The more time you spend on the site, the more money you'll end up saving. You can sign up for one month at just $16.95 right now.
It's a recurring membership so you never have to worry about losing your subscription. You can also sign up for a three-month subscription for a one-time charge of $39.95. That works out to just $13.31 per month so it's the best way to save some money. Yes, the biggest savings in female muscle porn on the Internet.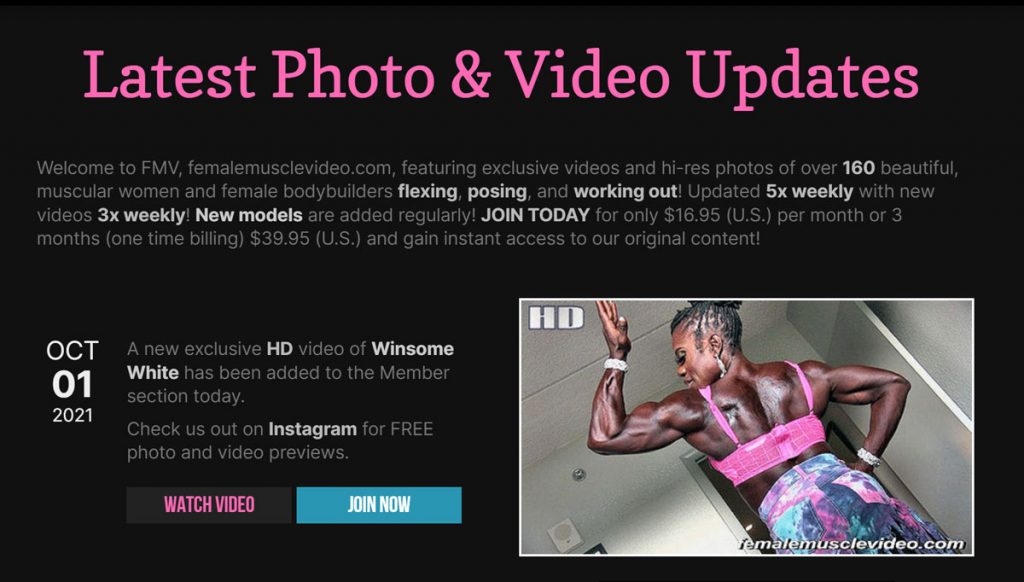 Join Today & Save – Click Here
Female Muscle Girl Video Review & FBB Savings
Female Muscle Girl Video is a site for people who love girls with lots and lots of muscles. The site features real women bodybuilders from all over the world who love to show off what they have.
These are girls who love to work out and they can all bench press more than most men. You won't find any sex here, but it's the best place to get your fill of bodybuilder girls that you can't find anywhere else on the internet. If you truly enjoy a female body with rippling biceps, head-crushing quads, and more, then you'll love this site.
Tons Of IFBB and NPC Female Competitors
You can find any kind of woman that you want to check out here. There are plenty of Caucasian women such as Shawna Strong, Andrea Carvalho, and Ashley Gearhart. You'll also find your fill of ebony female bodybuilders such as Brittany Flex, Mayla Ash as well as, Latinas, muscular Asian women, and more.
When it comes to porn, they're all amateurs, but when it comes to being on camera, but some are IFBB professionals when it comes to working out. Most of the women compete in NPC and IFBB bodybuilding shows and you never know who's going to show up here.
Side Tip: If you have a favorite muscular woman that you'd love to see showcased here, all you have to do is contact the site and they'll organize a shoot for her – simple as that.
I must reiterate though, this isn't the site you want if you're after sex or nudity. You won't find any of it here. That's just not what it's all about. You get to stare at ripped women while they work out or flex their muscles. It's a place where you can appreciate the vascular bodies of women with muscles and get horny doing so.
Find Every Muscular Female Instantly
It's easy to use and you can find any muscular female that you like here. Yes, even Barbie Titus, Melissa Dettwiller and Angel Curvz. There's a massive section for all of the models and each one has her own page.
You'll be able to see everything that she's in so you can get your fill of her. There's also a search bar so you can type in any name and see if she's made it to the site yet. With daily updates, it's just a matter of time for someone to show up if she hasn't been featured on the site yet.
Pros of FemaleMuscleVideo.com
Free photos and videos to check out before you decide to join
Daily updates to keep you coming back for more
Download anything you want with no restrictions at all
Cons
No sex or nudity to be found on the site at all
Site can be slow to load but they are working on it
Conclusion: Female Muscle Video Is Awesome!
The Female Muscle Video site is great for any lover of muscular female models. The Muscle Girl member discount is exactly what you need if you love girls with muscles and want to stare at their bodies all day and night long.
Sure, there's no sex or nudity, but you get to check out real bodybuilders who love to flex their muscles for the camera. No matter what kind of women you like, you can find them right here.
They come from all over the world and there are constant updates to bring you some brand new women every single day. You'll never regret getting yourself onto this site. I love this site and can't get enough of these muscle girls. They are truly beautiful and amazing-looking. Join now and get instant access to exclusive videos now.
Join Now – Click Here To Get Deal
Other Female Bodybuilding Deals: