The way that a woman carries herself at a party says a lot about her. If she likes to sit in the corner by herself then she's probably shy in everything that she does. If, however, she reaches for every cock that she sees and tries to jerk it off into her face, then she's probably just a slut. Those are the kind of girls that you're going to see at Women Gone Bad. They can't hold themselves back when they have hot guys in front of them with ball sacks full of delicious cum that they just have to taste.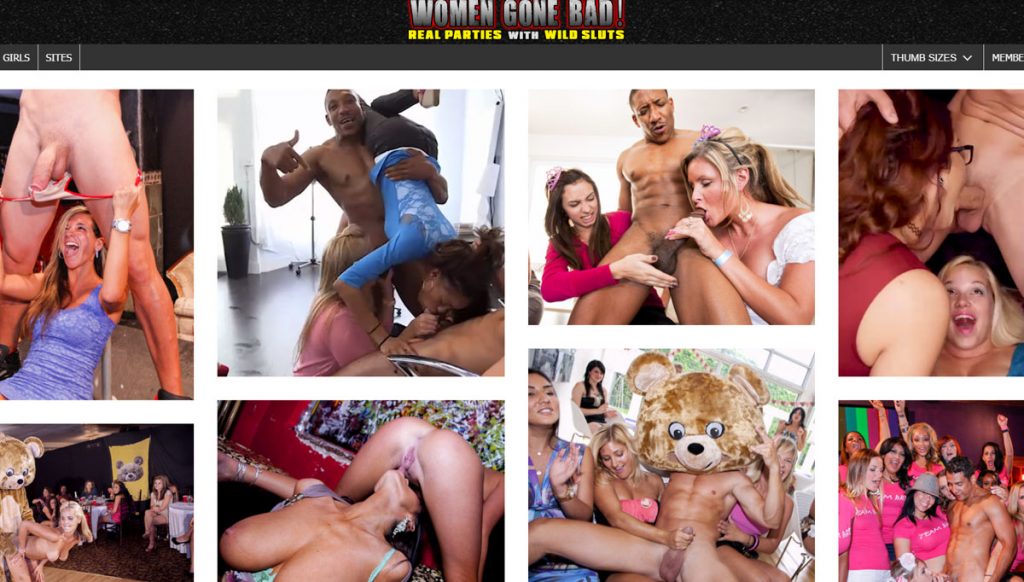 Women Gone Bad Review & Discount
The site is filled with party sex videos and it's all reality porn. You'll get a front row seat to everything from bachelorette parties to birthdays and even divorce celebrations. These women order male strippers and that's when everything goes crazy. The guys strip for dozens of women and the party atmosphere just takes over. These horny women are all sluts deep down and they can't help but fuck the guys as soon as their dicks start to come out for them.
See Also: Dancingbear.com Porn Deal
Totally Amateur Sluts
The women are all amateurs and you can find any kind that you want here. You're not going to be finding any supermodels here. They're all regular girls that you could see walking down the street on any given day.
There are white ones, black ones, Latin ones, and Asian ones. All of the tits that you see are real and you get to see them bounce around just like they're supposed to. You'll be treated to everything from young teens to mature MILFs and none of them are too young or old to take a dick into their mouths.
Group Sex Orgies
The group sex covers all of the bases. You can see all of the women get together to put a single stripper in a chair so they can all take turns riding his dick. You can also see all of the women lining up and inviting the guys to take them all as they please.
There are a lot of blowjobs and blow bangs here. There are also plenty of cum shots all over their bodies and clothes. Most of the videos end with satisfying cum facials that leave one girl luckier than all of the others at the party.
Easy To Use UX
The site is easy to use and you can jump around as much as you want. You'll be able to download as much of the porn as you want. Once you get it onto your hard drive, it's yours to keep forever. There are no restrictions if you ever decide to cancel your membership.
It's all reality porn, so it's handheld, but the videos are still coming to you in high definition. It's a great site for anyone who loves both group sex and the whole clothed female naked male niche in their porn.
Highlights:
Regular updates to keep you coming back and checking out more party whores all the time
Download any of the videos that you want and keep them to watch as many times as you please
Horny sluts going crazy and taking as much cock into their holes as they can with their friends
Large archive with plenty of porn for you to watch at your own pace
Conclusion: Get In On Women Gone Bad Right Now!
Women Gone Bad is a site that you need for yourself. You'll never have to wonder what happens at a female party again. They all turn into total slut and they can never stop themselves from begging for a big cum shot on their lips.
You can find any kind of woman that you want in the crowd and see how she acts with all of the sex around her. These are all amateurs so you never feel like anything is out of place. Get yourself into this site and spend a lot of time here!