For those of you that are not familiar with Thothub, this was an online porn aggregator site that offered nothing but adult content. Thothub basically covers a ton of leaked content. I'm talking about leaked Snapchat nudes, leaked Twitch nudes, leaked Patreon videos, and even leaked Youtube live streams. This site displayed content from registered and guest users, and this content was free to share and view for everyone. There was also sex-related information and videos as well as hosting links to third-party sites.
We write in the past tense as Thothub is no more. It was shut down in August of 2020, after receiving a lawsuit from an avid adult content creator and influencer. Here we'll explain what happened to the site, why it was shut down, and share the best alternatives you can use to find the best explicit adult content posted by amateur creators.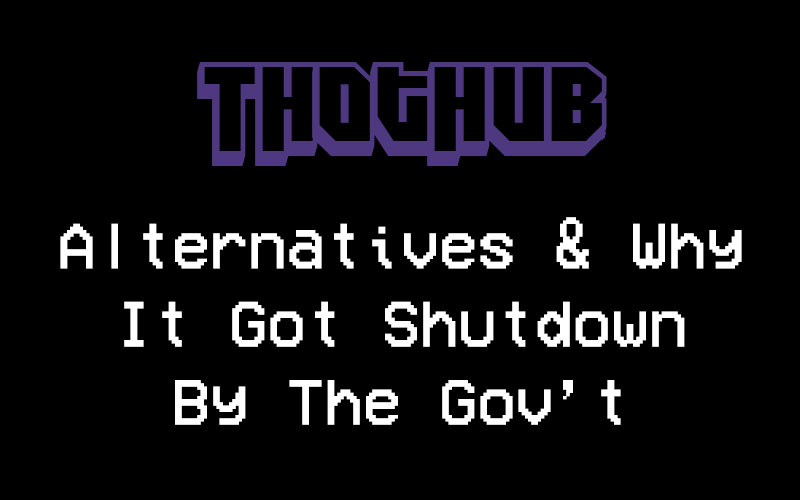 The Many Problems Thothub Faced & Why They Did
All was well and nice, the users posted content and viewed other people's content and the Thothub admins claimed that they were upholding the Terms and Conditions. This was related to the fact that the users' uploads were protected by copyrights, and the users were forbidden to copy or repost this content and impersonate other contributors. All users were required to agree to the Terms and Conditions, and only after they were given access to the entire Thothub content.
The users were given free rein, and all the content was available to all. This meant that people could find new models, watch videos, and share these with other users, and a lot more. However, someone took advantage of this, and it was after one content creator found her content that was sent to private users posted as public all over Thothub.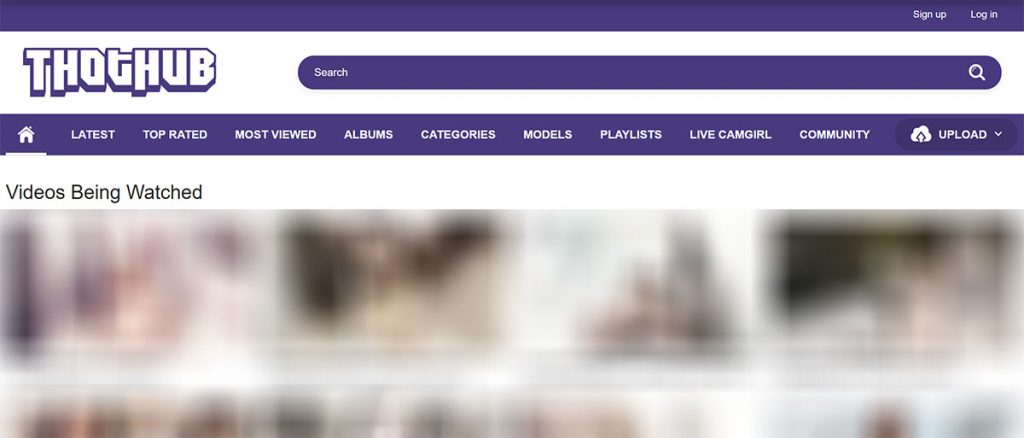 OnlyFans – Where The Thothub Troubles Began
Before we go into more details about the struggles Thothub faced, we need to tell you about OnlyFans. This is a content subscription service where creators send sexual content to their fans in exchange for a monthly fee. This is a very popular platform among sex workers, as its privacy settings make it easy for them to send adult content.
This platform operates on a simple premise – the fans can get access and view a certain account and browse its content after paying a set fee. This can be a monthly fee or a set amount for a one-time deal.
Until recently, the OnlyFans platform was used mainly by porn stars, but mainstream artists and influencers have also started using it as a means of extra income. They do this by inviting their Instagram or TikTok fans to transfer to the OnlyFans platform, where they can charge a small monthly fee in exchange for the content they provide.
How Thothub Bit The Dust?
Now that you know what OnlyFans is, we can continue the story of how Thothub was forced to shut down. A very popular OnlyFans creator, a certain Nicole Waidhofer with over two million followers on Instagram, found the images she sold to her fans via OnlyFans posted on Thothub.
She asked the site creators to take down her images, but according to her, they did not do so. Since this was an infringement of privacy rights, she set out to sue Thothub, and a couple of days after the lawsuit was filed, the main website was shut down. Even though Thothub is still shut down, Nicole will still pursue the lawsuit and ask for compensation.
Questions About The Legality Of Thothub.tv
The problems that Thothub faced pose the question about the legality of Thothub. The general idea behind the site and the site itself is, or in this case were not illegal. But the allowing of pirated content to be posted on the site is an infringement of the privacy laws. By allowing its users to upload and post content that is not public or is not their own, the site broke the law.
Another issue is a copyright infringement and the nonconsensual use of private content. Still, this is a common problem many social platforms face, especially YouTube creators, who regularly face such issues. Nicole will continue with her lawsuit, and will also sue BangBros and Chaturbate, as they advertised their content on Thothub, which can be seen as funding Thothub and allowing them to continue with their illegal business.
Sites Like Thothub: The Best Alternatives
We don't know how the future is going to pan out for Nicole and Thothub, and how the lawsuit will be settled. But until then, we offer you several alternative sites with content similar to that of Thothub. Enjoy our selection of sites like Thothub as you are sure to find interesting sexy content to keep your attention.
Camsoda.com is similar to Thothub.tv in a sense that they're able to stream and do all that fun stuff that people on Thothub were doing. They have a personal profile page with tons of information for models as well. Basically, it's a legal version of Thothub with OBS capabilities and gamer streaming features. I'd say give this one a shot if you haven't already!
This is the sexy version of Chat Roulette, and on Chatrubate you can search content by category. There are female, male, couple, trans cams, spy shows, and private shows. The first four are free, but to see the content provided by the spy shows and the private shows, you need to pay a certain fee. For more explicit content, you can tip the performers on the free shows and get a little extra action.
This international website offers its members a social network experience with free live cam shows from famous adult entertainers. This includes nude posing and explicit sex. StripChat is still in its early days, but it has over 1K performers ready for some action.
I'd say that Fling.com is probably very much like Thothub, but the legal version. You'll find tons of adult content here (photos and videos) of people having sex. The users post tons of selfies, I mean thousands and they do so in an attempt to connect with users for sex. The live webcam feature at Fling called Live Fling Cams is worth checking out as well. Thothub ain't got nothing on this site!
Adult Friend Finder or AFF is proudly advertising itself as the world's largest sex and swinger community. This is mainly a hookup site where users can search for any type of sexual encounter. If you wish to find a third to join you in the bedroom, have a swinger party, or a gay partner, this is one of the best online places to search for. But apart from this, the site has live adult webcam shows that are very interesting to watch.
Like Facebook, but only you are looking for a friend to fuck, FuckBook has earned a good reputation for being a good place to find a hookup fast. All the people here are interested in the same thing that makes it easy for all involved. You need to upload a photo and start looking for your next fling. But you can also engage in webcam activity.
Modelhub is an online place where models and porn stars provide uncensored content to their paying members. To attract more users, these models can often be seen on Snapchat Premium where they also post fresh images and video content. The models on Modelhub are very active and you can always find something new to watch. The subscription comes in several options and payment plans for your convenience.
Ashley Madison is still in operation, and it is the online place to find a hookup and a person for a discreet affair. The site was intended for married people who wanted to have an affair, but now offers way more content than this. Users can use the site for chatting and arranging meets, but with excellent privacy settings in place.
This site requires its users to subscribe, and after they do, they will get to see some of the best content made by some of the best-known names in porn today. The content here is also linked to Snapchat Premium and homemade iPhone porn videos. You will find all the amazing nude posts in one place as well as videos.
Thothub.ru – Warning – Do Not Use
So, I have some news that I learned while covering this topic. Thothub.ru has popped up and it's basically covering the Twitch porn videos that were on Thothub.tv. It's going to be tough for them to shutdown the new Russian-based Thothub website, but hopefully they will get it taken down eventually.
The Bottom Line: Use An Alternative Site
If you were wondering what happened to Thothub, now you know. And if you are an OnlyFans user, you certainly know what we are talking about. After covering the most important aspects of Thothub, we offered you a list of the best alternative websites where you can find adult content of sexual nature. We hope you take advantage of our suggestions and have a blast. Now, if you're looking to skip everything and go straight to the porn deals, then do that by checking out the most heavily discounted offers.