I love a good porta potty slut. In fact, there's nothing hotter than watching a horny slut suck and fuck cock through a porta-potty. If she's taking dick in the potty, then you know she's filthy and cum hungry. There's nothing like just walking down the street and seeing inviting holes to slide your dick into for a quick blowjob in the middle of the day. If that's something you've dreamed about coming across then all you need is the Porta Gloryhole discount. You can currently join for a month and pay just $29.95 whether you choose recurring or a single month. You can also sign up for a full year at just $99.95. If you want to check it all out first, you can get full access for three days to make sure that it's all for you.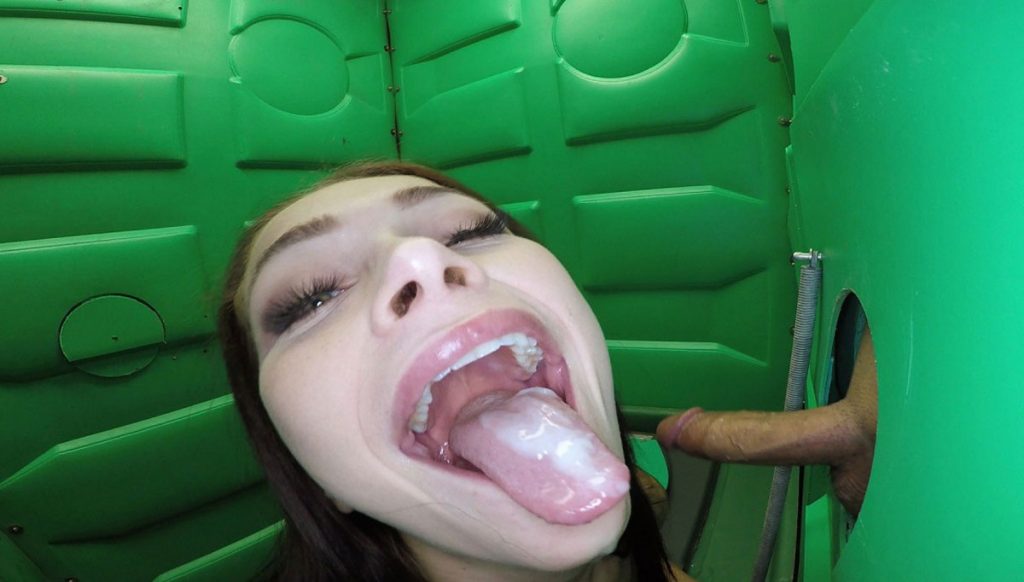 Porta Gloryhole Review & Porn Deal
The premise behind Porta Gloryhole is a whole lot of fun and you can't find it anywhere else. The guy who owns the site has decided to treat the world to a portable blowjob station in the form of a porta-potty with an obvious hole on the side. He finds girls who love to give blowjobs and sets them up inside with a camera. Then he just sits back and lets all of the dicks pop into the hole for the girls to suck on until they get a mouthful of gooey cum as a reward.
Hot Girls In Porta Potty's
There are lots of different girls on the site and that makes it more than worth your time to check out. They can satisfy any desire that you have, no matter what you're into. There are white girls, Latinas, ebony girls, and even Asian sluts giving their blowjobs to any strangers who want them.
They like to get naked to do their work so you'll be treated to big boobs, small boobs, and perfectly shaped boobs that would be amazing to look at if the guys weren't separated by a wall of plastic.
Tons Of Blowjobs
There are lots and lots of blowjobs to enjoy on the site. The best part is that the videos are all around an hour long and there are tons of guys who step up for blowjobs in that time. Each girl has to satisfy up to ten cocks in a single day and she always has to swallow the load at the end.
Of course, the guy who sets it all up has to have his fun as well. That's why all of the videos start off with the girls going down on him on the ride to the porta-potty and that's always a great way to start the workday.
Clean Design, Easy To Use
The site is simply designed and it will work on any kind of system that you have. You can stream and download anything that you want and there are files for mobile devices as well as HD files.
That gives you something for every situation so you never have to go without your anonymous blowjobs. There are also pages for all of the different girls on the site. Lots of them like it so much that they can't keep from coming back and it makes it easy to see everything that they're in.
Pros
Lots of blowjob in each and every video to enjoy
Mobile files to download when you're on your phone or tablet
Exclusive porn that you can't find anywhere else
Cons
No video previews to watch before you join
No recent updates to the site at all
No bonus sites included with any membership option
Conclusion: Take A Break With Porta Gloryhole Right Now!
If you love gloryholes then you can't do any better than what the Porta Gloryhole discount has in store for you. There are dozens of Gloryhole blowjobs in every video and you never have to go without one for very long.
You can download both HD videos and mobile files to suit any need that you might have. The concept is fun and it's obvious that the girls really love sucking dick. There's no better gloryhole site out there and you'll never need anything blowjob site again.