There's nothing better than being able to sit back and enjoy a deep dive into a pervert's imagination and that's exactly what you can do with the JAB Comix discount. You can get your gold membership for just $24.95 right now and you get everything that the site has to offer you. You can also decide to just sign up for a full six months and pay just $75.95. That's access to thousands of different adult comics for almost nothing.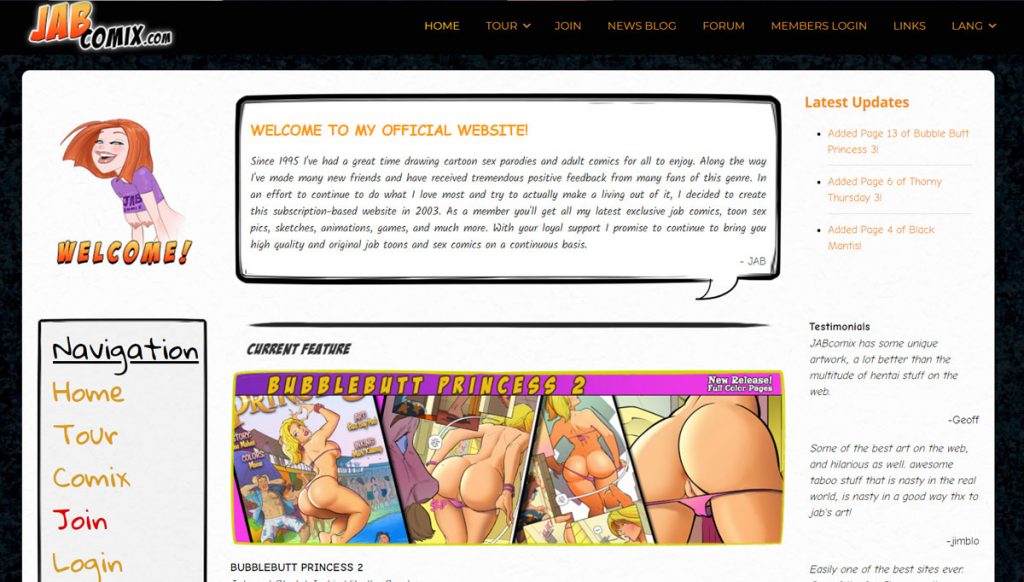 Join Now – Click Here For Access
JAB Comix Review: Porn Comics & Cartoons
JAB Comix is all about letting you enjoy every kind of adult comic that you want. They come in all genres and you can follow along with massive storylines or just check out one-offs whenever you feel like it.
It's all exclusive so you won't find it anywhere else on the internet and you can get any kind of story that you want. You can read it all directly on the site and some of the comics are available to download onto your device. Once you get them on your hard drive, you can keep them for as long as you want.
Independent Porn Comics
There's a great mix of both original ideas and parodies on the site. You can check out cosplay titles like The Tale of Kiki Possible, The Cleveland Porn, Johnny Testicles, and Goof Trap.
If you've ever wanted to see more adult fun in your cartoons then this is how you can make it happen for yourself. If you want something new then you can read titles like In The Elevator, Hot Maids, Total Fucking Drama, or The Adventures of Action Fuckin' Hank.
It's all created by independent artists all over the world so there's no limit to the kind of fun that you can find.
Small Studio Content = Unique Stuff
Since there are no big studios to worry about, you don't have to worry about anything getting censored at all. You'll be able to enjoy full-on illustrations of penetration from any angle that you can imagine.
The art goes from cartoonish to lifelike so there's always something for you to check out. The best part is that no one is limited to reality. If you can imagine it then you can see it play out right in front of you and that's what makes the site so much fun to check out.
Great UX
It's easy to use and you can find anything that you're looking for. You can use the search bar to find any specific title or genre that you want to check out. There are more than enough tags to get what you want out of the site.
The only major downside is that you can't download everything. It's up to the creators if they want it or not and some of the most popular titles have to be read on the site. If you love adult comics then you can't do any better than what you can get right here.
Pros
Constant updates to keep you coming back for new comics
High resolution images make it easy to read anything you find
Exclusive adult comics that you can't find anywhere else on the internet
Cons
Some images on the site can't be saved to your computer
No bonus sites added to any of the membership options
No way to download full photo sets of the comics
Conclusion: Check Out JAB Comics And Have Fun
No matter how many different porn sites you're on, you're not going to have more fun than what you can get with the JAB Comix Discount. The gold membership gets you full access to the entire site and you're going to want it. There are so many different titles that you'll never be able to read them all in a single lifetime. It's the last adult comic site that you'll ever have to join and they give you plenty of reason to keep coming back. You'll love it once you check it all out.