Brown Bunnies is the site that you visit when you need a nice hit of ebony girl goodness. It's wall-to-wall black chicks that want nothing more than dick to play with all day and night long.
They make it very easy to join, so there's no excuse to not get in on the black action. A one-day trial is just $1.00 and a one-month membership will run you just $29.95.
Once you realize that the site is perfect for you, you can sign up for three months and pay $59.95 or get a full year for just $119.95. You just can't argue with those prices!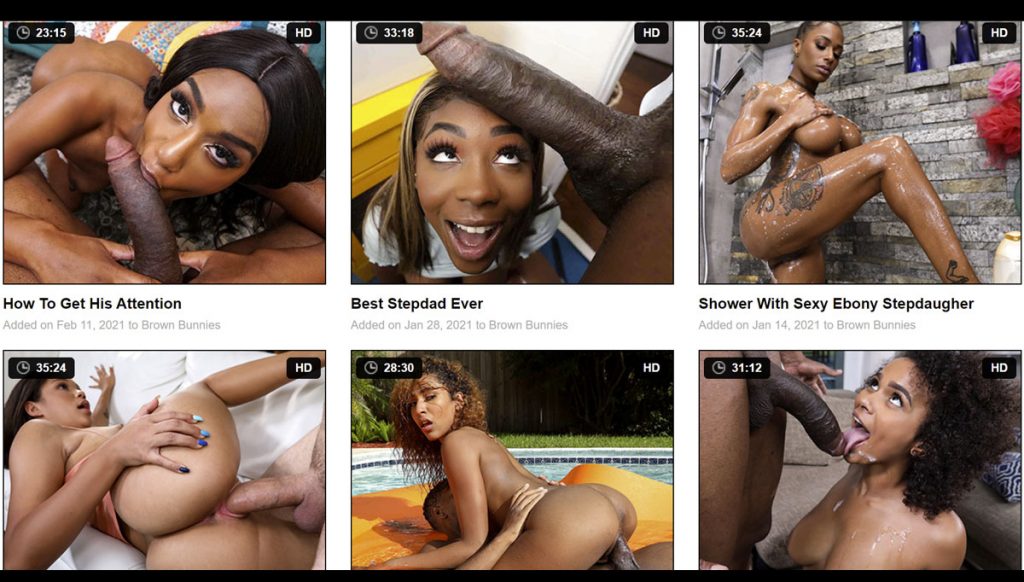 Why Wait? – Join The Site – Click Here!
Brown Bunnies Review & Porn Deal
The site is all about bringing you real amateur black girls who love to get fucked in every single way possible.
You're never going to get bored with all of the different types of sex that you can find here. The only thing that never changes is the fact that it's all being had by hot ebony babes. After that requirement gets met, anything can happen. It gives you plenty of reason to keep coming back for more.
The different kinds of ebony girls that you can find here are something that you just don't come across very often. Since there are so many of them, you really get your pick of what you want. You can find light-skinned girls right next to very dark-skinned girls.
More Ebony Teens, Black MILFs and Everything!
There are teens, MILFs, and everything in between. You'll be able to choose from petite black girls, skinny girls, girls with curves, and even some BBWs. No matter what you really like about black girls, you can find it right here on full display for you and you never have to stop looking at it.
Just like the girls, the action is all over the place as well. Some of the videos have kinky storylines while others are just reality videos of guys picking up black women and having their way with them. They touch on plenty of kinky topics like taboo family sex, public sex, older/younger sex, blackmail, and more than enough anal sex.
Most of the videos end with a sloppy facial, but you can also get your fill of creampies and other cum shots. These girls just love to fuck and they're doing it however they can.
Easy to use and easy to navigate
The site is easy to use and they put all of the porn right out front and center. All you have to do is scroll down the front page to get all of the latest videos.
You can also check out the model pages to see everything that your favorite girls have been in. Once you find them, you can stream their videos right there or you can choose to download them.
Once you get them onto your hard drive, they're yours to keep forever. It doesn't matter how long you're a member of the site. It's the perfect place for any ebony girl fan.
Ebony Bunnies Top Highlights:
Unlimited video previews so you know the site is amazing before you join it.
Download any videos that you want and keep them on your hard drive for the rest of your life.
Real amateur black girls that just happen to love getting fucked by total strangers.
Model pages so you can see everything that your favorite girls are in.
Conclusion: Get Your Ebony Bunnies Today!
Ebony Bunnies just isn't a site that you can do without. It's your go-to spot for all of the ebony porn that you could possibly want.
They do everything that you've ever wanted to see and they make it all look amazing. It's easy to sign up and you have plenty of different options to choose from. You get constant updates and more than enough girls to enjoy while you're here.
You can even download anything you want and keep it forever. Sign up today because this is a site that you're going to want to visit over and over again.
Why Wait? – Join This Ebony Site Now!
Other Awesome Related Updates:
Cheap Porn Sites Worth Joining (Bangbros Included)