Today I'm going to help you find the best Telegram porn channels out there. Yes, you can find adult Telegram content, you just need to know how and where to look. Telegram is one of the communications apps that has gained a lot of popularity over the past couple of years, and it is mainly used by people who like to communicate and get insight into their friends' lives.
All this is nice, but we are not here to talk about regular content that can be found on Telegram. Instead, we will talk about the NSFW content and answer whether there is porn on Telegram (obviously the answer is YES). First, let's talk about what Telegram is and what you can find on this platform.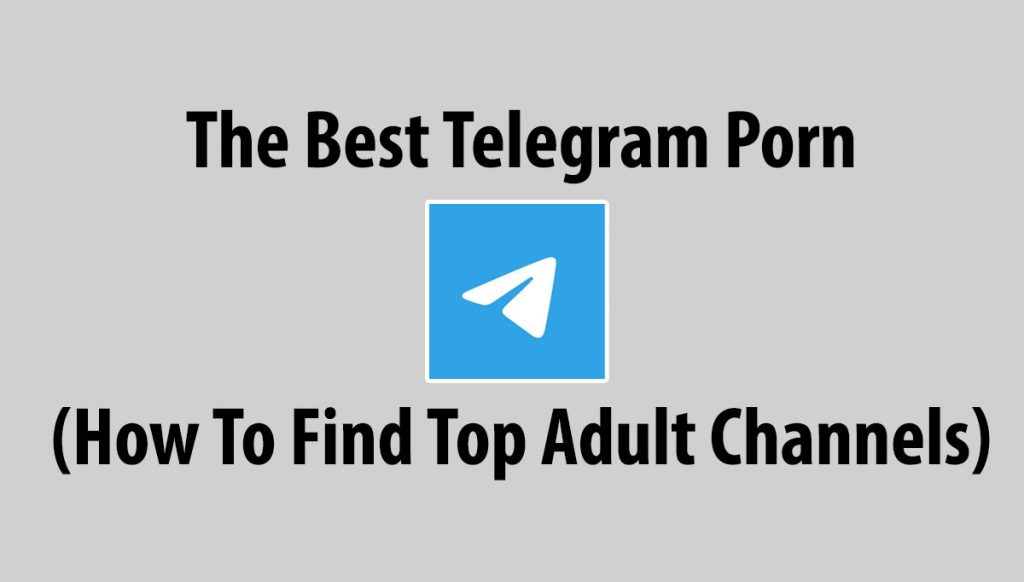 What is Telegram?
Telegram is a freeware, cloud-based instant messaging app launched in 2013, created by brothers Nikolai and Pavel Durov from Russia. They are also the guys who created the Russian social network VK. The brothers worked together, writing the code and supplying the financial support and infrastructure.
Telegram is now registered in the British Virgin Islands as a company and as an LLC in Dubai. Telegram saw a steady increase in users and has supposedly reached 500 million active users by 2021. The platform's excellent features appeal to many people, and many WhatsApp users have moved to Telegram.
One of the most popular features is the secret chat option that allows end-to-end encryption of messages. A user initiates the secret chat, and the other user must accept the invitation. An encryption key for the session is exchanged, which allows two people to send and receive secret messages without the risk of a man-in-the-middle attack. The secret chat supports disappearing messages which are always handy.
The app allows deleting messages and has an excellent collection of stickers and other handy options like people near you, where you can meet new people and create relationships. The app supports voice and video calls with end-to-end encryption, group calls, video-sharing, video streaming, and more.
The platform supports channels, a one-way messaging where the channel admins post messages for other people to read, and anyone can subscribe to the channels. Now that we've talked about general stuff about Telegram, on to the good part: is there porn on Telegram.
Can You Find Porn on Telegram?
We mentioned Telegram channels above, and you are guessing correctly – there are Telegram channels that contain adult content. When we say adult content, we mean nude images, NSFW Telegram content (think Reddit subs), Telegram porn chat groups, and other naughty stuff.
There are literally thousands of adult-themed channels on Telegram you can join, as the encryption features of the platform make it appealing to many. Telegram users can access porn images and porn videos, and the platform's features allow in-app watching, so you don't have anything shady going on in your browser history.
Top Telegram Porn Channels
We said that there are thousands of porn channels on Telegram, but now let's see if the porn channels on Telegram are worth following. We need to note that there are porn channels on Telegram that are spam, other channels that are trying to extort money in exchange for porn, and genuinely legitimate porn channels.
We advise you to stay away from the clickbait content channels, which constantly post the same content in hopes of luring you to become a paying member or maybe share a virus that can potentially harm your device. If you're looking to pay, then just check out these top porn site deals.
After our team spent days browsing through thousands of Telegram adult-themed channels, here are the top Telegram porn channels that have content worth seeing:
@pornodrive
@Oasis69
@Pr00n
@Xvideos365
@Naked_tiktok2
@pr0nhub_videos
@sexwife
@Beastporno
@PublicNudity18
@Porno_telegram3
@cumfetish
@Uncensored_channel
@Hentai
@Play_boy_home_video
@Adult_sexxXVideo
Each channel we've shared above has a nice following, most with over 150K members. They all post porn clips, sexy images, and much more for their fans. Some of the content posted here is recycled from other platforms, while some of it is original.
It would be best to be careful when browsing such content and clicking on random links, as many can lead you to malicious websites with malware that can steal your data or harm your device.
The Bottom Line
Telegram is excellent to use, and it has several notable features that make it stand above the rest. Of course, its primary use is connecting people, but the app also allows its users to post porn content, usually for free.
We've also listed some of the most notable porn content channels on Telegram that share regular updates free of charge. It does not get better than this!