Bare Maidens is a unique kind of porn site that's all about glamour and beauty mixed with fantasy. You get to see gorgeous women in medieval set pieces and clothing showing off their amazing bodies and having sex. There are currently over 102,000 photos and more than 141 videos for you to enjoy.
You can choose to sign up for a recurring monthly membership at just $24.95 per month. If you just want to join for a single month without getting rebilled, you can pay just $34.95 for 30 days. If you want to join for the full year, which you should, you'll end up paying $99.99.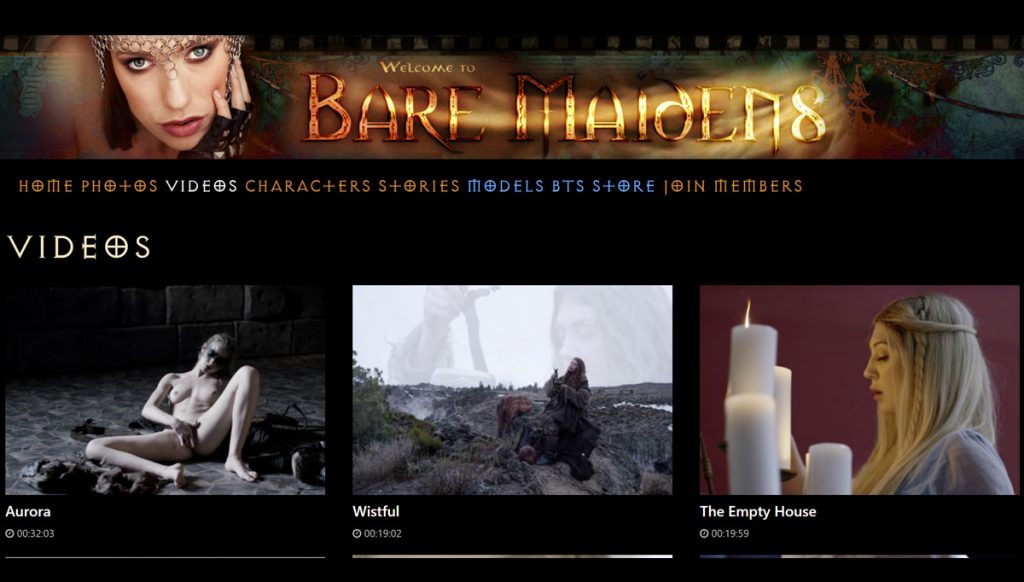 Get Discounted Access Today – Click Here
Bare Maidens Site Breakdown
The whole site is broken down into two sections. There's the fantasy section and the reality section.
The Fantasy Section
Fantasy is where the story comes in. The site is based around one massive series called Arta: The Known World. This is where you get the entire storyline with all of the fighting and sex that you want to see.
While you're watching the series, you'll see plenty of people having sex, but you won't be getting the whole thing.
If you check out the Sex Scene section, you'll be able to enjoy the whole thing, which usually runs around 10-30 minutes. This is where the porn really is on the site.
The Reality Section
This section lets you see how it's all made. You get to watch interviews with the cast, crew, and anyone else involved with the series. You'll also be able to see behind-the-scenes videos so you know what it's like to actually be there and making it all happen.
On top of that, they also post tutorials of what they're making. You'll be able to learn how they build their sets, make shots happen, and you'll even get reviews of certain types of equipment.
The Models of Bare Maidens
The women are all absolutely gorgeous and they all play unique characters. They're all glamour models who also happen to love sex and having it on camera.
They're mostly white, but you can find blondes, brunettes, and redheads here. The majority of them are petite, but there are a few curvier girls around as well.
Since the story spans generations, you can find both older cast members and current ones all over the site. Each girl has her own profile page so you can learn her real name and see everything that she's done for the series.
The Site With No Ads
The site is designed very well and no one should ever have a problem with it. The whole thing is funded by the members, so it's professionally designed from the ground up. There are no ads to distract you while you immerse yourself in the story.
There are also plenty of written stories to fill you in on what happens in between the episodes. The archive is large and the story just keeps on going and going. It's a great concept and a great site with beautiful women who love to orgasm.
Bare Maidens Highlights:
Access to a massive fantasy storyline with swords, sex, and even a little sorcery.
Gorgeous women have shown in their true beauty as they slip off their clothes for you
Interact with the writers, producers, and even the actors that you just watched have sex.
Tons of behind the scenes videos and photos to show you how it's all made
Conclusion: Bare Maidens Is What You Need!
If you love fantasy and you love gorgeous women then you need a site like Bare Maidens in your life. It's something that you just don't come across very often. It's all one, a big expansive story that's being told with plenty of sex.
Once you see the characters get it on in the show, you can watch the entire, uncut sex scene in the porn section. It's a whole new way to look at the different ways that porn can be made.
Join this amazing site and you're never going to forget it.