Everyone has to start somewhere. It's just the way that it is. You can't start at the top of the porn game until you've got your start at the bottom. That's why so many young girls end up having to try out for porn. While this used to be something that happened behind closed doors, the Bang Tryouts Discount is letting you in on the whole thing for next to nothing in return. You can get your monthly access right now for a full 63% off the regular price. That means you're paying just $14.95 for all of the porn that the site has to offer you. You can also decide to sign up for a full year. That's going to give you a full 76% off so you're paying just $9.95 per month!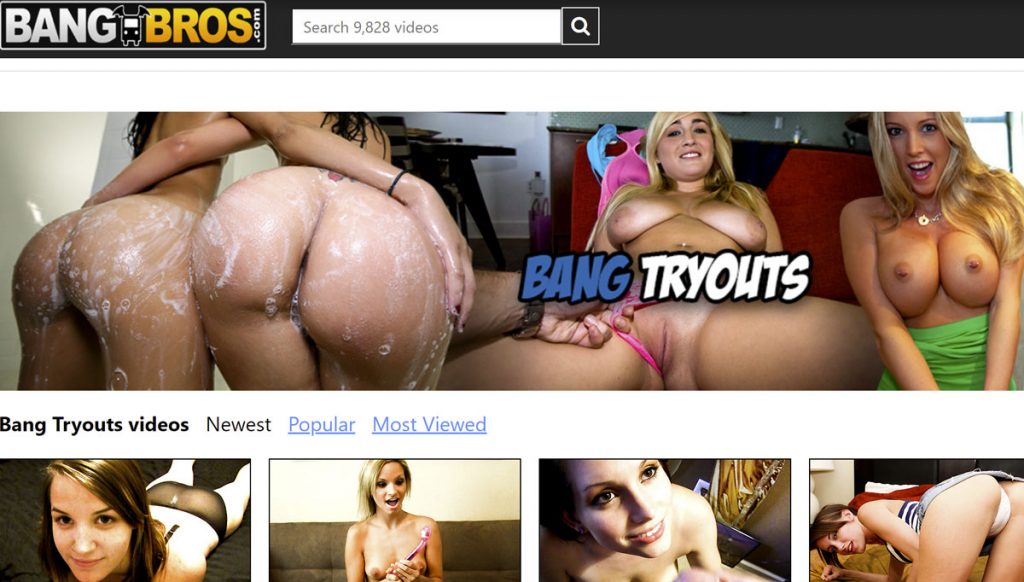 Get your access to the site today!
Bang Tryouts Porn Deal & Site Review
Bang Tryouts is a precursor to all of the casting sites that you can find on the internet today. It was launched back in 2011, but it never really took off. It was updated for a few months and now the archive is available on the Bang Bros network. You can still see it all and enjoy the very first on-camera fucks that your favorite porn stars ever had!
All of the girls are super young here. They're 18 or 19 years old and they all have a dream. They just want to work in porn and make their livings with their pussies. They're not exactly college material, so their only hope is to get paid by the orgasm. That's why they all put so much effort into their tryouts. You can see girls like April Rose, Ashley Sinclair, Lizz Taylor, and Maddy O'Reilly getting fucked on camera for the very first time and you're not going to be able to find that anywhere else on the internet!
The sex they get up to covers all of the bases. You can sit back and watch Ashley Sinclair violate her own pussy with a light-up vibrator or see Lizz Talyor go to town on her BFFs wet little hole in the hopes of getting a job. There are lots of facials and blowjobs to showcase the skills that each girl brings to the table. You can even see two besties taking a shower together and soaping up each other's bodies so they look as sexy as possible on camera.
The site is easy to use and you can find everything the site has to offer you on one page. What really makes it all worth it is the fact that you're getting access to the entire Bang Bros network of sites with your membership. That's over 50 different porn sites and thousands of different videos for you to watch and download whenever you want. You can browse each site on its own or search the entire network for anything that you want to see. You can also use the profile pages to see what all of the girls here have gotten up to since their very first tryout videos.
Highlights of BangTryouts:
Mouse over any thumbnail for a preview of the porn before you decide to sign up for the site
Lots of different tryouts that you can't find anywhere else on the internet
Access to the entire BangBros Online with your one membership here
Horny teens ready to do anything it takes to work in porn
Conclusion: Get Your Bang Tryouts Access Instantly!
Bang Tryouts is a site that lets you see what teens have to go through to get into porn. They may not be as skilled as they become later on, but they bring an enthusiasm that you just can't forget. Seeing the way they all take a facial with giddy energy is more than enough to make you fall in love with them. You're also getting access to the entire Bang Bros network, so don't miss out on this discount.